Key Las Vegas council member sides against stadium
September 18, 2014 - 4:45 pm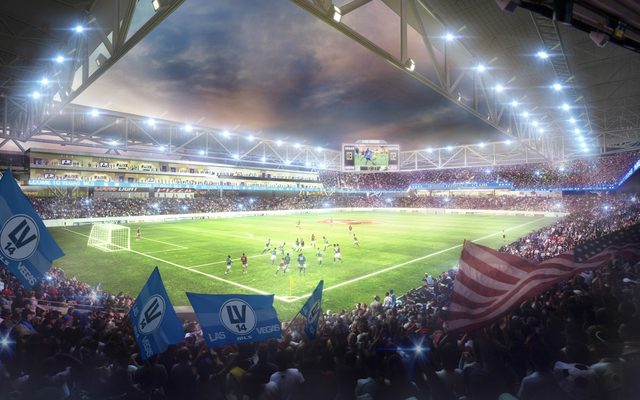 A proposed publicly subsidized soccer stadium in downtown Las Vegas appears doomed as Councilwoman Lois Tarkanian, the swing vote on the deal, said Thursday she would vote against the proposed financing plan if the council vote were held today.
Tarkanian said residents are telling her that they support a soccer facility, but not the plan to use public dollars to help build the $200 million, 24,000-seat stadium.
If she follows through on her opposition to the non­binding plan at an Oct. 1 council meeting, the stadium proposal for Symphony Park would be dead.
"I don't feel comfortable with Cordish as a partner," she said. "Professionally, I felt we were not treated fairly."
The Cordish Cos. and Findlay Sports &Entertainment are the private team partnering with the city on the proposed stadium, which Cordish/Findlay say is needed to draw a Major League Soccer expansion team. Las Vegas is competing against at least five other cities for the final MLS expansion team.
Tarkanian would join Council­men Stavros Anthony, Bob Beers and Bob Coffin to kill the deal. Mayor Carolyn Goodman, and Councilmen Ricki Barlow and Steve Ross support the publicly financed stadium. A vote against the stadium plan would end Cordish's exclusive development agreement with the city. The City Council has given Cordish several extensions to continue working on a sports venue plan for Symphony Park.
"I don't feel like spending a lot of taxpayer monies on it. People do want a stadium, but they don't want the use of public money," Tarkanian said.
The plan calls for Cordish/Findlay to contribute $44.25 million and the city to provide $155.75 million to construct the $200 million stadium. The proposed deal calls for Cordish/Findlay to pay the city $3.5 million in annual rent and another $500,000 or $1.5 million annually in nonsoccer revenue for 30 years to help cover the city's bond debt. The city would use money from hotel-room fees to help pay its share.
Stadium supporters argue that after 30 years, Cordish/Findlay would have paid 59 percent of the stadium costs, which they say is a good deal compared to other public-private stadium partnerships in MLS.
Opponents say the city's financial health would be hurt if Cordish/Findlay failed to make a payment and that public dollars should be used for other city purposes.
MORE MEETINGS PLANNED
Cordish spokeswoman Candice Coolahan, in a statement on behalf of the Baltimore-based development company, said Cordish/Findlay "in a 50/50 partnership, have worked in good faith with the city of Las Vegas on a proposed deal, which includes considerably more private investment than comparable Major League Soccer stadium deals.
"The partnership is prepared to immediately invest several hundred million dollars and bring Major League Soccer to downtown Las Vegas if we get the green light on Oct. 1. Our proposal does not raise taxes on Las Vegans and substantially mitigates the city's risk."
Justin Findlay, managing partner of Findlay Sports, said he hopes Tarkanian would keep an open mind as the city holds public information meetings on the deal. The city has held three sessions this week in Beers', Ross' and Barlow's wards. Three more meetings are set for next week.
Findlay said the private partnership is exploring other financing options that would minimize risk to the city.
"We're doing everything we can to be professional to show that an MLS and multipurpose stadium would be a benefit in Symphony Park," Findlay said.
"As far as our dealings with Cordish, they have been very professional," Findlay said. "We have made mistakes as a development team, but they have worked very diligently as a partner."
Goodman said she won't approach Tarkanian about changing her mind until the mayor absorbs the details of a feasibility study draft.
But for the council to kill the non­binding deal Oct. 1 would be "irresponsible," Goodman said.
"To cut it off in October before it reaches December would be criminal in my opinion," she said. "This is the best thing for Southern Nevada."
If it were ratified, the deal would go before the council in December for a final vote.
Goodman said she understood Tarkanian's frustration with Cordish. "What you are hearing from the councilwoman is that there's lingering concern because it has taken so long," the mayor said.
Goodman described Cordish as a reputable developer. "I don't want Cordish to be seen as the scapegoat."
POSSIBLE THIRD PARTNER
Tarkanian said she has asked Cordish/Findlay to see if the private partnership would be willing to add a third partner to lessen the public financing burden.
Coffin asked Cordish Development Director Port Telles during Wednesday's council meeting whether it could privately build the soccer stadium, but Telles said no.
Ross said he understands why Cordish has not delivered a downtown sports venue. "What did we expect from Cordish during the recession? People were losing their jobs and businesses were closing their doors," he said.
Las Vegas faces a stiff challenge to land an MLS team. League officials visited Sacramento, Calif., on Thursday, and the Sacramento group seeking an expansion team said it will privately finance a soccer-first stadium of more than $100 million.
Contact reporter Alan Snel at asnel@reviewjournal.com or 702-387-5273. Follow @BicycleManSnel on Twitter.

An arena plan for Symphony Park
More coverage
Complete coverage of the various stadium and arena proposals.