Nevada legislators awaiting more details on Las Vegas stadium issue
September 21, 2016 - 8:02 pm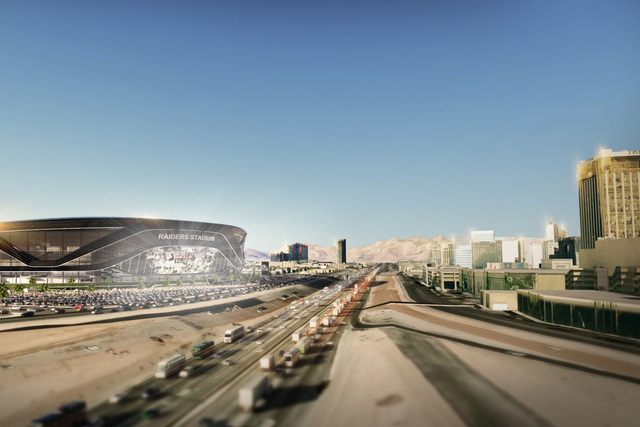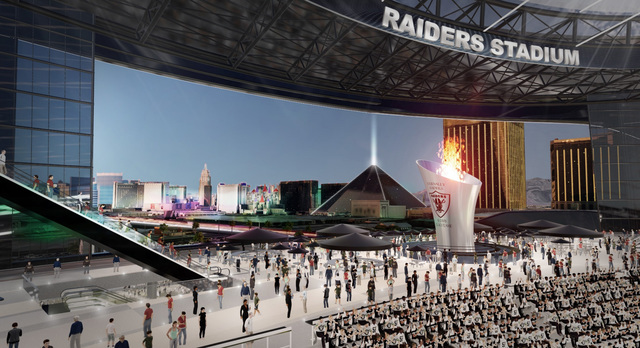 CARSON CITY — Some state lawmakers are cheering the prospect of having the NFL's Oakland Raiders take up residence in Las Vegas, but they're on the sidelines on how a $1.9 billion domed stadium should be financed.
Others want to see the funding and oversight playbook before commenting.
The Review-Journal reached out to all 58 sitting legislators about the proposal on Monday and Tuesday. Of the 27 who responded, more than half said they are still gathering information and have not decided how they might vote. One lawmaker declared opposition.
Gov. Brian Sandoval late Wednesay said he would call lawmakers into special session to consider the stadium deal no earlier than Oct. 7 and no later than Oct. 13.
The Southern Nevada Tourism Infrastructure Committee recommended the stadium plan to Sandoval last week.
The proposal calls for a Clark County hotel room tax increase of 0.88 percentage points in the casino corridor or 0.5 percentage points in outlying areas to finance $750 million in stadium construction costs over 33 years. The plan requires the family of Las Vegas Sands Corp. Chairman Sheldon Adelson, Majestic Realty and Raiders to pay the remaining construction costs. Adelson has pledged at least $650 million, while the Raiders would pay $500 million.
An additional 0.5 percentage-point room tax increase would fund a $1.4 billion expansion and upgrade to the Las Vegas Convention Center.
LEGISLATORS COMMENT
"I am supportive of each project on their merits and look forward to vetting the language and policy should the Legislature be called upon to act," said Assembly Majority Leader Paul Anderson, R-Las Vegas.
Assembly Speaker John Hambrick, R-Las Vegas, is "leaning to going forward."
"I am on the record supporting the NFL move. I did a video and wrote a letter to (Raiders owner) Mark Davis urging him to come to Las Vegas," Hambrick said. "It would be great for our economy."
Assemblyman Derek Armstrong, R-Henderson, believes the stadium and convention center upgrades would help Las Vegas retain its standing as a world-class tourism and convention destination.
"I think it is absolutely necessary for us to do the convention center expansion to remain ahead of the curve and we don't lose bigger events to other cities," said Armstrong, chairman of the Assembly Taxation Committee.
He said the domed football stadium, which could be home to the UNLV Rebels as well as the Raiders, would be an economic development tool.
"We don't have an arena that offers 40,000 seats," he said, noting the National Finals Rodeo was looking at other cities before deciding to remain in Las Vegas. But Armstrong and others questioned whether UNLV should be charged to use the stadium, as is proposed, if public money is used to build it.
Many lawmakers withheld comment, saying they first want to see what is specified in the bill language.
"I am not prepared to comment until I see specific details," said state Sen. Mo Denis, D-Las Vegas.
State Sen. Ben Kieckhefer, R-Reno, echoed that sentiment. "I'm not going to take a position until I see the legislation."
State Sen. Mark Lipparelli, a Las Vegas Republican who is not seeking re-election in November, expressed his early thoughts: "This is a great opportunity to expand our entertainment footprint." But, he added, "Most of the time these projects don't proceed as originally contemplated. Therefore I want to know we are acting conservatively and that we have a clear understanding of governance and responsibilities."
State Sen. Kelvin Atkinson, a Las Vegas Democrat and die-hard Raiders fan, would love to see Sin City invaded by Raider Nation. But he said he's not yet prepared to publicly pledge his loyalty for public financing.
"I don't know enough about it," Atkinson said.
He's more certain of support for the convention center. "That's how we drive this state," he said of convention business. "I think it's needed and I think we can speak a little more confidently on the need to expand the Las Vegas Convention Center."
State Sen. Scott Hammond, R-Las Vegas, also likes the stadium idea and says Nevada's room tax rate is lower than other places in the country. But, he adds, "It's really about the details … but I'm certainly encouraged by it."
COMMUNITY SPIRIT CITED
State Sen. Patricia Farley, R-Las Vegas, and Sen. Joe Hardy, R-Boulder City, both think a professional football team would foster a sense of community spirit in a transient city.
Hardy said he went to an Oakland A's baseball game in Oakland. "What impressed me was everybody walking into the game was talking to each other.
"I literally noticed that community spirit was elevated," Hardy said.
Farley said The Smith Center for the Performing Arts did a lot to enhance Las Vegas' arts and culture, and thinks a pro football team could do the same.
"We're desperately needing that in Southern Nevada," she said.
But she said Nevada also has other needs: education, mental health and child welfare, just to name a few.
"I just think Nevada has real-world problems," Farley said. "We have to balance investing in a stadium with those real-world problems."
State Sen. Don Gustavson, R-Sparks, likes the idea — but not with public funding.
"I believe the new stadium would be very good for Clark County and the state of Nevada," he said. "If this stadium is so great then private enterprise should be able and more than willing to fund the project with no problem."
Assemblyman Harvey Munford, D-Las Vegas, said he will support both the stadium and convention center proposals, while Assemblywoman Shelly Shelton, R-Las Vegas, is adamantly opposed.
State Sen. Tick Segerblom, D-Las Vegas, was critical of the stadium last spring, but last week he plan early on, but saying last spring that use of public funds was a nonstarter. Last week, Segerblom requested a bill draft for the 2017 Legislature to boost room taxes by 4 percentage points to build a stadium in Clark County exclusively with tax dollars if the proposal isn't determined in a special session. The football team would pay rent to play there.
The Review-Journal is owned by the family of Sheldon Adelson, chairman and CEO of Las Vegas Sands Corp.
Contact Sandra Chereb at schereb@reviewjournal.com or 775-461-3821. Follow @SandraChereb on Twitter. Contact Sean Whaley at swhaley@reviewjournal.com or 775-461-3820. Follow @seanw801 on Twitter.
RELATED
Gov. Sandoval plans to call special session for proposed Raiders stadium
Investment group offers to buy Oakland Coliseum to keep Raiders from moving
Las Vegas committee sends Raiders stadium plan to governor
MGM's buy-in was key to Las Vegas stadium project gaining recommendation
Oakland Raiders owner Mark Davis says 'everybody wins' in Las Vegas stadium vote