Oakland stadium official rebuts talk of Raiders staying through 2020
September 28, 2017 - 3:09 pm
Updated September 28, 2017 - 6:51 pm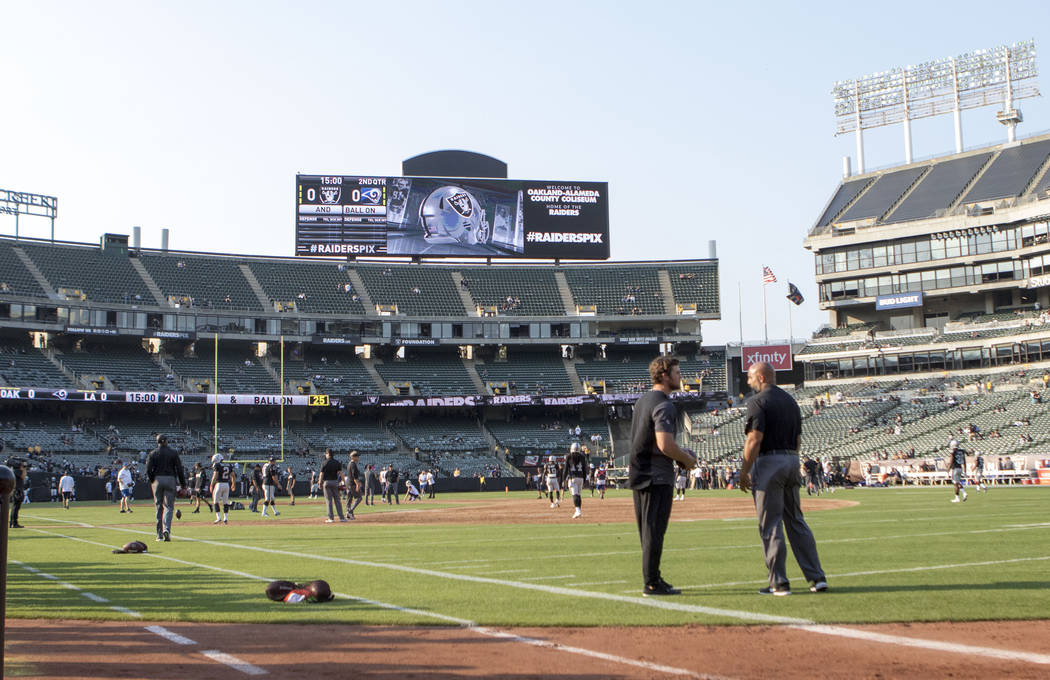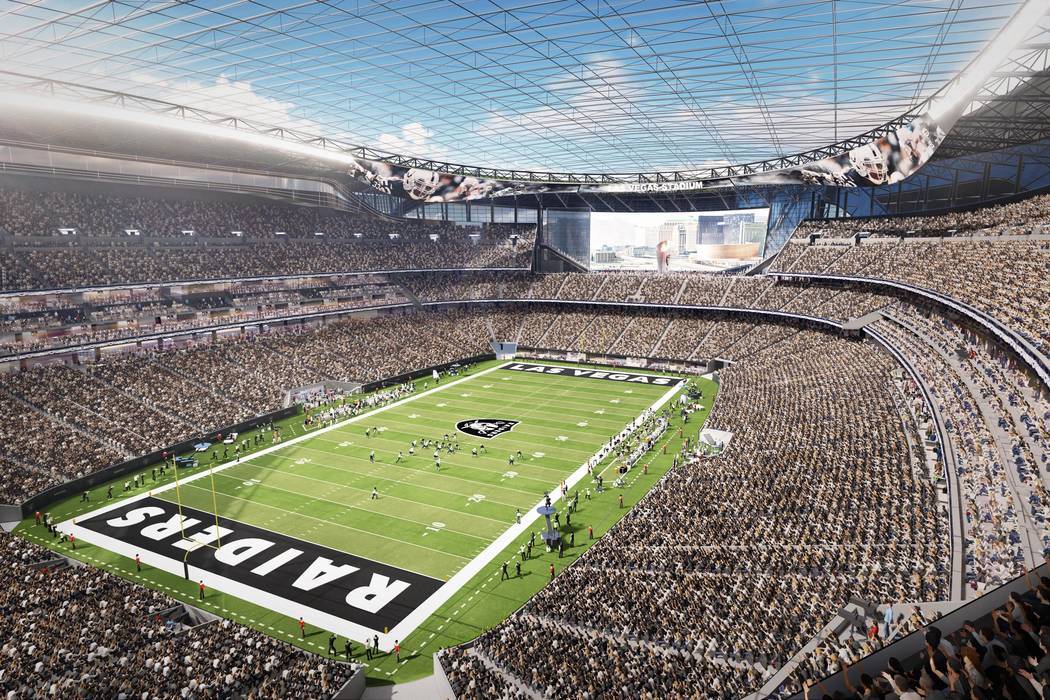 The executive director of the Oakland Alameda County Coliseum Authority says he hasn't spoken with representatives of the Raiders since midsummer and there haven't been any discussions about the team playing at the facility through 2020.
In a telephone interview Thursday with the Review-Journal, P. Scott McKibben said the last time he and Raiders President Marc Badain talked, they mutually agreed to renew discussions about a possible lease extension for 2019 and beyond if the Raiders needed a place to play.
"I said to him (Badain), 'Once you have a better handle on the timeline in Las Vegas and you know how many seasons you may need to stay here longer, let's have a conversation and talk a bit and see if we can strike a deal.' That's the last conversation we had," McKibben said.
Speculation among East Bay bloggers heated up about where the Raiders would play their 2019 and 2020 seasons after the Las Vegas Stadium Authority said it would extend a deadline for completing legal documents that would allow the start of stadium construction.
No effect on construction
Representatives of the authority and the Raiders' contractors have indicated the new deadline shouldn't affect the planned 31-month construction timeline since the early phases of development involve clearing the ground in preparation for work.
SFGate, the San Francisco Chronicle's website, reported late Monday that the Raiders "might likely" play in Oakland through the 2020 season.
The Review-Journal reported a story citing the Chronicle, but could not reach McKibben or Badain for details.
The Chronicle report said McKibben has had "informal conversations" with Badain "in recent weeks." McKibben was quoted as saying "there's a real likelihood we could be talking about two years."
On Thursday, McKibben said speculation about a lease extension "was speculative by a reporter who got way out ahead of his skis last week," referring to blog posts about a prospective deal.
'These guys are dreaming'
"What I think happened was when the Stadium Authority in Vegas needed to get that six-month extension to get the agreements and everything done, everybody started jumping out ahead with 'Oh, they're going to be behind,'" he said. "Then, some reporter writes, 'Well, we think they're actually going to do a lease so they have leverage with Las Vegas to get things done quicker,' and I'm thinking to myself, 'Man, these guys are dreaming.'"
Clark County Commission Chairman Steve Sisolak, contacted late Thursday, concurred.
"I was talking with Marc Badain yesterday and any time these guys order breakfast, it seems like it turns into a story," Sisolak said. "Sometimes there's a smidgen of truth and sometimes there's none. Unfortunately, it just continues because there's an insatiable appetite for Raiders news. When it's not news, people kind of embellish a little bit. I think that's probably what happens."
Sisolak said it's also frustrating for the Raiders' management.
Stirring the pot
"When I talk to Marc or MD (Raiders owner Mark Davis), they say, 'Where is this stuff coming from?' It's just somebody stirring the pot, just trying to create a story," Sisolak said. "Everybody doesn't follow up and verify things before they print them."
McKibben said his view is that the Coliseum Authority would probably look to sign a deal with the team for "2019 for sure with an option on 2020" if the Raiders need it.
"But we're not going to do that until the Raiders feel comfortable enough with what the timeline looks like and a deal's going to get done," McKibben said. "Once that happens, we will sit down, but we've had absolutely no formal discussions."
Raiders executives did not return a request for a comment and a team media representative's VoiceMail box was full and did not accept a message.
Contact Richard N. Velotta at rvelotta@reviewjournal.com or 702-477-3893. Follow @RickVelotta on Twitter.
Touring a new stadium
Several Las Vegas representatives of planning, transportation, infrastructure and construction industries left Thursday for Atlanta to observe activity around the new Mercedes-Benz Stadium for Sunday's Atlanta Falcons football game against the Buffalo Bills.
The 71,000-seat stadium opened Aug. 26 and is the newest National Football League venue.
Among those traveling to Atlanta are more than 20 people, including Las Vegas Stadium Authority board member Tommy White, Regional Transportation Commission of Southern Nevada general manager Tina Quigley, Bryan Haynes of Applied Analysis, which serves as the staff for the Stadium Authority, and several RTC and Clark County transportation and public safety staff members.
The group will meet with the stadium's traffic management team and observe its game day preparation.
Jeremy Aguero of Applied Analysis said the trip was not organized by the Stadium Authority, but several parties interested in preparing for Las Vegas' game-day agreed to go to get a jump on preparations for when the city's $1.9 billion, 65,000-seat stadium opens in 2020.