Public funding would cover two-thirds of UNLV stadium costs
January 30, 2016 - 7:28 pm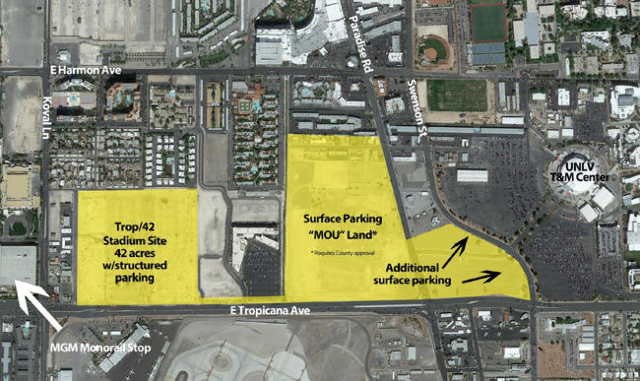 A domed stadium proposed for the University of Nevada, Las Vegas football team has a price tag of $1.2 billion, and developers would seek $780 million in public financing, according to a document provided by Las Vegas Sands Corp., which is leading a consortium behind the project.
Private investors would contribute $420 million toward the planned 65,000-seat stadium, with various tourist-driven tax sources — commercial conveyance on taxicabs, rental car taxes or hotel room taxes — providing the bulk of the funding.
Las Vegas Sands announced plans for the domed stadium on 42 acres near UNLV last week. Andy Abboud, Las Vegas Sands' senior vice president of government relations and community development, said Las Vegas needs a modern stadium to drive additional tourism to Southern Nevada.
The stadium would house the university's football team and possibly a National Football League franchise. Oakland Raiders owner Mark Davis met with Las Vegas Sands Chairman and CEO Sheldon Adelson to discuss the proposed stadium Friday.
According the 22-page presentation, legislative action would be required to establish a budget and funding formula for the public financing. Lawmakers would need to authorize creation of a Stadium Authority Board to oversee the 42-acre site.
Enabling legislation for a "fee"-based source of public revenue is required for the $780 million in public money.
According to the presentation, the domed stadium would open in 2020 if construction were to begin in 2017.
Las Vegas Sands said the domed stadium would provide $600 million to $800 million in total annual economic benefit, including $200 million in direct construction wages and $300 million annually for Las Vegas resort and retail sector.
"We are moving forward with the stadium concept with or without an NFL team," Abboud said Thursday. "We see a lot more opportunities — conference championships, bowl games, NFL exhibition football, boxing, soccer, neutral site games, and music festivals. There is an entire segment out there."
The project, so far only a concept, involves Los Angeles-based Majestic Realty Co. and UNLV, which bought 42 vacant acres along Tropicana Avenue east of Koval Lane earlier this month. UNLV wants to move its football program from the aging Sam Boyd Stadium in the east valley to a new facility closer to campus. A donation through the UNLV Foundation covered the $50 million site purchase.
"There are any number of ways that land could be used," UNLV President Len Jessup said. "It has good potential as a stadium site. But we've said all along that we'd look at any opportunity. If we can get a stadium built at little or no cost to the university, we're interested in it."
Abboud said Las Vegas Sands may seek legislative approval for diversion of hotel room tax revenues that now support the Las Vegas Convention and Visitors Authority to the project. The company plans to present its idea in February or March to the Southern Nevada Tourism Infrastructure Committee, which is tasked with finding ways to further grow the tourism economy.
"Nothing will move that needle like a new world-class stadium," Abboud said.
The Review-Journal is owned by a limited liability company controlled by the Adelson family, majority owners of Las Vegas Sands.
Contact reporter Howard Stutz at hstutz@reviewjournal.com or 702-477-3871. Follow @howardstutz on Twitter.