Raiders may get $460K rebate from Clark County for stadium
Updated November 20, 2018 - 8:24 pm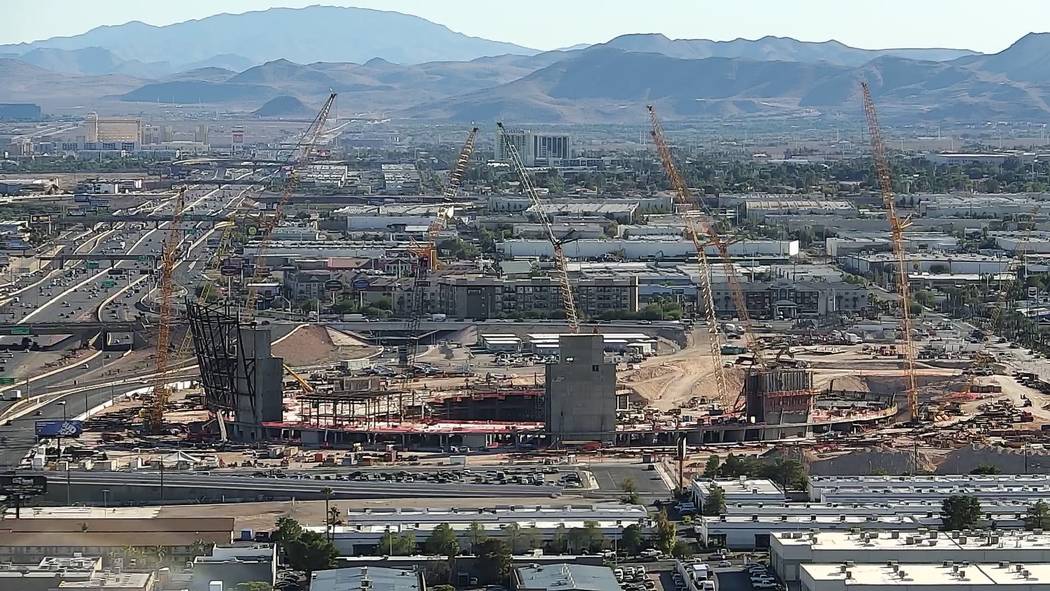 Clark County could pay the Raiders a rebate of almost $460,000 if elected officials approve a proposed ordinance slashing fees that developers pay for expedited building and zoning reviews.
That is because the ordinance not only would reduce what the county charges for future projects, it would partially repay any developer that purchased expedited services this year.
The Raiders' new NFL stadium is one of three projects eligible for a rebate, according to county staff. The Palms could get $194,000 back in fees paid for a resort-wide remodeling project, and the Las Vegas Convention and Visitors Authority could be repaid $2,300 in fees related to its expansion project.
Fee revenues are put into an enterprise fund that pays for the county building department's operations. That fund has a balance of about $30 million, county staff reports.
LIVECAM:
Monitor the progress of Las Vegas Stadium in this view looking south toward the construction site.
The Clark County Commission will introduce the proposed ordinance at its Dec. 4 meeting. Commission Chairman Steve Sisolak said Tuesday he wanted to partially refund the fees paid this year because cutting fees was proposed at the start of 2018, but the measure was put on hold to let a work group of developers, professional organizations and other parties discuss the idea.
"I think it's only fair that we go back to when we started talking about this, which was quite a while ago," Sisolak said.
But that proposal drew criticism from Commissioner Chris Giunchigliani. She said rebates were not necessary because the Raiders, the Palms and LVCVA were not facing a hardship by having paid the fees.
"Down the road that enterprise fund is going to come and go. … Some people are saying we might hit another recession coming up in the next year or two," she said. "I don't want our building department to be hit as hard as it was in 2006, 2007."
Assistant County Manager Randy Tarr presented the work group's recommendations during Tuesday's commission meeting. Sisolak's initial proposal was to reduce the flat rate paid for expedited review from quadruple the cost of normal fees to double. The work group suggested a tiered system based on a construction project's value.
Projects valued from $250,000 to as much as $50 million would pay the longstanding quadruple rate. Projects valued between $50 million and $100 million would pay three times the normal rate. Projects more expensive than $100 million would pay only double.
The estimated construction cost of the Raiders stadium is $1.8 billion, so the project qualifies for the largest category of fee reduction and therefore rebate.
Expedited reviews would not be available for projects valued at less than $250,000.
"There's nothing to expedite on a smaller project like that," county building department director Jerry Stueve said.
Tarr said the tiered structure addressed county staff's concern that reducing fees would cause a flood of developers to seek expedited reviews, thus eliminating the effectiveness of the program. He added that reducing fee rates for the county's most expensive projects, which are primarily tied to Strip casino-resorts, would keep developers from paying exorbitant fees.
"Some of these large projects, their fees are much larger than any effort (our staff) would ever expend," Tarr said.
Contact Michael Scott Davidson at sdavidson@reviewjournal.com or 702-477-3861. Follow @davidsonlvrj on Twitter.