Raiders ready to break ground for Las Vegas stadium
November 11, 2017 - 9:25 am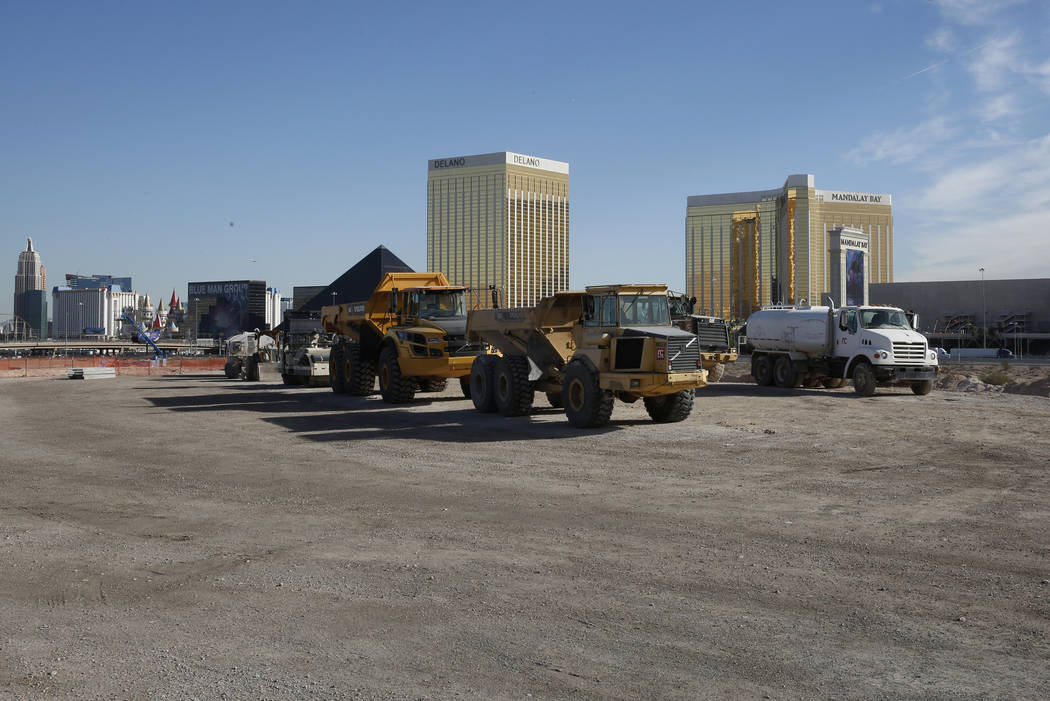 Oakland Raiders President Marc Badain is protecting what's going to happen at Monday's Las Vegas stadium groundbreaking event like it's the playbook for the team's game next week against the New England Patriots.
In Thursday's Las Vegas Stadium Authority board meeting, Badain casually mentioned that there would be "an official groundbreaking" in his 90 seconds of remarks but didn't mention publicly what time the event would be or who would be there.
It's an invitation-only event that's expected to start at 5 p.m.
Authority Chairman Steve Hill said after Thursday's meeting that even he didn't know what was planned but that he and Badain would leave afterward to fly to Houston to take part in the second round of qualifying talks Tuesday to bring at least one FIFA World Cup soccer match to the stadium in 2026. There could be more depending on who else is in the bidding.
And, there is the slight detail that North America would have to win the host bid before individual cities could vie for staging a game.
Hill isn't too worried about Las Vegas' competition because he knows the city would be highly regarded.
"Having the stadium opens up a new set of opportunities that we had never been able to host," Hill said after Thursday's meeting. "Without a stadium coming online, the World Cup would not be something we could even consider.
"Frankly, the presentation is a really easy thing to make," he said. "We can tell a story everybody already knows. Most everybody involved has already been here and experienced that."
And the World Cup isn't the only big potential event on the city's horizon. Badain said during the meeting that Las Vegas would be in the queue for hosting the NFL Draft as early as 2019 and a Super Bowl by 2025.
As for Monday's groundbreaking, many have speculated that current Raiders players and possibly some of the team's historic greats would be present. The team is in its bye week, so there's a little time for celebration for what will be a historic moment for Southern Nevada.
It wasn't that long ago — January 2016 — that the idea of bringing an NFL team to Las Vegas was hatched. The Southern Nevada Tourism Infrastructure Committee, also headed by Hill, was in the midst of meetings to develop plans to expand the Las Vegas Convention Center, concoct new transportation strategies, maybe a light rail, and to possibly build a stadium capable of housing some of the big concert tours Las Vegas was missing out on as well as providing a new home for UNLV's football team.
The way the NFL viewed Las Vegas' gambling culture, securing a franchise seemed out of the question.
But Las Vegas Sands Corp. Chairman Sheldon Adelson and Craig Cavileer of Majestic Realty, which has experience building stadiums, brought Raiders owner Mark Davis to the table with the idea of relocating the team to Las Vegas and building a 65,000-seat, $1.9 billion domed venue that would be used by the Raiders and UNLV and to host big events, expanding the city's special-events calendar.
The proponents brought some star power to one presentation, featuring soccer superstar David Beckham to speak on behalf of the project.
Multiple obstacles
Over the next 22 months, the developers overcame obstacle after obstacle: A special legislative session in which a financing proposal passed by one vote; a vote by NFL owners to allow the relocation of the team; the acquisition of the 62 acres.
When Adelson, who pledged his family's personal wealth to the project, and Majestic dropped out of the effort in early 2017, the Raiders had to secure financing through a loan with Bank of America.
The Raiders and the Stadium Authority were optimistic they could get every agreement drafted and completed by October, but the complexity of every deal bogged down the process.
The Raiders and their stadium contractor, Mortenson Construction of Minneapolis and McCarthy Builders of Henderson, have known they needed to start work on the site by November to get the stadium completed within 31 months, in time for a July 2020 opening and the kickoff of the 2020 NFL season.
Challenges ahead
Even now, there are big challenges ahead:
—  A final development agreement with a guaranteed maximum price has to be signed and is now on target for February.
—  A joint-use agreement between the Raiders and UNLV must be approved.
—  The long-awaited community benefits plan assuring that 15 percent of labor contracts and supplies go to small businesses got bogged down in details on minority hiring when it was discussed Thursday.
—  Infrastructure on roads and highways leading to the stadium need to be improved.
—  The Raiders still don't have a plan for where people attending games will park and tailgate.
—  Last week, a new challenge emerged — federal tax-reform legislation that would prevent the use of tax-exempt bonds for construction on stadiums used by professional sports teams.
Detractors abound
All of those challenges are set within an environment in which local critics are seeking ways to torpedo the project and try to divert money to other state needs. That dissension is being cheered on by East Bay residents who want to keep the team in Oakland though every stadium development proposal there has fallen flat.
On Monday, all of those problems and challenges will be set aside for at least an hour as the silver-plated shovels come out with all the enthusiasm that is raised for an effort filled with public pride and civic optimism.
It should be a groundbreaking for the history books.
The Review-Journal is owned by the family of Las Vegas Sands Corp. Chairman and CEO Sheldon Adelson.
Contact Richard N. Velotta at rvelotta@reviewjournal.com or 702-477-3893. Follow @RickVelotta on Twitter.