Report: The Cordish Cos. was sued for racial discrimination
August 18, 2014 - 4:21 pm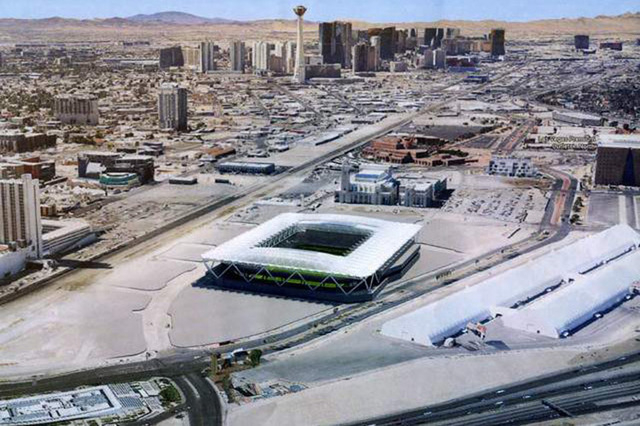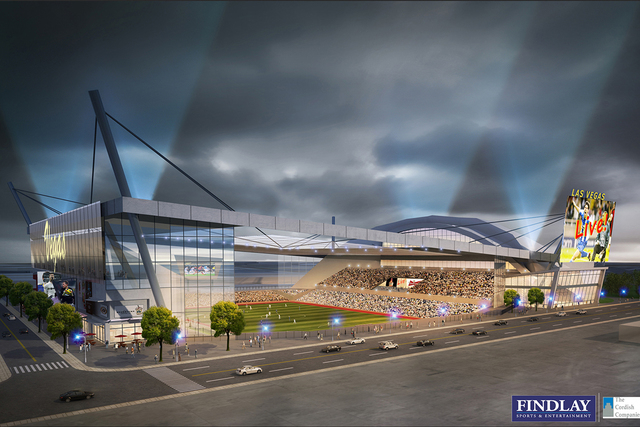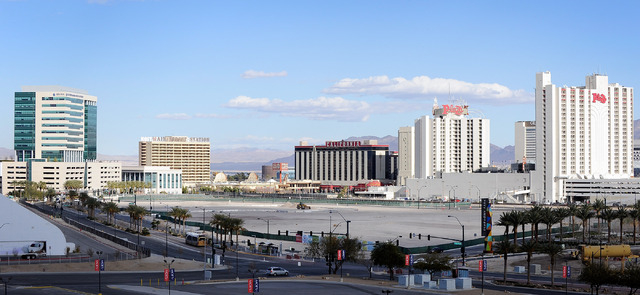 The Cordish Cos., the Baltimore-based company partnering with the city of Las Vegas on a soccer stadium proposal, was the subject of racial discrimination lawsuits and complaints in entertainment districts in three states, according to a New York Daily News report posted early Monday.
The lawsuits and complaints focused on racial bias claims in entertainment districts in Louisville, Ky; Kansas City, Mo., and St. Louis, according to the Daily News story. The newspaper cited lawsuits and complaints that alleged that restrictive dress codes and other methods were used by Cordish to limit access to black visitors to the entertainment areas. The dress code banned long shirts and baggy pants.
In Las Vegas, under a city-Cordish exclusive negotiating agreement, Cordish initially proposed a $390 million arena for downtown Symphony Park. But Cordish then switched gears and floated a $200 million soccer plan this year in a partnership with Findlay Sports & Entertainment, which is working with Cordish on recruiting a Major League Soccer expansion team to Las Vegas. The overall stadium and MLS team proposal is for at least $300 million.
The Cordish-Findlay team wants public dollars to pay for more than half the stadium costs, but the financing plan is not final. The city has postponed two public meetings on the soccer stadium funding plan this month.
The City Council originally planned to address the soccer stadium deal at a meeting on Wednesday, but the topic has been removed from the agenda. In May, the council gave Cordish-Findlay a Sept. 1 deadline to provide a soccer stadium finance plan. Major League Soccer is expanding to 24 teams, and there is one expansion team slot left. Las Vegas is competing against Austin, Texas; Minneapolis; Sacramento; San Antonio and San Diego.
PROJECTS ACROSS THE U.S.
Cordish has built dozens of projects across the country. In the three cited discrimination allegation cases, the entertainment districts are 4th Street Live in Louisville; the Ballpark Village in St. Louis and and the Kansas City Power & Light District.
In Louisville, The Courier-Journal reported in June that five black men sued Cordish's 4th Street Live for allegedly not allowing them to enter because of their race but permitted white people to go into 4th Street Live. The lawsuit was filed May 30. The newspaper reported that it was the first public discrimination claim against 4th Street Live after staffers underwent diversity training in response to previous allegations of racial bias.
Chris Hartman, director of the Louisville-based Fairness Campaign, a LGBT equality organization, which worked with Cordish on sensitivity training at 4th Street Live, told the Review-Journal on Monday that the downtown complex had a history of racial complaints that focused on people "of color not getting into the complex where as white folks were allowed in. This went on for years and years and years."
"There were allegations of racial discrimination focusing on dress code. White folks dressed a certain way were allowed in while black folks dressed exactly the same way underwent more severe security scrutiny," Hartman said.
That led to groups such as the ACLU of Kentucky, Fairness Campaign and other local organizations meeting with Cordish representatives over a series of months in 2013 to address racial issues in the dress code, Hartman said.
"Things were tense and difficult at the beginning, but then there was a willingness to work with the community and resolve the issues," Hartman said. He noted there a joint press conference about a year ago to announce policy changes.
For example, Cordish agreed to post the dress code policy more prominently on its website and security guards at entrance points no longer had the authority to reject people because of dress code — only managers could do that, Hartman said.
VARIED REACTION
Mayor Carolyn Goodman said she was "totally unaware" of the lawsuits and discrimination complaints against Cordish. After reading the Daily News story, Goodman said, "I have found Cordish most reputable and am surprised by the allegations."
Councilman Steve Ross offered this comment: "I think the city should absolutely consider this regarding its relationship with Cordish. I, for one, will not tolerate racial discrimination in our city."
The Cordish Cos. denied the allegations in the lawsuits and complaints and said, according to a statement, that "the idea that the Cordish Companies would ever discriminate is beyond ludicrous."
In Cordish's more than 100-year history, "we've been subject to a few unfounded and opportunistic accusations, which are a sad reflection of the litigious nature of our society and a fact of life for all companies. For example, there have been hundreds of civil rights lawsuits filed against Las Vegas based gaming companies.
"The fact is no company has shown a stronger commitment and passion for diversity and seeing our urban areas thrive than The Cordish Companies. We have been widely recognized for our commitment to investing, hiring and working in our nation's cities and have won numerous awards for our commitment to inclusion and diversity, including our most recent honor by the MD Washington Minority Companies Association as the Most Inclusive Company in the State of Maryland.
"We take great pride in our spotless record of meeting and exceeding (minority and women owned) thresholds across billions of dollars of development in dozens of cities," the statement said.
Justin Findlay, managing partner of Findlay Sports, offered no comment except to suggest contacting Cordish about the lawsuits and complaints.
The Cordish-Findlay soccer proposal is not the only one in Las Vegas. Gaming investor Jason Ader, who owns a New York City money management company, has floated a $350 million proposal to bring an MLS team to Las Vegas and build a soccer stadium.
Ader issued this statement: "The MLS is moving forward with its expansion plans. Las Vegas isn't the only city under consideration by the league. We have great respect for the Findlay family and are open to including Justin Findlay in our discussions about attractive alternative locations to Symphony Park so that we can successfully bring a professional soccer team to Las Vegas."
Contact reporter Alan Snel at asnel@reviewjournal.com or 702-387-5273. Follow @BicycleManSnel on Twitter.

An arena plan for Symphony Park
RELATED:
Downtown Las Vegas arena nixed, soccer stadium a possibility
You need a scorecard to track Las Vegas arenas