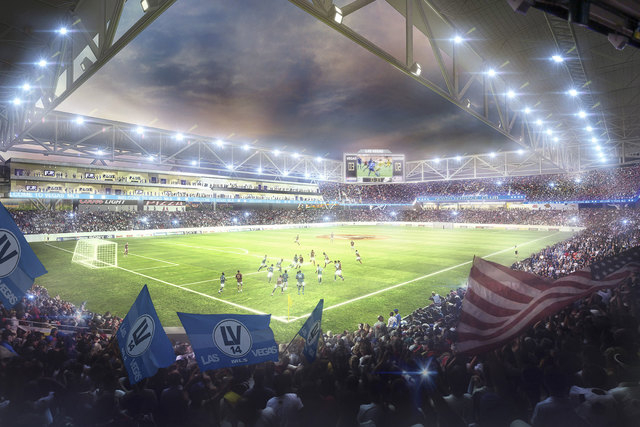 The city of Las Vegas' plans to use hotel room tax money for $3 million annually over 30 years for most of its share to build a $200 million subsidized downtown soccer stadium could pose a problem, a well-known local consultant believes.
The issue revolves around $90 million worth of bond repayments for the $45 million to $50 million in borrowed funds, says Guy Hobbs, a local consultant who advises governments and agencies on finance deals.
Even though the source of the money would be room taxes, the hitch is that the city would most likely have to pledge its general fund dollars as a promise to the bondholders that they would be repaid, said Hobbs, a consultant who worked on the proposed UNLV stadium project.
The general fund is the money the city uses to pay its bills and includes property taxes.
"In all likelihood, the city will pledge general tax revenues to secure those bonds because this source of revenue (collected room tax fees) can be renegotiated and theoretically go away and not be a revenue source that would a good pledge," Hobbs said Monday.
"Bondholders want to make sure that the money they have paid for the bonds will be repaid to them without fail over the life of the 30 years," Hobbs said. "You pledge a source of revenue to repay … What ultimately is at risk is the general tax revenues."
Under its most recent proposed deal with the private partnership of The Cordish Cos. and Findlay Sports & Entertainment, the city proposes to tap its annual $6.5 million in room tax fees it receives as part of a 2007 interlocal agreement with the the Las Vegas Convention & Visitors Authority and the cities of North Las Vegas, Henderson, Boulder City and Mesquite.
The interlocal agreement says the room tax dollars "shall only be used to provide for the operations and maintenance of recreational programs or facilities or the construction or acquisition of such facilities."
City officials have no direct comment on Hobbs' assertion because they have yet to decide whether or not general funds will be used to secure stadium funding. The nonbinding stadium funding deal goes to a City Council vote on Wednesday.
Cordish/Findlay wants the $90 million subsidy from Las Vegas to build the 24,000-seat stadium on 61 acres in Symphony Park because the partnership argues its profit margins are too thin.
Cordish/Findlay said it needs a publicly subsidized stadium approval to recruit a Major League Soccer team to Las Vegas. MLS, expanding to 24 teams, has only one expansion team slot left and Las Vegas is competing against at least five other cities.
The city is being asked to sell bonds toward the $200 million venue as one part of the public funding package. Cordish/Findlay also wants $22 million in STAR bonds that would be paid for by sales tax revenue from a new Tourist Improvement District and $14 million in infrastructure costs. Cordish/Findlay and its soccer stadium subsidy supporters say that deal is a good one compared to other subsidized MLS stadiums.
The decision of the city's seven-member governing board on Wednesday boils down to the vote by Councilwoman Lois Tarkanian because three council members firmly oppose the deal, while Mayor Carolyn Goodman and two council members are for it.
Tarkanian, a former educator and the wife of former famed UNLV basketball coach Jerry Tarkanian, said she would vote no if the vote was held today because she said her ward needs parks and recreation improvements more than an amenity such as a professional soccer stadium.
But she also would consider voting yes if Cordish/Findlay eliminates its request for the annual $3 million public subsidy, which would push the proposed deal to a final vote in December. If there is a Council stadium deal vote in December, the Council would have to vote in a supermajority of 5-2 to ratify a deal with general obligation bonds and a conventional vote of 4-3 if revenue bonds are part of the stadium finance package.
Hobbs also raised a concern about the proposed Tourism Improvement District because the sales tax revenue projections are based on development that is not even built.
"The TID law was intended to provide a tool to fund a project to bring in visitors. One has to ask whether it'a good fit (for this soccer stadium project)," Hobbs said.
Bill Arent, the city's economic development chief, said the concept is that future sales tax revenues, the majority of which must be from non-Nevada residents, would generate sufficient funds to make the annual debt payment required for the $22 million in STAR Bonds. The bonds are limited to 20 years — not 30 years — and would be repaid from the sales tax collected on merchandise sales from the stadium, future development in Symphony Park and from the latest phases of the Las Vegas Premium Outlets, Arent said.
Contact reporter Alan Snel at asnel@reviewjournal.com or 702-387-5273. Follow @BicycleManSnel on Twitter.

An arena plan for Symphony Park
More coverage
Complete coverage of the various stadium and arena proposals.