Southwest critical of Bali Hai site for proposed stadium
September 14, 2016 - 7:16 pm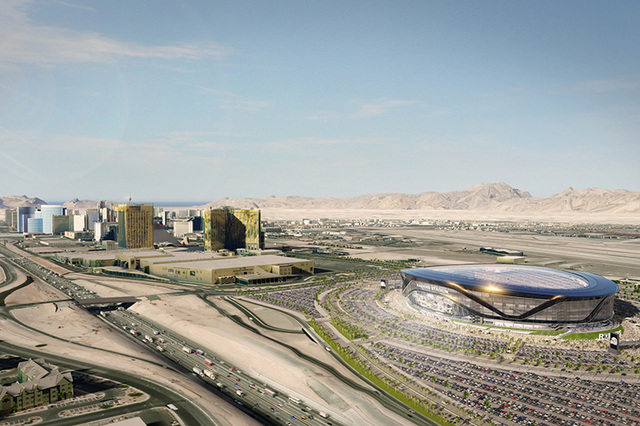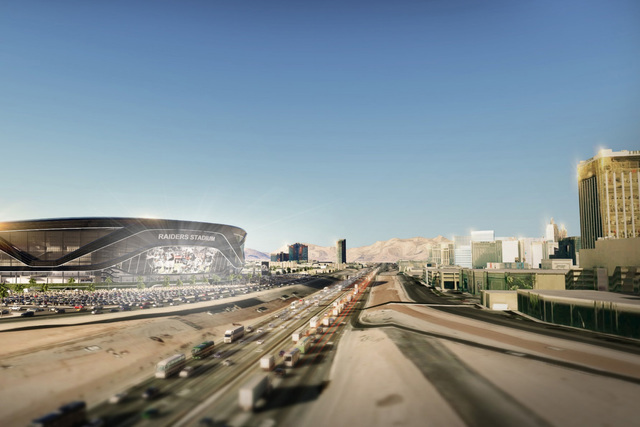 Airline operations at McCarran International Airport could be restricted if a 65,000-seat domed football stadium were built at the site of the Bali Hai Golf Club, a spokesman for Southwest Airlines said Wednesday.
The concerns were raised by the airport's busiest commercial carrier just one day before the Southern Nevada Tourism Infrastructure Committee is expected to recommend a stadium site to Gov. Brian Sandoval.
The 140-acre Bali Hai property sits just west of McCarran's runways, separated only by Las Vegas Boulevard. A second site — the stadium developers' preferred location — spans 62 acres northwest of Russell Road and Interstate 15. It was considered "acceptable," Southwest Airlines spokesman Dan Landson said.
"The Bali Hai location would be too close to the airport, and at the end of the day we want to make sure our operations are safe," Landson said, adding that the carrier has expressed its concerns with Clark County officials. "Our No. 1 focus is safety."
Landson said Southwest's concerns mirror those outlined in a letter sent in June to Clark County Commission Chairman Steve Sisolak, which stated that any stadium built on a 42-acre site at Tropicana Avenue and Koval Lane would "erode safety, security and capacity" at the nation's eighth-busiest airport. The airline also voiced concerns about distractions to pilots such as light displays, fireworks and video message boards.
Southwest has not threatened to reduce flights at McCarran if a stadium is built near the airport, but the carrier in June said restricting runway operations would endanger efforts to transport more than 12 million passengers annually to Las Vegas.
Southwest's letter also noted that landings and takeoffs are the "most critical stages of flight." That communication essentially ended debate on whether to build the stadium on the site, known as Trop 42, less than a half-mile north of McCarran's runways.
The $1.9 billion project would be funded by a public-private partnership that includes $750 million in Clark County hotel room taxes. The family of Las Vegas Sands Corp. Chairman and CEO Sheldon Adelson, Majestic Realty and the NFL's Oakland Raiders would fund the balance and any cost overruns with private dollars. If a room tax increase is approved by the Nevada Legislature, the Raiders have promised to pursue relocation to Las Vegas.
Representatives of the Adelsons, Majestic Realty and the Raiders previously told the tourism committee that an agreement is in place to purchase the acreage northwest of Russell Road and Interstate 15.
The Raiders reportedly have an option to buy four parcels between Russell Road, Hacienda Avenue, Polaris Avenue and Dean Martin Drive. The unoccupied land has a listed value of $40 million, but the Raiders have not announced a purchase price.
"Obviously, we're aware of all the issues and we have experts looking at this every day," said Andy Abboud, vice president of government relations and community development for Las Vegas Sands, which is representing Adelson in stadium negotiations.
"We are confident that we will accommodate all of the concerns of Southwest Airlines, the FAA (Federal Aviation Administration) and the airport," Abboud said. "It's really just a matter of design."
Steve Hill, chairman of the Southern Nevada Tourism Infrastructure Committee, was not available for comment Wednesday. The committee meets Thursday at 8 a.m. at UNLV's Stan Fulton Building to consider the stadium plan.
If the Bali Hai or Russell Road sites are selected, the developers would be required to file for a FAA review should the project exceed a height of 200 feet.
Stadium developers have not yet requested such a study for either of the front-runner sites, said Rosemary Vassiliadis, McCarran's director of aviation.
It's unclear whether an FAA review of the proposed stadium sites could be completed in time for a special session of the state Legislature this fall, or an NFL owners meeting in January, when a vote on relocation of the Raiders could come.
The speed of any FAA review could depend on several factors, including the stadium's height, Vassiliadis said.
If the Bali Hai golf course is selected, both Vassiliadis and Abboud said the developers likely would excavate on the northwest corner of the property, creating a lower elevation for the stadium.
"Putting the stadium in that northwest corner gets it away from the centerline of our runways, and knowing that they are going to dig down to make that happen is helpful," Vassiliadis said. "Until we know the dimensions, orientation and footprint, we can't answer how long the study will take."
The Review-Journal is owned by the family of Las Vegas Sands Corp. Chairman and CEO Sheldon Adelson.
Contact Art Marroquin at amarroquin@reviewjournal.com or 702-383-0336. Follow @AMarroquin_LV on Twitter.
RELATED
Southwest Airlines opposes proposed stadium site near McCarran Airport
Land for proposed stadium site in Las Vegas being sold by bank group
Final four stadium sites for Raiders up for debate