T-Mobile buys naming rights to new Las Vegas arena
January 7, 2016 - 12:01 am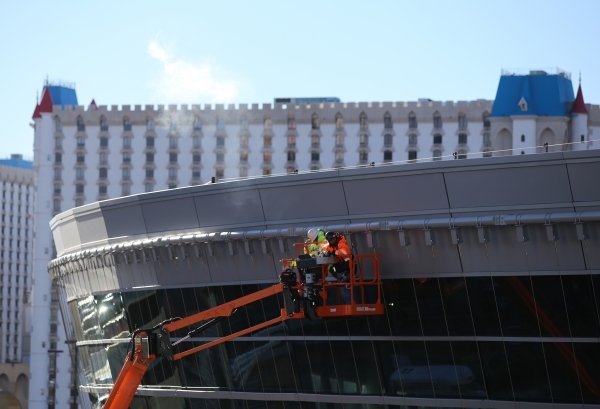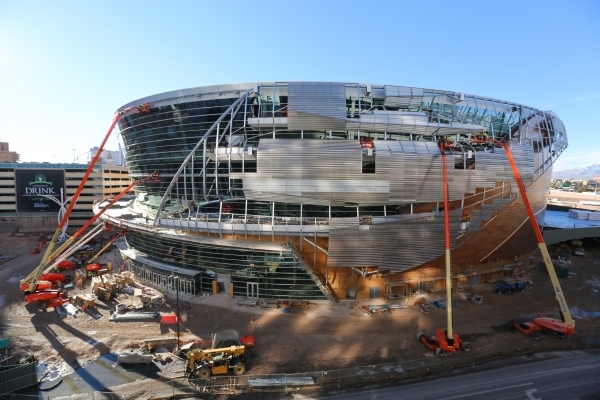 Wireless operator T-Mobile has bought the naming rights to the $375 million arena being built by MGM Resorts International and Anschutz Entertainment Group (AEG) that is set to open on the Strip in April.
The building, informally called Las Vegas Arena for the past two years, is officially the T-Mobile Arena.
The Bellevue, Wash.-based wireless operator reached the arena title sponsorship agreement with AEG, MGM Resorts' 50-50-partner on the 20,000-seat arena.
While T-Mobile U.S. Inc.'s wireless competitors such as AT&T and Verizon have already made naming rights deals with other arenas in the U.S., this is T-Mobile's first such corporate arena title deal with a venue owner.
Rick Arpin, MGM Resorts International senior vice president for entertainment, said, "This was their one shot (at a first naming rights deal), and they wanted to make it a good one."
T-Mobile plans to activate its naming rights deal with special VIP and ticket deals for its growing number of customers. T-Mobile reported service revenues of $6.3 billion in the third quarter of 2015, touting itself as the fastest-growing wireless company in the U.S. with 2.3 million new customers in the quarter for a total of 61.2 million customers.
"All our customers just got upgraded when they come to Vegas," said Andrew Sherrard, T-Mobile chief marketing officer.
"When we did it, we got the right type of property," Sherrard said Wednesday. "This was a completely unique space and Las Vegas was a unique town to do it in."
T-Mobile, AEG and MGM Resorts officials declined to discuss the terms of the long-term deal, which is believed to be in the 10-year range.
Annual values for current and recent arena naming rights deals typically run from $2 million to $10 million. For example, Barclays PLC is paying about $200 million for 20 years — or an average of $10 million annually — at the Barclays Center in Brooklyn, home of the NBA Brooklyn Nets. Meanwhile, Staples pays $6 million a year for its naming rights deal at the Staples Center, which is owned by AEG and is the downtown Los Angeles home to the NBA Lakers and Clippers and NHL Kings.
The T-Mobile naming rights deal is for less than $6 million a year, but there are no other firm details on the deal.
T-Mobile was attracted to the arena because it liked that Las Vegas is a worldwide hub for live entertainment.
"They thought long and hard about it," said Todd Goldstein, chief revenue officer for Los Angeles-based AEG.
T-Mobile is known for its irreverent "Un-carrier," marketing style, which it plans to use at the arena that opens on the west side of the Strip. The venue is on 14.5 acres between New York-New York and Monte Carlo, just east of I-15 and north of Tropicana Avenue.
"We were looking for someone not to slap their name on the building, for but something to make it iconic," Goldstein said.
"T-Mobile is disruptive and irreverent — a perfect complement to our vision of entertainment in Las Vegas," he said.
T-Mobile has a major sponsorship deal with Major League Baseball, paying millions of dollars to be MLB's official wireless sponsor. It was announced at the Consumer Electronics Show in Las Vegas in 2013.
Arpin said T-Mobile is a brand that appeals to the millennial demographic, so he said it's a nice fit with the venue, which also wants to be a destination for millennials.
T-Mobile joins other tech-based sponsors at the arena. They include Schneider Electric, a Paris-based energy management company; Toshiba, the arena's exclusive supplier for digital signage and naming rights holder for the plaza in front of the arena; and Cox Business/Hospitality Network, a Cox Communications Inc. subsidiary that will be the technology integration/telecommunication services provider for the arena.
"We do expect very good cell phone and wireless coverage in the building," Arpin said. "These guys are having traction in their industry space and we like that."
T-Mobile plans to use its naming rights sponsorship for special deals for its customers, such as a fast-track VIP entrance, seat upgrade opportunities, ticket sales before the general public can purchase seats, charging stations and premium event experiences.
An arena naming rights deal typically grows in value when an NBA or NHL team is a tenant. Las Vegas businessman Bill Foley, who owns property title insurance businesses, wineries and restaurants, is trying to create an NHL team in Las Vegas and has signed a lease with the arena owners. Foley hopes to have an expansion club playing in Las Vegas in the fall of 2017.
But even without hockey, there will be plenty of sports in the arena, including Ultimate Fighting Championship shows, boxing matches, and professional bull riding competitions. Music acts, including The Killers, George Strait, Garth Brooks, Dixie Chicks and Janet Jackson, have already been scheduled.
The prospect of a possible NHL team in the arena was not a "driver," in T-Mobile striking the deal, Sherrard said.
"If the NHL comes, we would obviously love it. It would be nice icing on the cake, but it was not a driver," Sherrard said.
Arpin said he is looking forward to the arena's tech partners such as T-Mobile offering services for fans in the building. But his main objective is to ensure there are no glitches in the basics such as making sure warm hot dogs will be ready when the building opens in April.
"The best perks are yet to come," he said.
Contact reporter Alan Snel at asnel@reviewjournal.com Find him on Twitter: @BicycleManSnel