'Town hall' meetings to air soccer stadium views
September 15, 2014 - 2:43 pm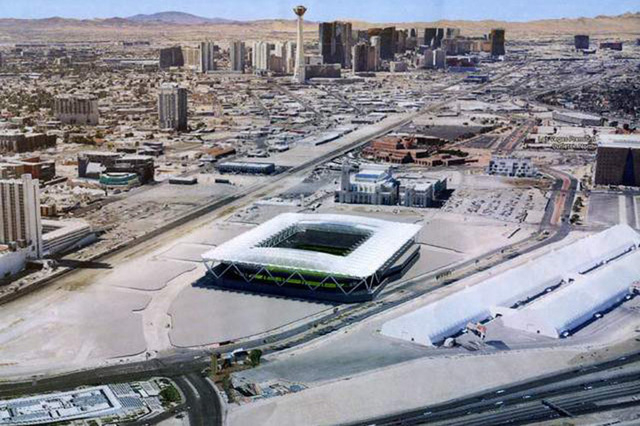 The Great Soccer Stadium Debate is coming to a Las Vegas ward near you.
During the next two weeks, the city is staging no less than six "town hall meetings" — one in each ward — about the proposed $200 million publicly subsidized soccer stadium deal, which has split the City Council in much the way it has drawn divided opinions in Las Vegas.
The city's proposed deal with the private team of The Cordish Cos. and Findlay Sports & Entertainment calls for public dollars to account for nearly 78 percent of the upfront costs to pay for the proposed 24,000-seat stadium in Symphony Park.
But city soccer fans and residents hungry for a Major League Soccer (MLS) team point out that Cordish/Findlay will repay 59 percent of the stadium's costs through annual rent of $3.5 million and other non-soccer payments over 30 years. Mayor Carolyn Goodman has been chief cheerleader for the stadium.
Residents opposed to public dollars being used argue the city is assuming the financial risks because it has to issue bonds and say that soccer advocates should pay for their own stadium with private dollars.
City officials and Cordish/Findlay representatives will present their case for a subsidized stadium. Goodman joins Council Members Ricki Barlow and Steve Ross in supporting the stadium deal, while members Stavros Anthony, Bob Beers and Bob Coffin oppose the public financing proposal. Councilwoman Lois Tarkanian is undecided.
Clark County Commissioner Chris Giunchigliani, who lives in Coffin's ward and whose county district includes a piece of Tarkanian's ward, said she is concerned that the city is promoting the proposed soccer stadium deal instead of providing an impartial presentation showing both the sides of the issue.
"I do believe in government that we should give the facts and give the pros and the cons," she said Monday.
Justin Findlay of Findlay Sports said he plans to attend all six meetings to give a short presentation and answer questions.
"We want to make sure everyone understands the plan and get feedback," Findlay said Monday.
Each council member's ward will host a meeting:
— Tuesday, 6:30 p.m. for Ward 6 at Centennial Hills Community Center, 6601 N. Buffalo Drive.
— Wednesday, 6:30 p.m. for Ward 5 at Doolittle Community Center, 1950 N. J St.
— Thursday, 6:30 p.m. for Ward 2 at Rogich Middle School, 235 Pavilion Center Drive.
— Sept. 23, 6:30 p.m for Ward 4 at Durango Hills Community Center, 3521 N. Durango Drive, classroom C.
— Sept. 24, 5 p.m. for Ward 3 at City Hall Council Chambers, 495 S. Main St. It will be carried live on KCLV Channel 2.
— Sept. 25, 6:30 p.m., Ward 1, Development Services Center, 333 N. Rancho Drive, Great Basin Room 5th Floor.
Residents can also stay home and submit their opinions by sharing their thoughts in an online town hall called Crowd Hall at https://crowdhall.com/h/303/.
For Twitter fans, City Manager Betsy Fretwell is scheduled to hold a "chat" at 4 p.m. Sept.18. Use #stadiumchat to share your feedback and find @BetsyFretwell.
Goodman is also holding a Twitter chat at 8 a.m. Sept. 22. Also use #stadiumchat to share your comments and find @MayorofLasVegas.
Meanwhile, a Google Hangout is set for 11 a.m., Sept. 30. Use #stadiumhangout to ask questions. Find the city on Google+ at google.com/+cityoflasvegas.
The City Council is scheduled to vote on the nonbinding stadium deal on Oct. 1. If Tarkanian joins Goodman, Barlow and Ross to vote in favor of the tentative proposal, then it would move ahead for a vote on a final agreement in December.
But that vote will require a supermajority of 5-2 to approve because the proposal calls for the city to issue bonds. And with three council members — Beers, Coffin and Anthony firmly opposed — it appears the deal would not be ratified.
The city would also move ahead on the stadium deal only if the MLS awards Findlay-Cordish an expansion team. MLS is expanding to 24 teams and there is only one slot left, with Las Vegas competing against at least five other cities.
Contact reporter Alan Snel at asnel@reviewjournal.com or 702-387-5273. Follow @BicycleManSnel on Twitter.