Two Bobs: strong but opposing voices on Vegas soccer stadium
December 14, 2014 - 2:56 pm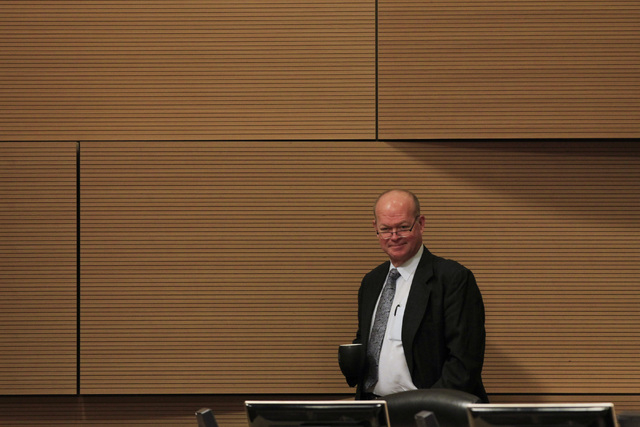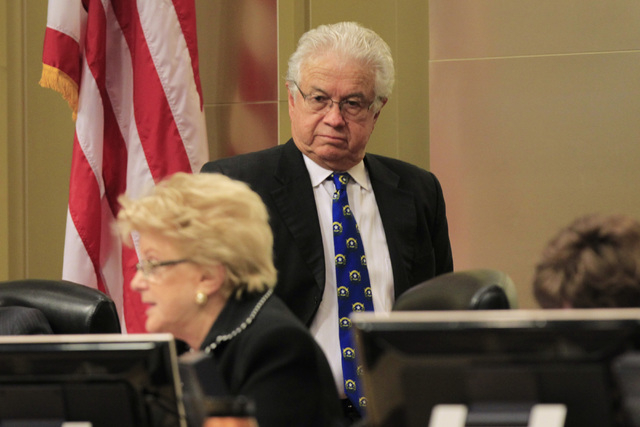 One Bob might push a controversial and dragged-out stadium deal across the finish line on Wednesday.
The other Bob has been the deal's loudest opponent, using his blog to post and then carve up consultants' stadium feasibility reports that they complained should not have been made public in the first place.
Meet Las Vegas City Council members Bob Coffin and Bob Beers, two former state lawmakers and articulate politicians who have been the loudest public council voices (outside of Mayor Carolyn Goodman) on the city's proposed subsidies for a $200 million Major League Soccer stadium in Symphony Park.
Coffin, 72, a councilman since 2011 after four years in the Assembly and 24 years in the state Senate, initially opposed the deal when the private development team of Findlay Sports &Entertainment and The Cordish Cos wanted the city to borrow $115 million for the stadium in September.
Findlay-Cordish says a stadium subsidy deal is required so that Las Vegas can be considered for MLS' final expansion team. Las Vegas is competing against Sacramento, Calif., and Minneapolis for a franchise as MLS grows from 19 to 24 clubs. MLS officials expect to pick the city in the first half of 2015.
After city staff revamped the proposed funding deal last month to package the stadium subsidy with park projects in a $50 million bond, Coffin changed his thoughts, angering subsidy opponents who accuse Coffin of flip-flopping on earmarking public money for a stadium.
In an Oct. 1 vote, the City Council instructed staff to work toward eliminating public dollars in the stadium deal. In November, staff proposed spending about $25 million on the stadium and $25 million on parks projects. The money would come from hotel room fee revenues, which are currently used for city parks projects.
Stadium subsidy foes charge Coffin with changing his mind because park projects would be built in his ward. Goodman and Councilmen Ricki Barlow and Steve Ross are strong supporters of the subsidy plan, so Coffin's vote would be a fourth and deciding tally for the deal.
Coffin said he brushes aside accusations that he is being "bribed" with parks projects in his district to support the funding deal.
"I get a kick out of it," Coffin said of the accusations. "I find it amusing."
Coffin's foil is Beers, 55, who spent six years in the Assembly and four years in the Senate before joining the City Council in 2012.
Beers, an accountant, has used his blog — http://beers4nevada.org/bobs-blog/ — to blast away at using public dollars to build the downtown stadium.
In September, Beers angered Findlay-Cordish when he posted stadium feasibility reports on his blog that projected rosy revenues and attendance. Beers even blogged that a report contained a major error, which the city confirmed at the time by explaining the consultant had included portions of a previous study.
Beers has led the charge against the subsidy plan, joining Councilman Stavros Anthony in opposing the deal. A third council member, Lois Tarkanian, said she is leaning against the deal — which would allow Coffin to be the swing vote.
After granting several extensions to Findlay-Cordish during the past year, the City Council is set to finally vote on the venue funding deal Wednesday.
Tarkanian supported Beers posting the feasibility reports.
"He opens things in your mind that you would not know otherwise," Tarkanian said. "It's good to have various voices on the council. I appreciated the work Bob Beers has done. I don't always agree with Bob, but I think he has done a great service."
Tarkanian said her ward also needs parks and recreational improvements just like Coffin's district.
But she said the stadium-parks bond "might not be the best way to get the parks."
Coffin, however, said the city is gaining more than just parks out of the prospective stadium deal. He referred to the parking garage to serve Symphony Park and a pedestrian bridge to connect Fremont Street to the Symphony Park side of the railroad tracks that would be part of the proposal.
Coffin said the opposition to the stadium-parks bond comes from competing interests and he noted, "I'm used to dealing with competing interests … People who want zero public dollars haven't seen how things are built in this state. Tesla. Can I say Tesla? Can say I say that five or six times?"
Contact Alan Snel at asnel@reviewjournal.com or 702-387-5273. Find him on Twitter: @BicycleManSnel.