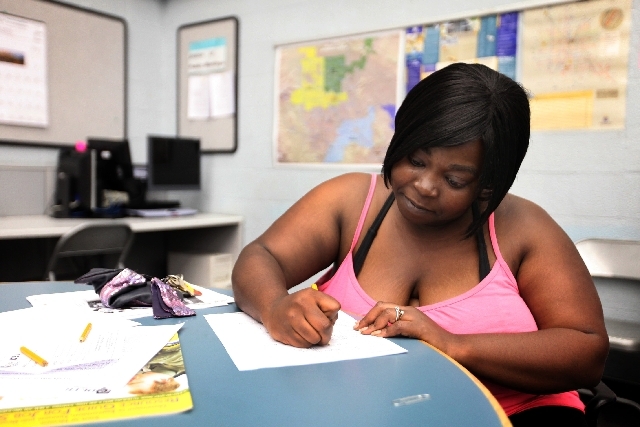 February wasn't a banner month for job creation, but it helped economists take a second look at growth forecasts.
Nevada's labor markets showed modest improvement in February, a month after joblessness in the state slipped to four-year lows. What's more, labor experts said Friday that they expect continued improvement in coming months.
"Sometimes stability is good," Bill Anderson, chief economist of the state Department of Employment, Training and Rehabilitation, said of February's statewide jobless dip to
9.6 percent, down from 9.7 percent in January and 11.8 percent a year earlier. "Obviously, there's a long way to go, but what these numbers tell me, in conjunction with previous reports, is that we continue to move in the right direction."
Local joblessness fell to 9.8 percent, compared with 10.2 percent in January and 12.1 percent in February 2012.
Especially heartening, Anderson said, was new analysis that showed Nevada ranked 10th in the nation for job growth in February, with an expansion rate of 2.1 percent year-over-year. States with better growth included North Dakota, at 5 percent; Utah, at 4.1 percent; Texas, at 3.3 percent; and Idaho and Colorado, both at 2.7 percent. National job growth averaged 1.5 percent year-over-year.
Partly because of those figures, Anderson said the employment department may update its growth projections in coming months, from around 1 percent annual job gains to 2 percent or more.
"What we've seen over the last several months leads us to believe job growth will be marginally more positive than what we were expecting a year ago," Anderson said.
The state had 23,800 more jobs in February than it had a year earlier. In Las Vegas, the job count was up 16,200. Leisure and hospitality had the best showing, posting more than a quarter of the new jobs. Other growing industries included construction and trade, transportation and utilities, including retail.
That tourism has done so well in the recovery portends additional job gains, said Brian Gordon, a principal in the local research firm Applied Analysis. Because leisure and hospitality is the state's largest employer, at 27.9 percent of all jobs in February, it lifts other employment sectors when it thrives. Gordon's analysis shows stable room rates and increased visitor spending on entertainment, and gaming operators are bringing back jobs as tourism and visitor spending grow, he said. As home prices inch back up, locals are opening their wallets, too, boosting taxable sales on clothing, cars and furniture in recent months. That should give the economy life, Gordon said.
"Those two key areas (leisure and hospitality and a stable housing market) are going to drive the market forward — not in huge numbers, but likely in a positive direction nonetheless," Gordon said.
Also brightening the jobs picture is an improving construction industry, with new-home starts rising and investments in renovations or new projects, such as The Linq and Resorts World Las Vegas, on the Strip.
Construction employment in February jumped 9.7 percent statewide and
7.5 percent in Las Vegas, though it stayed well below pre-recession levels. Local builders employed 37,400 in February, up from 34,800 in February 2012 but down from a high of 112,000 in June 2006.
Damian Garcia, branch manager for employment agency Robert Half Las Vegas, agreed the jobs market is significantly better but not completely revived. While job growth hasn't returned to its pre-recession glory, Robert Half is seeing improvement in just about every sector it serves, including tourism, information technology, administrative, light industrial and even home-building, Garcia said. Industries that enjoyed an especially strong February were health care, manufacturing and property management.
"Broad growth is the sign of a growing economy. The diversity of jobs we're filling is the most encouraging sign for us," Garcia said. "It's definitely a much better time right now. A lot of positives are happening, and it's an exciting time to be in Las Vegas again."
That's not to say February was pure progress.
Nevada did lose jobs month-to-month for the first time in six months, with a seasonally adjusted decline of 5,500 positions. The Las Vegas Valley shed 2,300 jobs from January to February, for a 0.3 percent loss. It's more common to add jobs in the period, the employment department said.
Losers included retail, financial activities and professional and business services, such as accounting firms and law firms, though Garcia said job counts in professional services could be suffering because of a talent shortage. For educated and experienced accountants, the jobless rate is closer to 4.5 percent, and there is a feeding frenzy every time a skilled worker comes through Robert Half's doors, he said.
Across the board, though, Nevada's jobs base is struggling to return to pre-recession records. Non-farm jobs peaked at 1.29 million in 2007 and slumped to 1.12 million in 2010. By February, the state had 1.16 million jobs. That was 34,000 positions, or 10.4 percent, below the record, but 40,600 jobs, or 3.6 percent, above the nadir.
"Recent improvements in the overall job market, while respectable on a year-over-year basis, reflect only a portion of the necessary recovery to reach back to more normalized levels," Gordon said.
And despite overall downward jobless trends, Nevada recaptured the top spot for unemployment, but it shared No. 1 with California and Mississippi.
The workforce was also smaller, falling 1 percent, or 13,400 people, to 1.37 million.
In all, 132,000 Nevadans, including 97,100 Las Vegans, were out of work and looking in February.
Include discouraged and underemployed workers, and the rate may be considerably higher. The U.S. Bureau of Labor Statistics set that rate at 20.3 percent for 2012. The agency updates those numbers quarterly, so a new number won't be available until April.
The nation's jobless rate was 7.7 percent in February. At its peak, Nevada's jobless rate was 4.5 percentage points higher than the national rate. In February, it was 1.9 percentage points higher, a narrowing gap that indicates progress, Anderson said.
Contact reporter Jennifer Robison at jrobison@reviewjournal.com or 702-380-4512. Follow @J_Robison1 on Twitter.
UNEMPLOYMENT
Estimates for February 2013
Nevada:* 9.6%
Las Vegas: 9.8
Reno-Sparks: 10.1
Carson City: 10.7
Elko: 5.8
United States:* 7.7
California (Jan.):* 9.8
*Seasonally adjusted
SOURCE: Nevada Department of Employment, Training and Rehabilitation