Statewide unemployment rate down for first time in six months
December 19, 2011 - 6:48 am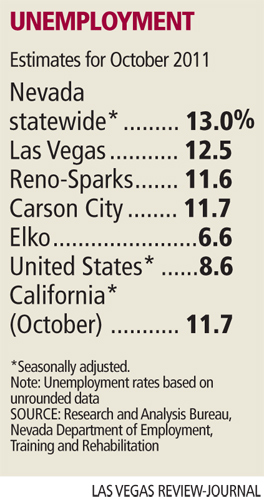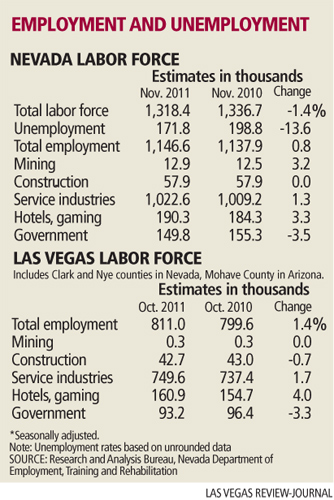 Nevada's most recent jobs report reads like a Secret Santa gift exchange: a few pleasant surprises mixed in with some real dogs.
Overall, we're doing slightly better than merely treading water, said Bill Anderson, chief economist of the state Department of Employment, Training and Rehabilitation. But the latest figures show a recovery so barely-there that only a statistician could love them, added Steve Brown, director of the Center for Business and Economic Research at the University of Nevada, Las Vegas.
And amid improved year-over-year hiring in most industries are stark reminders that real recovery is far away for hundreds of thousands of Nevadans.
Still, the picture is better than it was in early 2011, and for the most part, it's brightening little by little each month. Economists and observers said Monday that they expect mild employment upticks at least through December, to close the year on a note of expansion.
"What we've seen over the course of the year is that job growth has spread across a number of sectors. When we close the books on 2011, the most pronounced increase will be in leisure and hospitality, but the other big takeaway is that we're seeing growth elsewhere," Anderson said. "Over time, our job engines will come from other sectors such as health care and professional and business services. We're already starting to see early signs of that."
Added Brian Gordon, a principal in local research and consulting firm Applied Analysis: "The job market remains well below peak performance levels, but increased stability at these new levels appears to be emerging."
RATE DROPS FIRST TIME IN SIX MONTHS
The biggest improvement overall? The latest jobless declines, and the factors that pushed the numbers down. Nevada's unemployment rate fell in November for the first time in six months, dropping to 13 percent. That was down from 13.4 percent in October and 14.9 percent in November 2010.
In Las Vegas, the jobless rate dipped to 12.5 percent, down from 13.1 percent in October and 14.9 percent in November 2010. The employment department gets its figures from household and business surveys.
What really stood out for Anderson, though, was the fact that the drop in unemployment came partly from job growth. That is a switch from early 2011, when most of the decline came from people quitting the labor force out of frustration over fruitless job searches.
Nevada employers added 1,300 jobs in November, and they have created 7,800 jobs since June. Payrolls were up by 12,600 positions year over year in November, including 11,400 jobs in Las Vegas. Retailers added 3,300 jobs from October to November, while temp agencies added 500 jobs during the period.
Construction added 1,000 positions month to month. Building jobs either grew or held steady in two of the past three months, suggesting that the industry has found its bottom, Anderson said.
Not every industry grew from October to November, though. Leisure and hospitality, the state's key economic driver, shed 4,300 jobs during the period, a standard loss that happens each year as pool parties wind up and hotel-casinos cut staffers to prepare for slower visitation during the Thanksgiving and Christmas holidays, Anderson said.
Still, the industry was up 13,000 jobs statewide and 12,400 jobs in Las Vegas year over year in November. In fact, Southern Nevada's core employment, which factors out the beleaguered construction and government sectors, has trended upward for 11 straight months, and in 16 of the past 18 months, Gordon said. That suggests a number of employment sectors are starting to find their footing, he said.
What is more, the state's labor force actually grew from October to November, increasing by 1,200 people to a total of 1.32 million. Despite that gain, unemployment fell from month to month, which means new entrants in the labor force found jobs, Brown said.
ENDING ON A WHIMPER
But by some measures, the jobs market offered up a few lumps of coal for the holiday season.
First, the labor force still dwindled year over year, shrinking by 18,300 people, 1.4 percent.
Researchers don't track whether those workers have left the state or stayed here but simply quit looking for work. Discouraged workers who have stopped hunting for jobs don't count in official unemployment statistics.
Analysts with Union Gaming Group in Las Vegas wrote in a Monday note to investors that the improvement in Nevada's unemployment rate was a "false positive" that came more from out-migration and a declining work force than from economic growth.
The note also said that Las Vegas still fares unfavorably compared with the national employment picture and that unemployment metrics here "continue to be lackluster."
Unemployment nationwide was 8.6 percent in November. Nevada has had the nation's highest jobless rate since May 2010.
Plus, the state's 12,600-job boost in the past year pales in comparison to the 170,000 jobs lost since the recession's start in December 2007.
There were still nearly 172,000 unemployed Nevadans, including almost 120,000 Las Vegans, out of work in November and looking for jobs. Include discouraged workers who have stopped hunting for jobs and underemployed part-timers who would rather work full-time, and the state's unemployment average in the past four quarters was 23.3 percent, down 0.4 percent from a peak of 23.7 percent in the first quarter of 2011, Anderson said.
Nor will job growth improve enough in the near term to make a dent in those numbers, observers said.
Forget returning to the 6 percent year-over-year gains the state experienced from 2004 to 2006. What is more likely is annual expansion of 1 percent, or perhaps close to 2 percent — around the national average — as the recovery picks up steam, Anderson said.
Brown added that he expects 2011 to "end on a whimper."
"I'm looking for the December employment report to be better than November's, but not by a lot," he said.