Stingrays, sharks, snakes featured at new SeaQuest Aquarium in Boulevard Mall
December 23, 2016 - 10:18 am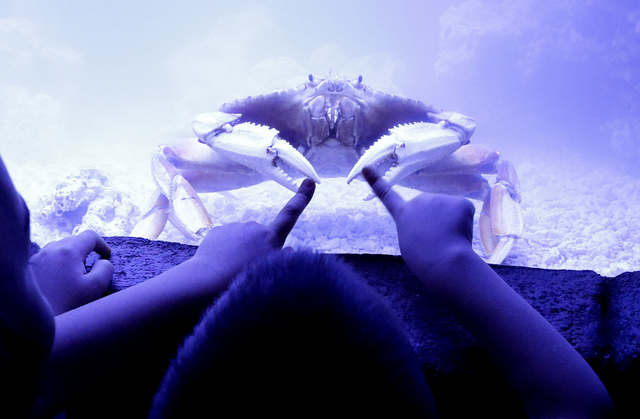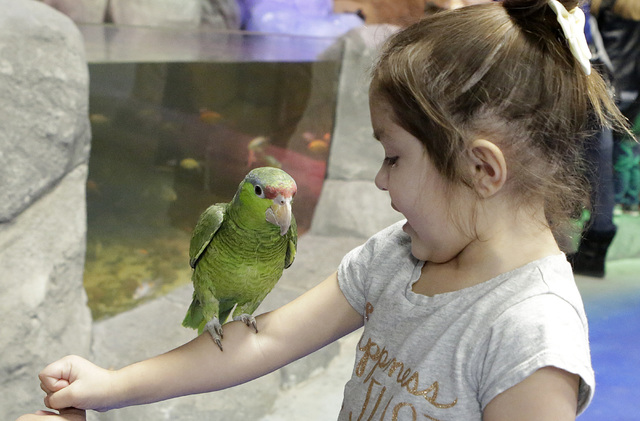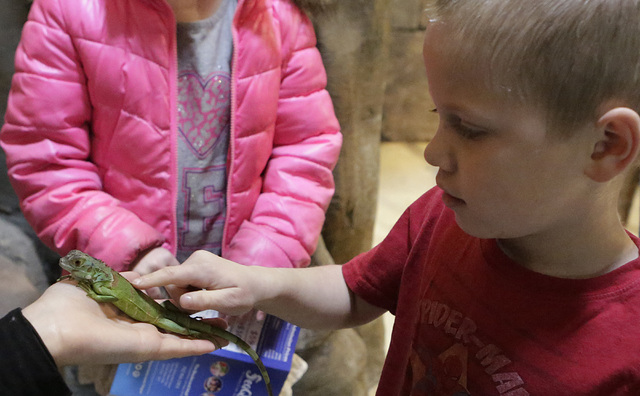 Inside the newest addition to Boulevard Mall, Brad Boyle lifts his daughter Alexis so she can watch the sharks swim by.
The sharks are the 6-year-old's favorite exhibit in the 31,000-square-foot SeaQuest Interactive Aquarium inside the mall, which opened to the public on Thursday.
"I like the baby sharks," Alexis said. "They're so small."
The Boyles, who belong to a group of about seven investors in the aquarium, visited Clark County from their home in Utah.
Walking the halls of the aquarium — past tanks of stingrays, snakes as long as 8 feet and even a performer dressed as a mermaid — Boyle said the opportunity to help a mall expand its family-friendly offerings was too good to pass up.
The work is less stressful than his previous role as founder and CEO of Salt Lake City door-seller Krosswood Doors, he said.
He doesn't feel in competition with other aquariums in the city, he said. The focus is on families, getting kids close to the animals and helping Boulevard.
"This is a really fun business," he said.
Boyle previously opened a SeaQuest inside Layton Hills Mall in Utah in November. One is planned for next year at Ridgmar Mall in Fort Worth, Texas.
Visitors can swim with the stingrays in a tank that holds 40,000 gallons.
They can hold out hands of feed and let one of the 80 birds in two cage areas land on their hands.
The general manager of the aquarium and one of its partners, Shane Shimada, went to the same Idaho high school as Boyle.
Before SeaQuest, he worked for 15 years at RC Willey Home Furnishings.
SeaQuest has been in a soft opening for about two weeks, open to aquarium members and private events, he said. It will employ about 50 people once it's done hiring.
While shopping centers across the country have lost market share to online shopping, Shimada said Boulevard has made wise investments in unusual tenants.
Its current owners, Sansone Cos., of Henderson, bought the mall in November 2013 for $54.5 million.
The company brought vacancy down from about 30 percent to about 10 percent.
Some of the more unusual tenants for the mall include a Goodwill store, call center space and the Hispanic Museum of Nevada.
"What you can't buy online is the family experience," Shimada told a crowd before opening the aquarium to the public.
Las Vegas Metro Police Lt. Patrick Charoen, who attended the opening, said the mall has come a long way in trying to diversify.
An upcoming movie theater at the mall is much needed and a pleasant surprise to longtime residents, Charoen said.
"This is no longer the Boulevard Mall that we all think of," he said.
Contact Wade Tyler Millward at 702-383-4602 or wmillward@reviewjournal.com. On Twitter: @wademillward