Success is in the genes — or the sneakers — for Blake Wynn
October 15, 2016 - 3:16 pm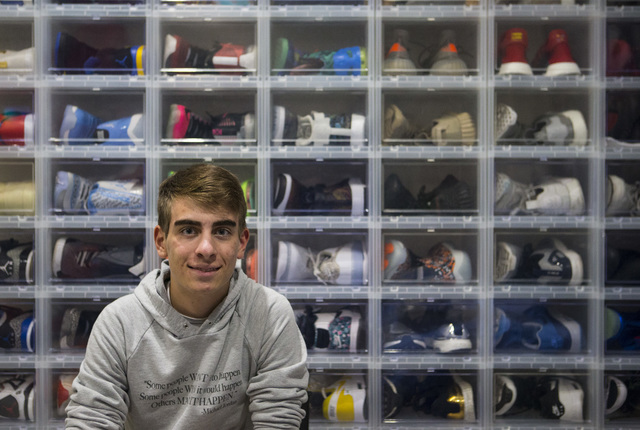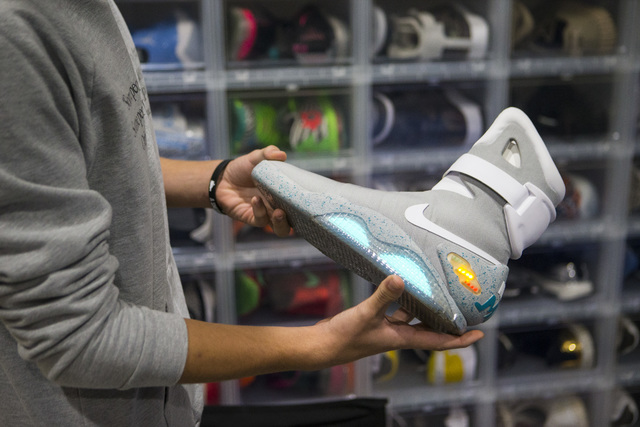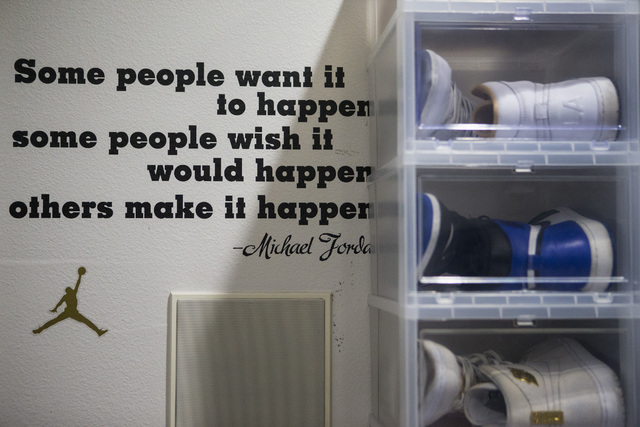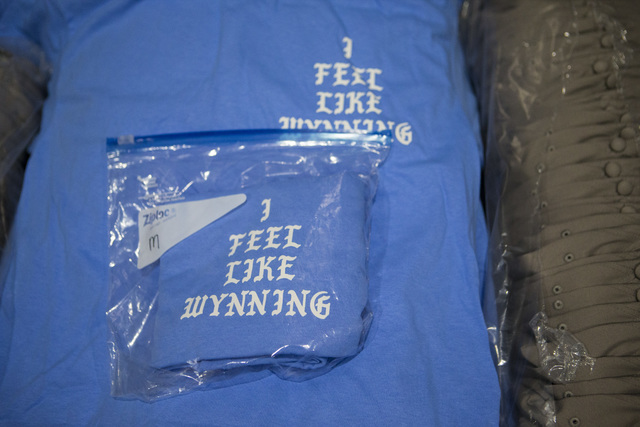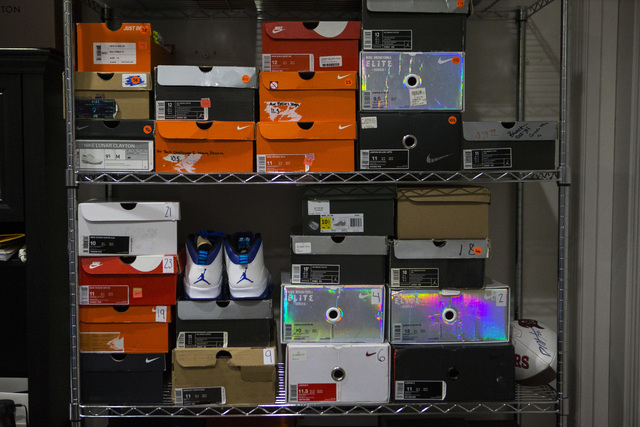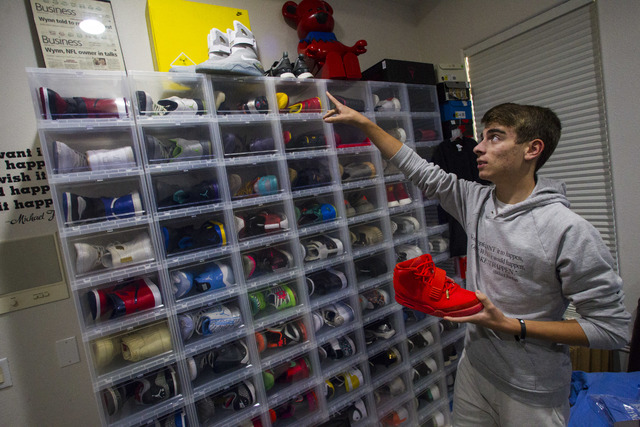 In 20 to 30 years, people might talk about casino magnate Steve Wynn as the uncle of Blake Wynn.
The 16-year-old junior at The Meadows School is already a successful businessman going on four years. Make that a successful business kid.
Blake didn't do it with a lemonade stand or a car wash in his driveway. When he was 12, he started buying and selling sneakers. Lots of them. Enough that he expects to make more than $100,000 in 2016, after nearly reaching that amount in 2015.
Blake expects to earn even more in 2017 from advertising products for shoe-related companies on his YouTube site. He's racked up more than 1 million views since May, when he launched the shoe-related site that's made him a celebrity at sneaker shows.
While most kids hang out with their friends on the weekend, Blake flies across the country to attend sneaker conventions, where he buys shoes to resell on eBay or in a local sneaker store. As a result, he now drives to school in a 2016 Mercedes-Benz CLA250 that he paid for himself.
Blake said it's about putting his business acumen on his college applications in hopes of getting into some of the top business schools in the country.
Credit the Wynn bloodlines and spirit of entrepreneurship for the drive, determination and confidence rare in someone so young.
"Being part of the Wynn family, business is very important to my parents and my uncle Steve," Blake said. "When I was at a young age, they said if you want to be able to get things for yourself or if you want to buy this and that or go on dates or whatever you want to do, you need to start working to earn some money yourself."
AN ENTERPRISE IS BORN
Blake took that advice and ran with it. Four years ago, with $40 in his pocket, he went to an outlet mall in Park City, Utah, where his family lived over the summer. He walked into a shoe store knowing nothing about sneakers and with no intention of starting a business. But when he saw a sign listing a pair for $19.99, with a suggested retail sticker of $200, another Wynn enterprise was born.
"To me, that seemed kind of crazy that something would be marked down nearly 90 percent of its original retail price, so I figured I will buy them and put them on my parent's eBay account and see what they'd sell for," Blake said. "Both pairs ended up selling for $115 roughly per pair."
After that, Blake learned the business and which shoes could be resold for profit, both new and used, brands such as Michael Jordan, LeBron James, Kobe Bryant, Kevin Durant and even singer Kayne West. He made more than $1,000 his first year.
In addition to selling shoes on eBay, he said he's now selling about 100 pairs a month at Urban Necessities at Boulevard Mall. At $300 to $400 a pair, that's $30,000 to $40,000 a month in revenue.
Blake has featured the Las Vegas store, with its $2 million worth of shoes, on his YouTube channel. He's developed such a following that YouTube pays him for surpassing 100,000 views a month. Companies with shoe preservation and maintenance products have taken notice. Crep Protect and Sole Provider advertise with Blake, and he's counting on growing that advertising income in the future.
But the majority of his current income comes from reselling sneakers he buys at shows such as Sneaker Con in Atlanta. He recently took two days off from school, where he has a 3.9-plus GPA, to fly across the country with his mom, Dale, since he's too young to check into a hotel. Blake's dad, Ken, also accompanies him on trips.
"I will walk around with cash in a backpack and vendors will have shoes, and I will negotiate with them and try and buy as many pairs as I can because I know that if I see a shoe, I know off the top of my head that I can sell that shoe for $160," Blake said.
There's a market for the shoes because people collect them or want to wear them as a status symbol, Blake said. Shoe companies such as Nike put out a limited supply to draw interest and create future demand, and that sparks a strong secondary market that exceeds $1 billion a year, he said.
MISTAKES ARE RARE
Blake said he rarely makes mistakes; when he does it's because he pays the new-shoe price for what turns out to be a used shoe he bought in bad lighting. He doesn't fret about losing $30 to $40 on a shoe.
"Whenever I have lost money, I have learned more from it than I have from the shoes I have sold and made money from," Blake said.
Blake said his company is successful because appearance is important to kids and adults, especially on social media. People with Instagram accounts might live in a $20,000 house but post pictures wearing $2,000 sneakers and a $1,000 watch.
"They keep the house part hidden, and people think they have money," Blake said. "I think these things do so well because they're used as tools to pretend online that they're something they're really not."
Blake said his college applications will stand out because of his business experience. He hasn't decided if he will sell his business or continue it in college by hiring an employee, but he's going to college no matter how much he makes in the next two years.
"Even if I was making $30 million a year, I would go to college," Blake said. "That's something in my family that it's part of life no matter what you're doing. When you're out of high school, college is the next step."
So what does Blake want to do when he grows up? Business is in his blood. He hopes to leave college with a job or business in place and money in the bank so he doesn't have to move back in with his mom.
"I do feel being an entrepreneur is something I want to pursue for the rest of my life, whether it's with sneakers, but hopefully not, or something as big as hotels like my uncle has done. "
HE LISTENS TO ADVICE FROM STEVE WYNN
When Steve Wynn talks, his nephew Blake listens.
The 16-year-old budding entrepreneur and high school junior said when it comes to business advice, Uncle Steve gives it to him straight.
"I remember when I went and talked to him when I was 13, he was asking about my business and really interested in it," Blake recalled.
The elder Wynn gave Blake advice about forming a limited liability company and filing tax returns. "He asked me if I have an LLC. I asked what an LLC is. He said go on Legal Zoom right now and get an LLC (to protect myself). He asked how much money I made this year, and I would say a couple of thousand. He would say great, and you're filing a tax return because that's what you have to do when you make money. It's literal business advice that maybe most parents couldn't give or wouldn't give. He gave me advice and talked to me like I was someone who made millions of dollars even if I wasn't making one thousand dollars."
Uncle Steve's other big advice was do what you love to do and you'll never work a day in your life, Blake said. He said his uncle believes that and shows that by working every day, sitting in meetings and traveling for business to China, Europe and the East Coast.
"He could retire if he wanted to, but he loves what he does and tells me how important that is as well," Blake said. "If I don't love what I do then I'm not going to be successful."
Blake is the son of Steve Wynn's brother, Ken, a chief operating officer at Wet Design, a Southern California-based water feature design firm. His mom, Dale, is an options trader.
Blake, who lives with his mom, said the best advice she's given him is to never forget how he started. He said he gets a lot of inquiries, especially from kids his age or younger about what it takes to be successful in business. He said he meets with people and signs autographs and takes pictures and answers questions as genuinely as he can.
"The average person thinks I came from money because of my last name," he said. "That isn't necessarily untrue, but at the same time I did come from a position where I took $40 and created my own business while watching people around me — adults or friends — try to start businesses and not necessarily get that same success."
Blake said people don't realize how much time goes into being a success.
"When my friends were all going to birthday parties in seventh grade and eighth grade, I didn't go because I was busy trying to design my own eBay store or trying to make listing or find inventory when I had no connections," Blake said.
His mom said the help Blake got from his parents was driving him around when he had no driver's license and flying with him to sneaker shows. Blake sets daily, weekly and monthly goals for himself, she said. She said she could always see something special in him.
"I told him if it was easy, everybody would do it," Dale Wynn said. "The people that are willing to take something that's not easy and do something with it are the people that shine and succeed. He gets it and when he's faced with something really difficult that's the first thing that comes up."
One of her favorite memories from when Blake started his business was watching him jump into a dumpster at an outlet mall, while the SUV was stocked with shoes, to look for clean boxes in which to ship his product to save on expenses. She also won't forget his business failure of running a car wash when he was seven. She joked she shut it down when he didn't want to do it after the second car.
What people don't understand and what parents want him to teach their kids is that Blake works seven days a week, Dale said. He will be up until 2 or 3 a.m. and have to get up for school at 6:30 or 7 a.m. He puts in time when other kids are playing video games. He acts 40 and doesn't make childish decisions, she said.
"This isn't mom or dad or Uncle Steve handing him money," Dale said. "He did it himself. Sell a shoe and make a little money and go bigger, bigger and bigger. I hear him say 'Mom, I'm going to buy out this guy's shoe collection.' It has that entrepreneurial risk that he's willing to take that usually you don't see in certain special adults. He's got it in him, and I have got to let him go and grow. Until he shows me he can't, I say he can and he does. I did well in school, but I say that's a Wynn gene to do what he does."