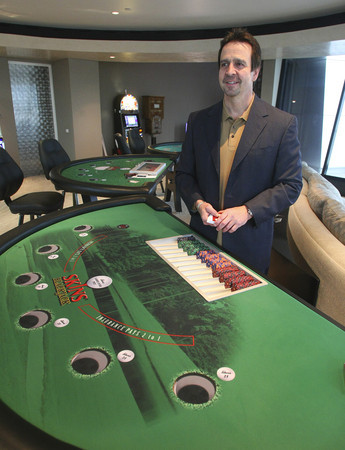 Man, this economic forecasting stuff is hard.
Throw out any new retail sales report, some new consumer confidence numbers or an iffy study on the housing market's recovery, and there goes every projection you've made on where the business climate is headed.
For an idea of just how movable a target economic prognostications can be, consider Ty Weinert and her Potato Valley Cafe.
Weinert filled out the Review-Journal's online business survey on Jan. 3, with all the hopes and expectations of the New Year coloring her bright outlook. Spending usually picks up once people pay off the credit cards that financed holiday spending, and the bidding process for the bankrupt and stalled Fontainebleau on the Strip was closing in on a finalist. Maybe, Weinert thought, people will grow confident enough to shell out $6 or $7 for her downtown eatery's Cuban pork sandwiches and cheese-and-bacon stuffed potatoes. And perhaps completion of the Fontainebleau would give the city's economic engine a big boost.
But Weinert's not so confident today. Her customer base continues to dwindle, as the recession begins to result in pay cuts and layoffs among the government workers who make up 60 percent of her business. The 2010 Winter Las Vegas Market, usually a boon to her company, proved a bust, with not a single catering order as of Thursday afternoon (the furniture trade show began Monday and ended Friday at downtown's World Market Center).
"I was truly being hopeful at the time I filled out the survey," Weinert said. "But January was definitely worse for us than I thought it would be. Maybe I was just way too optimistic."
Weinert had good company, though. Nearly 58 percent of the survey's 100 or so participants said they believe the worst of the recession has passed, while 41 percent said they expected harder times ahead. Nearly half, or 45.8 percent, said they foresee at least a little jump in sales for their company in 2010, while just 27.7 percent plan on no improvements in revenue.
The survey ran from Nov. 22 to Jan. 4.
Political campaign consultant Gary Gray filled out the survey on Jan. 4, and he's sticking with his initial prediction that the worst is over.
He sees a little less anxiety these days, and less talk about business bankruptcies. But most importantly, his economic barometer — campaign contributions — hints at clearer economic skies.
Donations were down substantially in 2008 and 2009, but contributions overall are up about 20 percent in early 2010 when compared with bleaker days. It's not an exact measure, because elections in 2009 were more regional, while 2010's campaigns include nationally watched Senate and gubernatorial races. Still, Gray credits the jump in spending partly to more optimism.
"We've started to see an uptick. I wouldn't call it a wave, but it's certainly a ripple," Gray said. "It shows that there's more money available, that people are once again getting interested, and they're willing to write a check."
Nor has Jerome Snyder backed away from his earlier expectations.
Snyder said he expects more hard times for Southern Nevada, especially given the fiscal and economic woes of California, which feeds Las Vegas many of its tourists.
"The occupancy rates at the hotels may be good, but people are not spending, and they're not gambling," Snyder said. "To fill rooms with bodies gives a false comfort that things are better."
Snyder said his businesses should be OK, though. One of his companies, broadband provider KeyOn Communications, should receive stimulus money to help move high-speed Internet service into rural markets. His other enterprise involves marketing a new appetite-control pill, and there's no shortage of potential patients for the product.
Respondent Mark Brown predicted solid sales growth at Zen Gaming, a company specializing in both Internet poker and live table games inside casinos. Global interest in playing poker on the Web is surging, and big gains in new subscribers mean healthy increases in advertising revenue for his business (Zen has an agreement with the Review-Journal to run the newspaper's online poker room). Even the table-game side of Zen should do well, because the company's live poker games allow casinos to deal more hands per hour for more revenue, Brown said.
"I think we're going to have a tremendous year," Brown said.
The rest of the Las Vegas Valley might not fare so well, Brown added.
Business inside local resorts should remain depressed in the near term, and thanks to plenty of existing inventory, new residential and commercial building will likely be almost nonexistent at least through early 2011, he said. It'll be five to 10 years before the market adds another megaresort. That stagnation will yield fewer new jobs, which could translate into fewer new residents.
Plus, get ready for a different attitude among elected officials and business leaders, Brown said.
"In general, whether we're talking about local government or business, I think we've all learned the lesson that we can do more with less, in both capital and human resources," Brown said. "We're not going to see the job opportunities that used to exist, even as we begin to pull out of this downturn."
Still, Las Vegas possesses one of the nation's most resilient and resourceful business communities, Brown said, so the city will return to growth eventually. Las Vegas remains one of the world's hottest destinations, and the Strip will always be popular with people looking to part with their discretionary dollars (unless they're, um, saving for college). It's just going to take a year or so longer to right the ship.
Weinert isn't sure she can hold on that long.
She's already cut hours among her three employees; workers who put in as many as 30 hours a week now get just 20 hours weekly. She froze wages, dropped her food vendor and began buying produce herself and swapped out the foil she used to wrap her goodies in with less-expensive wax paper.
But Potato Valley continues to hemorrhage business.
At the Las Vegas Market, the groups that used to spend up to $2,000 with the eatery to host three-day catered events for clients no longer order in. Orders for delivery to individual attendees have disappeared. Weinert's holiday catering business fell from six events in 2008 to just one full party in 2009. And customers who have jobs stress over whether they'll be employed in a month or two, so they're in no spending mood. Diners who used to come in twice a week stop by maybe twice a month now.
It would take a miracle to see Potato Valley through the recession, Weinert said.
"We've been open three years by the grace of God himself, and that's it. I don't know what the future holds, and it's definitely not looking good," she said. "I'm not sure how long we can last, but we'll just keep putting our best foot forward."
Weinert financed Potato Valley's startup with equity from her home and a business loan from the U.S. Small Business Administration. Today, the business doesn't turn a profit, and it subsists on income from Weinert's husband, a union carpenter.
Selling the restaurant to another entrepreneur likely isn't an option, either. Planned downtown developments such as Symphony Park and a new Las Vegas City Hall aren't close to opening, and few consumers troll downtown's streets for fun after 5 p.m. Any potential buyer would need a good 18 months' worth of cash reserves to stay open through the downturn, Weinert said.
But even Weinert offers a glimpse at the resilience Brown referred to.
"I don't think people should be discouraged about starting a business. It's not a horrible time to start a business," she said. "You can get great rates on rent and great deals with vendors, and you can probably find some good employees. You just have to have the money to weather the storm we're in."
Contact reporter Jennifer Robison at jrobison@reviewjournal.com or 702-380-4512.