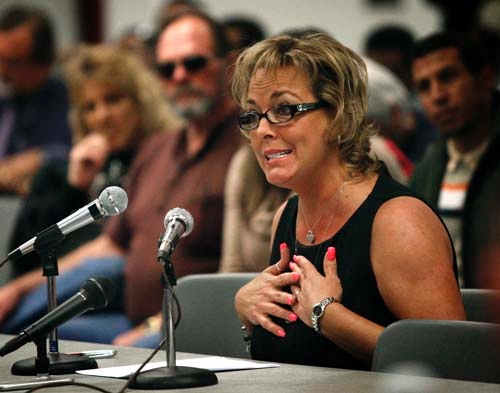 The normally mundane discussion of allocating extra taxicab permits for special events in Las Vegas erupted Tuesday into an unprecedented display of driver anger over life behind the wheel.
The Nevada Taxicab Authority had to recess its meeting twice to allow the tumult — including frequent chants of "no more cabs" — from the more than 300 drivers to subside.
One driver was escorted out of the Cashman Center meeting room by authorities after he shouted down a taxi company executive during testimony. Another driver later invited arrest by kneeling before the directors' table with his hands behind his back. Both were eventually allowed to return to their seats.
"That's the largest number of people and the most emotion I've ever seen at a TA meeting," said Sam Moffitt, a shop steward with the Industrial Technical Professional Employees Union who has been in the industry for 15 years.
In the end, the board denied requests for the permits, known as medallions, for the first four full days of the NCAA Tournament, which starts March 15. It approved three extra medallions per company on March 11 to cover the NASCAR races, denying requests for the prior two days.
Unlike meetings in the past, drivers and management came away with few complaints.
"It was good," said a driver who identified himself only as Yonas. "I think we accomplished a lot of what we wanted."
"I can live with what they did," said Jay Nady, the owner of A Cab. "I think the drivers wanted to express themselves and did a good job doing it."
But the decision last August to create permanent new medallions for the first time in four years remains a bone of contention for the drivers.
The expansion was structured in a way that lets taxi companies increase their fleets by more than 360 cabs during certain times of the week, but fewer on other days.
Only cabs with a medallion can carry paying passengers.
The companies won that round by arguing that the rebounding Las Vegas visitor industry is putting more people in cabs. Without more cars on the street, the longer wait times would prompt tourists to take shuttle buses or limos.
Drivers contend that the expansion has seriously diluted their incomes.
Anani Kabede, a driver for Checker, said he collected fares of $190 during a 12-hour shift Monday, leaving him with $80. The 16 cab companies generally pay drivers a share of their revenue but use different formulas.
For Kabede, that came to $6.66 an hour, with the $25 in tips adding an additional $2.08 an hour. By contrast, minimum wage in Nevada is $7.25 for companies that provide health insurance and $8.25 for others.
That has happened more and more often, said Kellie Obong, a driver for Frias Transportation Management, which owns five brands.
"Drivers have seen their incomes cut drastically," she said. "I know I'm not making what I used to. This is pushing drivers to the edge to the point they just can't take it anymore."
The argument will come up again Thursday in front of the Nevada Transportation Authority, which will hear an appeal of the August expansion brought by union drivers from the ITPE and the United Steelworkers union Local 711. In addition, the Minority Drivers Corp. and the newly formed Taxi Drivers associations will try to stoke the turnout, as they did Tuesday.
Besides cutting incomes, drivers contend that the larger fleets have boosted the notorious practice of long hauling, in which drivers serving McCarran International Airport go miles out of their way to run up the fare.
While a typical fare between the airport and the Strip is about $15, long hauling unsuspecting tourists can double that, or more.
"We have seen an increase in the number of complaints we are getting from customers," said authority administrator Charles Harvey. "Drivers are making no secret that they are long hauling."
He said it's difficult to give exact numbers because many unhappy customers phone in a complaint without giving a name or the circumstances, so no formal investigation ensues.
Company executives did not comment but have said in the past that they do not condone or encourage the practice.
Drivers complain that their jobs often hang on how much revenue they produce per 12-hour shift. As supervisors push them to generate more money, and more cabs are competing for business, drivers say they feel more compelled to cheat.
"We have become addicted to long hauling," driver Steve Lanett said. "If it doesn't stop, it is going to kill this industry."
Another unusual aspect of Tuesday's meeting was the public split among the cab companies over temporary medallions. Frequently, the companies present a united front when making their requests.
Yellow-Checker-Star chief operating officer Bill Shranko said the new permanent medallions covered service for all but the largest events, such as the International Consumer Electronics Show.
"We think a few people in this room have their heads in the sand" wanting medallions for smaller events such as March Madness, he said.
Desert Cab general manager Sandy Shaver defended the request.
"I will guarantee that people who are complaining about minimum wage will make more than minimum wage," he said. "We will give them an opportunity.
As of January, there were 2,075 medallions, both restricted and unrestricted. The industry drove nearly 2.3 million trips in January and 27 million for all of 2011, the highest number ever.
Contact reporter Tim O'Reiley at toreiley@reviewjournal.com or 702-387-5290.