Esports arena debuts on Fremont Street Experience in Las Vegas
Updated March 3, 2017 - 6:35 pm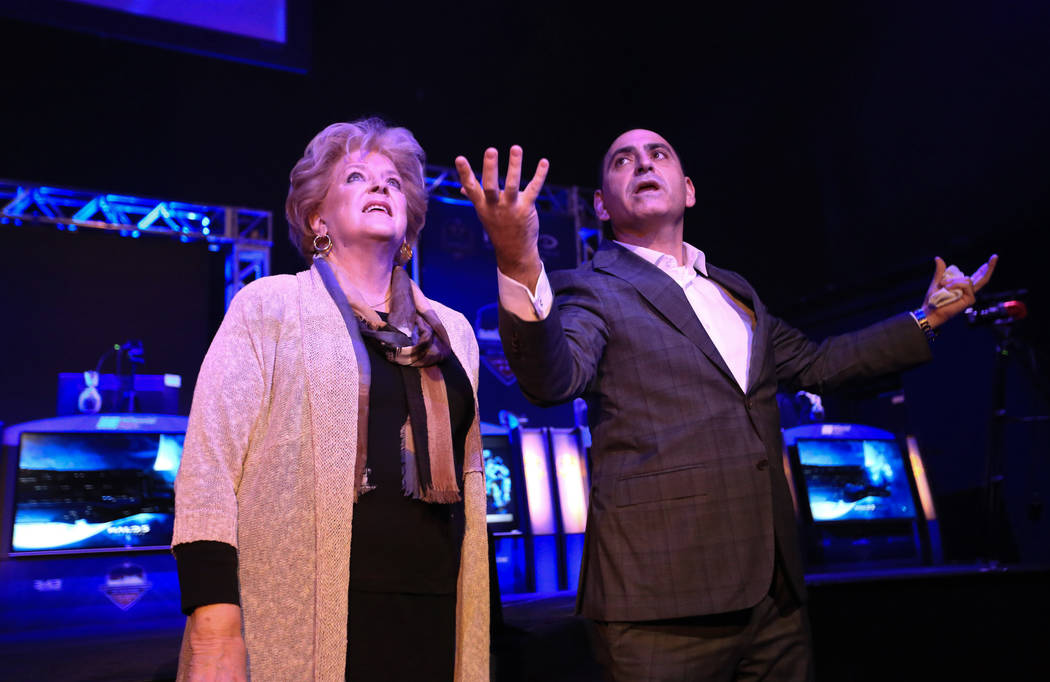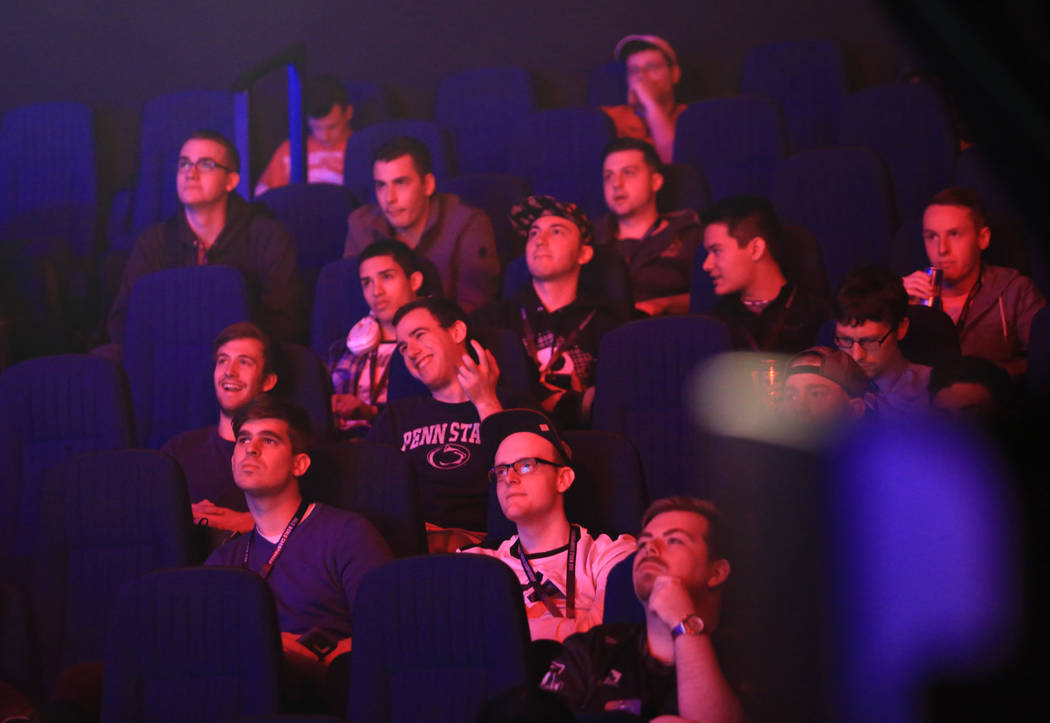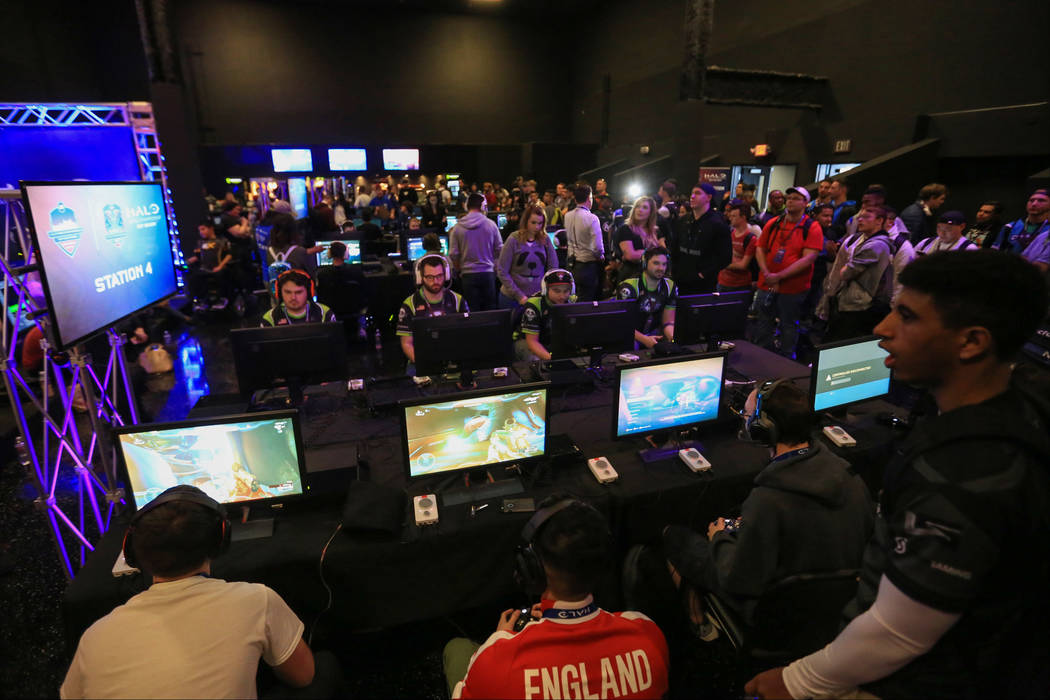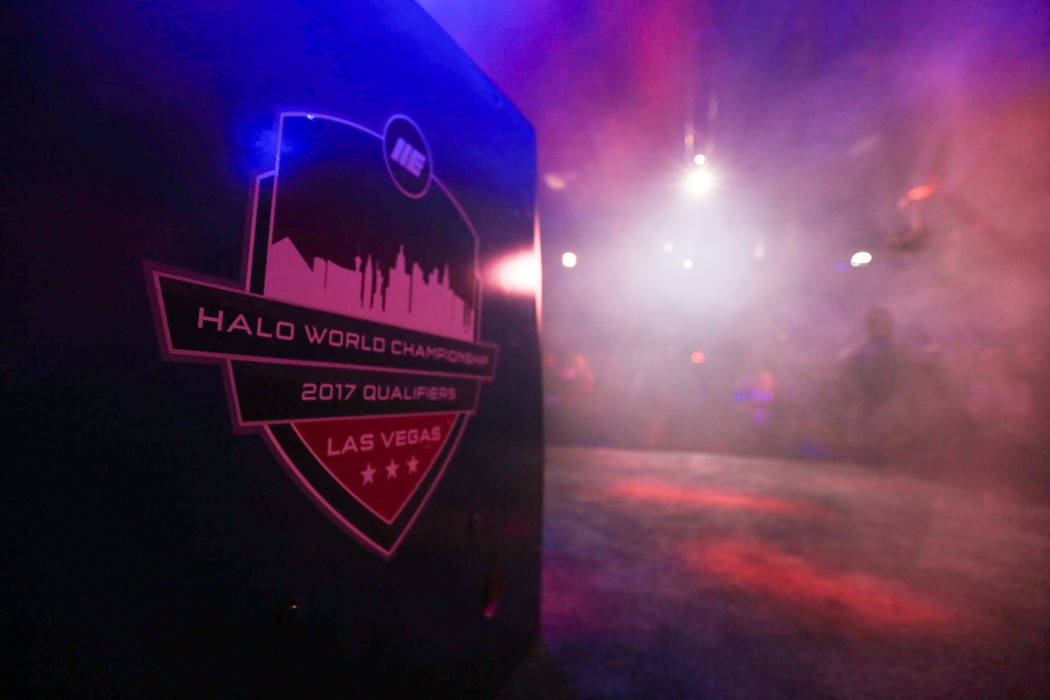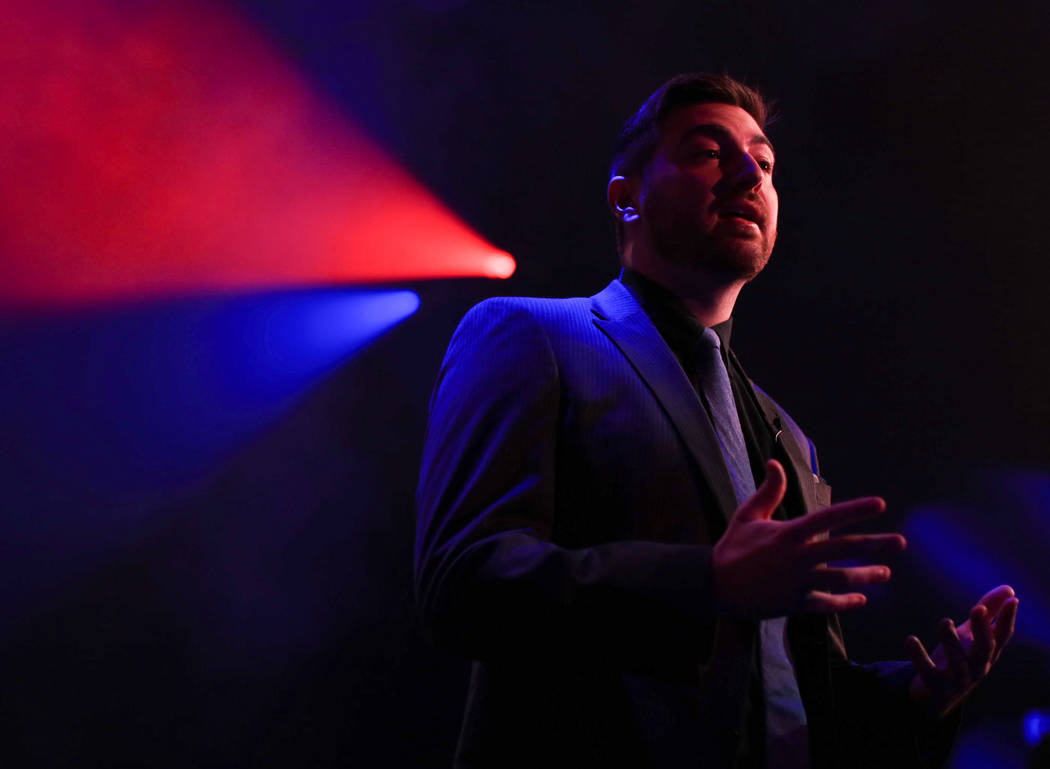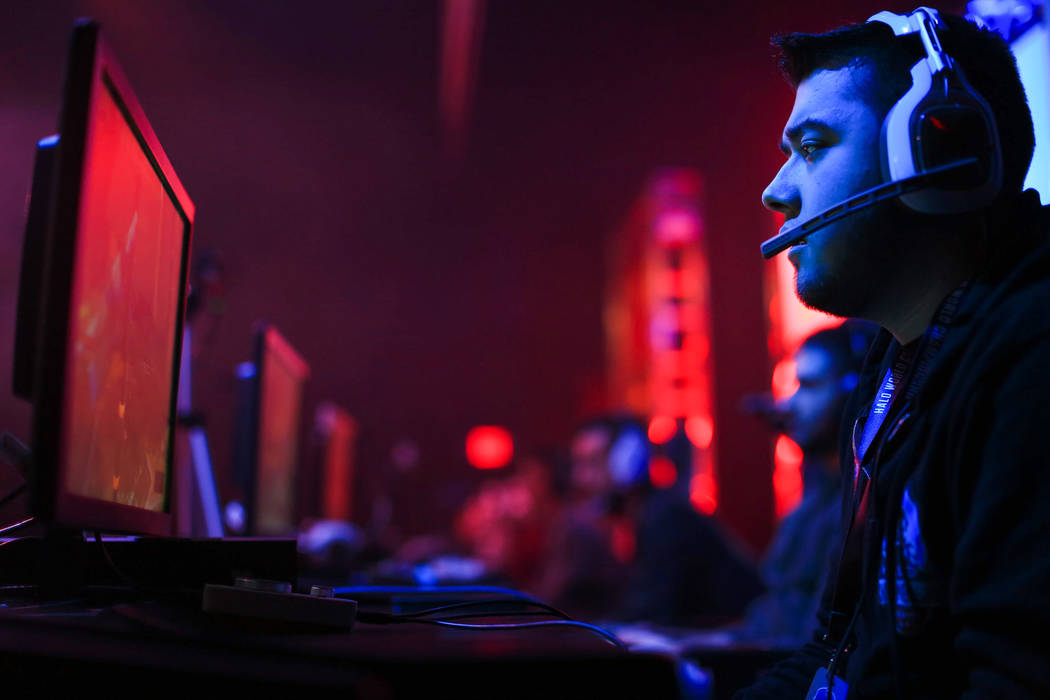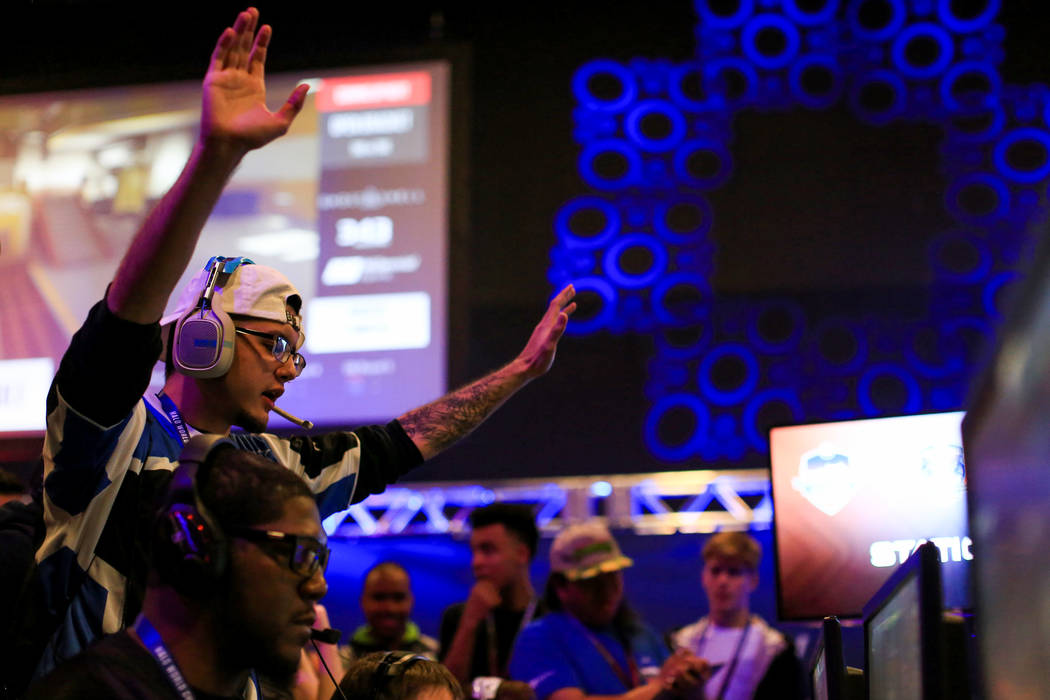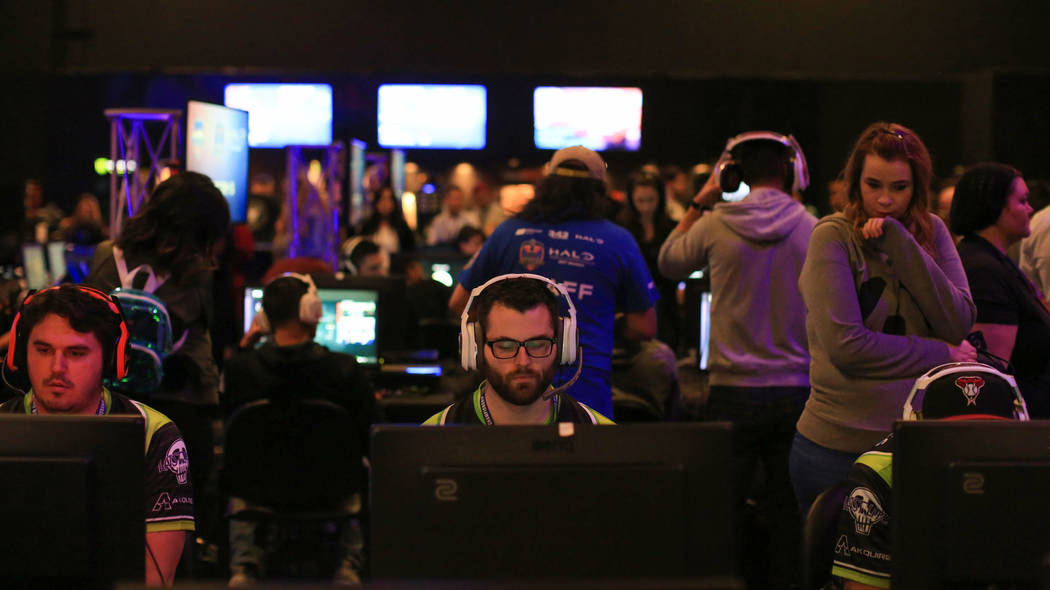 On Friday morning, hundreds of young men and a few women chatted excitedly as they milled around outside a building in downtown Las Vegas' Neonopolis.
When the doors opened, they streamed inside a dark room with flashing LED lights and set up their video-gaming equipment at cafeteria-style tables.
Players donned headsets as the prepared to compete in the North American Halo World Championship Qualifier inside what has been dubbed "thE Arena," the newest and most state-of-the-art gaming arena in the West.
The team that wins this weekend's tournament will walk away with $50,000 and the chance to compete at the Halo World Championship finals in Burbank, California, which will be held March 24-26 with a $1 million prize pool.
The 15,000 square-foot space is the first of its kind in Nevada, said Alex Igelman, CEO of Millennial Esports, the company behind thE Arena.
"A lot of the events have been taking place in convention spaces at hotels or just some arenas that they convert, like at the MGM," Igelman said. "What we have is a purpose-built arena."
SLATED FOR YEAR-ROUND ACTIVITY
Though he wouldn't disclose the full calendar, Igelman plans to keep the arena filled year-round by hosting teams for practice and even corporate events or lectures. "The is sky the limit in terms of what we can do," he said.
He said the venue was a "multi-million dollar" investment.
Esports is a rapidly growing market, comprised of professional gamers, often part of teams, who compete regularly for monetary prizes.
"It really wasn't until the rise of Twitch streaming that competitive video gaming took on a life of its own," said Igelman.
Twitch.tv allows gamers to live stream their games and watch other gamers compete for free.
Igelman's company, Millennial Esports is a publicly traded Toronto-based company valued at $11.4 million, according to Bloomberg.
Igelman says the Neonopolis space is small enough to make it intimate, but with high quality sound, lighting and gaming stations.
"It's probably the only one of this kind with the proper theater and proper arena," he said, noting that bigger stadiums aren't necessarily better.
"The bulk of the viewership is taking place online," he notes. "We accommodate just enough people to have a nice audience," which is just under 1,200 people.
MOVIE-THEATER STYLE ROOM
Inside the main hall, gamers warm up around long tables. Outside and down a hallway is the arena, a movie-theater style room with 200-plus seats.
The audience faces the stage, which contains eight player stations with plush gaming seats and consoles.
"Most of these guys are between the ages of 19-25," Igelman said, although some women compete too. As they age, their reflexes diminish.
Igelman likens watching competitive video-gaming to attending other sporting events.
"It's no different from going to an NFL game or a WWE event," he said,
"At this level, these are athletes," Igelman insisted.
Tom "TSquared" Taylor was one of those athletes. Taylor began gaming professionally at age 14, winning the 2008 Halo World Championship with his team, Str8 Rippin. Now 29, he retired from professional gaming after what he termed a "dive around Halo 4" in 2011.
"There was not a lot of organization," Taylor said. "There were a lot of politics behind the scenes, and it wasn't as competitive as it used to be."
Igelman said the market grew first in Asia and Europe, and began expanding in North America about three years ago.
"It really is mind-boggling," Igelman said with a laugh.
OVER A BILLION DOLLARS
Brett Abarbanel, director of research for the International Gaming Institute at UNLV, compares the rise of the esports industry to that of online gambling.
"It's going through tremendous growth right now," Abarbanel said. "The market itself will go over a billion dollars, definitely by 2020."
Abarbanel said a few factors could hinder growth in the market, like the introduction of betting . "It's such a nascent industry that organizations may struggle with ensuring that nobody's cheating," she said.
Athletes who compete view it as a professional sport. Taylor is still heavily involved in the world of online gaming; this weekend, he's broadcasting tournament play-by-play on Twitch.
He is also the owner of Str8 Rippin, the team he competed with for many years, and creates content under that label.
"This is my type of lifestyle," Taylor said. "I like being able to create my own schedule and entrepreneurship excites me."
Taylor thinks Igelman hit the jackpot when he chose thE Arena's location.
"There's a huge market for it because Las Vegas just feels like a gamer's paradise," he said, referring to an essential gamer's demand. "There's always 24-hour food."
Contact Brooke Wanser at bwanser@reviewjournal.com. Follow @Bwanser_LVRJ on Twitter.
RELATED
Nevada officials seek to pursue esports businesses
Neonopolis in downtown Las Vegas to be home to esports arena
Esports on track to become $1B industry
Esports amenities attract customers to the Downtown Grand
Video gamer, esports pioneer says casinos need to do more for customers
Young team pulls off upset at eSports tournament in downtown Las Vegas — PHOTOS
WAGERING WITH ESPORTS TERMED A BALANCE
Wagering with esports, as with any sport, is a balance, said Karl Bennison, chief of the Nevada Gaming Control Board's enforcement division. "We certainly don't want the fact that we allow wagering to impact the integrity of the event," he said. "And we want to make sure the event is run in a way that doesn't impact the wagering."
The Control Board in Nevada reviews sportsbooks' requests for wagering on esports on a case-by-case basis, Bennison said. So far, they have only approved betting for two events, one of which was last month's DreamHack Masters.
There isn't a singular governing body over all esports. But Bennison believes that, with time, a standard will develop. "It's not like NFL," Bennison said. "As the sport evolves, then we would get to the comfort level we have with any professional sport."