Group focuses on bringing Super Bowl, Final Four to Las Vegas
Updated June 15, 2018 - 7:03 pm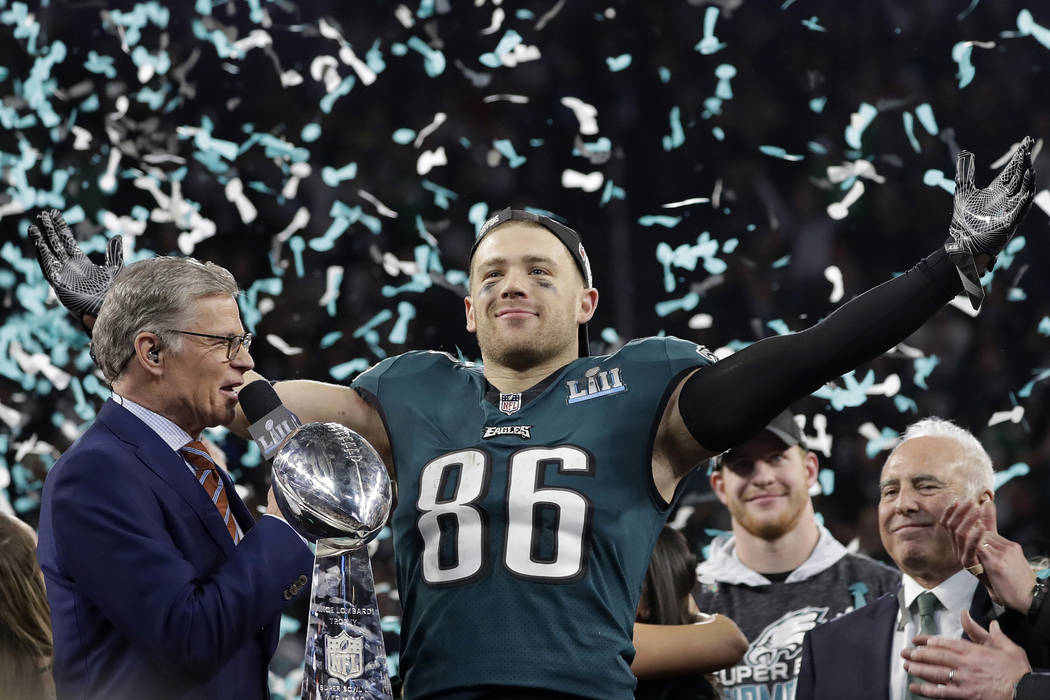 In the end, a newly appointed committee charged with attracting major sporting events to Southern Nevada might need seed money most.
The 19-member Southern Nevada Sporting Event Committee gathered for the first time Friday to begin strategizing about the best ways to attract and finance bids for events like the Super Bowl, the NFL draft, and the NCAA's Final Four and Frozen Four.
Rossi Ralenkotter, CEO of the Las Vegas Convention and Visitors Authority, noted that the goal of putting more "heads in beds" with high-profile sports events may be more challenging than it looks, because schedulers will have to avoid bringing in large crowds when big conventions are already in town. He also noted that preparing a competitive bid takes financial resources, so part of the solution could be determining a funding source.
Chaired by Paul Anderson, the committee includes six Nevada Resorts Association members and representatives of the Vegas Golden Knights and the Oakland Raiders.
Some members with venues already in place are already attracting events, including Boyd Gaming's Orleans Arena and MGM Resorts International's T-Mobile Arena, MGM Grand Garden and Mandalay Bay Events Center. By 2020, the new 65,000-seat Las Vegas stadium will be available.
This year the Las Vegas Motor Speedway joins the list of facilities hosting two annual NASCAR weekends.
The South Point has not only one of the best equestrian arenas in the region, but also one of the top bowling centers.
The committee is expected to meet four or five more times before delivering a report to Gov. Brian Sandoval and the Nevada Legislature by Dec. 31.
Members will likely discuss whether a separate sports commission should be formed and the best way for Southern Nevada's sports venues to coordinate efforts to draw high-profile events to the city.
One of the reasons the committee plans to deliver a report by the end of the year is so that it could approach the Legislature for seed money to get started.
Committee members agreed that they want to hear background reports from the LVCVA and Las Vegas Events about how they bring events to Southern Nevada.
A familiar organization will handle staffing responsibilities for the new committee. Brian Gordon, a principal with Las Vegas-based Applied Analysis, has been contracted to provide staffing support for the group. Gordon's associate, Jeremy Aguero, has a similar function with the Las Vegas Stadium Authority.
Gordon said Friday that he would soon set up a website for the committee to provide information for its public meetings.
The next committee meeting hasn't been scheduled, but it is expected to be sometime from July 9-16.
Contact Richard N. Velotta at rvelotta@reviewjournal.com or 702-477-3893. Follow @RickVelotta on Twitter.
Committee members
-Chairman Paul Anderson, executive director, Governor's Office of Economic Development.
-Andy Abboud, senior vice president, Las Vegas Sands Corp.
-Marc Badain, president, Oakland Raiders.
-Michael Britt, vice president, Government Relations, Red Rock Resorts.
-Carolyn Goodman, mayor of Las Vegas.
-Dallas Haun, chairman, Nevada State Bank.
-John Hill, public relations and advertising representative, Palm Mortuary.
-Steve Hill, chairman, Las Vegas Stadium Authority.
-John Maddox, vice president, Government Relations and Development, Caesars Entertainment Corp.
-John McManus, executive vice president, MGM Resorts International.
-Bill Noonan, senior vice president, Industry and Government Affairs, Boyd Gaming Corp.
-Rossi Ralenkotter, CEO, Las Vegas Convention and Visitors Authority.
-Thom Reilly, chancellor, Nevada System of Higher Education.
-Peter Sadowski, executive vice president, Vegas Golden Knights.
-Mary Beth Sewald, president and CEO, Las Vegas Metro Chamber of Commerce.
-Scott Sibella, chairman of the board, Las Vegas Events.
-Kim Sinatra, executive vice president, general counsel, Wynn Resorts Ltd.
-Steve Sisolak, chairman, Clark County Commission.
-Steve Stallworth, general manager, Arena & Equestrian Center, South Point.
Gov. Brian Sandoval also appointed four non-voting Technical Advisory Committee members: Scott Adams, City of Las Vegas city manager; Clark County Manager Yolanda King; Regional Transportation Commission of Southern Nevada General Manager Tina Quigley; and Clark County Department of Aviation Director Rosemary Vassiliadis.