LVCVA's Hill confident conventioneers will return this year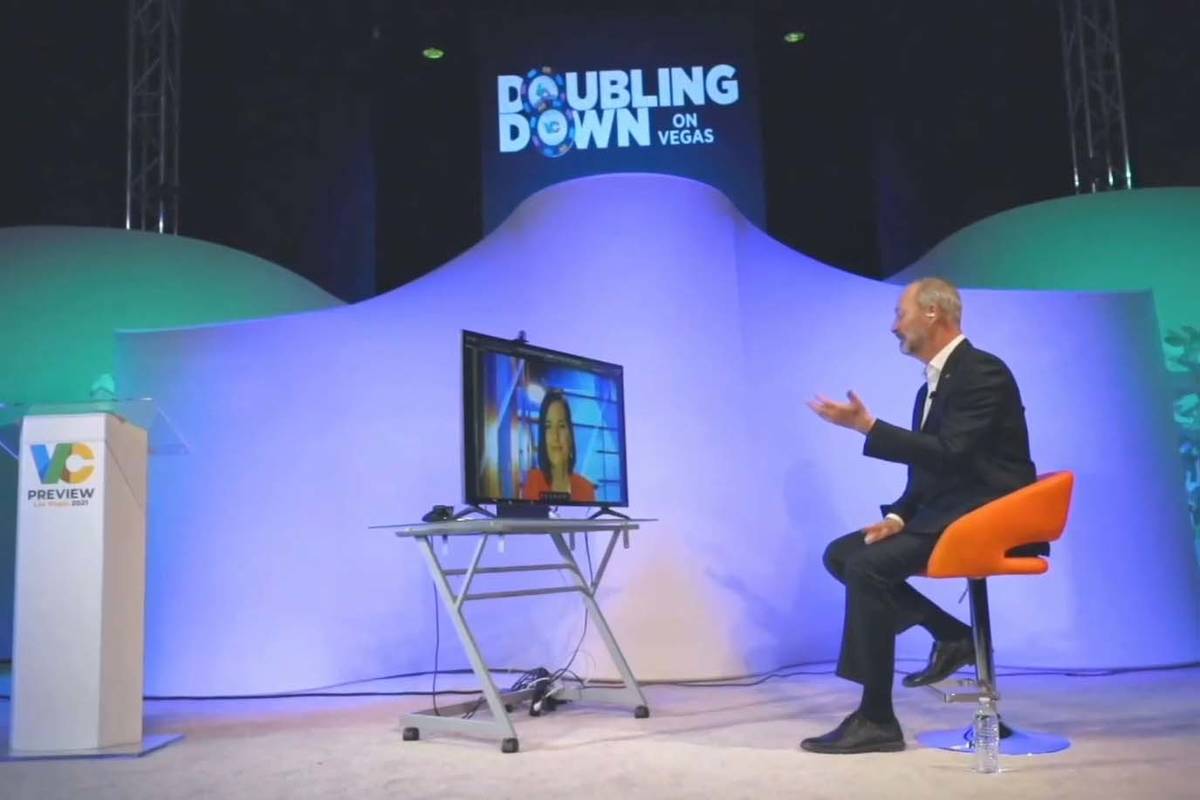 Steve Hill is confident that conventioneers will be back in 2021.
Hill, president and CEO of the Las Vegas Convention and Visitors Authority, told a virtual audience Thursday that research the organization has conducted found that 91 percent of prospective conventioneers say they are burned out with Zoom meetings and that 77 percent are longing to return to Las Vegas for trade shows, meetings and conventions.
Hill made his remarks during Preview Las Vegas, the Vegas Chamber's most popular annual networking event. Hill was interviewed in Preview's opening session by CNBC anchor Contessa Brewer.
Hill also said Las Vegas tops the list of prospective convention destinations that those surveyed expect would be ready with a safe meeting environment.
State health leaders have recommended against staging large group meetings to halt the spread of the COVID-19 pandemic. Gov. Steve Sisolak ordered a pause on gatherings in effect through Feb. 14. Under existing directives, resorts can host events of 50 or fewer attendees or 25 percent of a building's fire code capacity, whichever is smaller.
Balancing act
Hill is optimistic that with more and more people getting COVID-19 vaccinations, restrictions could be lifted by summer.
"It's a balance between what Vegas has to offer as well as the health and safety precautions that we're taking," Hill said.
Las Vegas already has seen dozens of meeting cancellations since March, including CES, the massive consumer electronics show that annually draws more than 170,000 people to Las Vegas every January.
Hill discussed some of the logistics that could occur in the gradual reopening of Las Vegas.
"Are we going to have to carry around some type of credential or health pass in order to be permitted to enter into a venue or be in a crowd or are you going to have mass testing in order to enter those venues?" he asked rhetorically.
"Testing at scale is a very difficult thing to do for very large crowds," Hill said. "I don't see that as really being a solution. I think it's possible that we have passes for some period of time, but if we're going to do that, we need to get started on it because there are really not implementable solutions on that right now."
Hill said he is optimistic about the city's future with the recent opening of Circa in downtown Las Vegas and the 2021 opening of Genting's Resorts World Las Vegas on the Strip and Virgin Las Vegas at the former Hard Rock Hotel site.
He also is encouraged about the transportation infrastructure recently completed and planned for the future, specifically referencing Brightline's plan to break ground on a high-speed rail line to Southern California this year and the Boring Co.'s completed Convention Center Loop and the planned Las Vegas Loop, underground transit systems using Tesla vehicles in tunnels. He also said Boring is contemplating a similar tunnel linking Los Angeles with Las Vegas.
"The drive traffic has come back most quickly. In fact, we're seeing weekends where the car count on Interstate 15 is higher than it was a year ago at the same time," Hill said. "That creates some traffic jams each way that we really need to solve. Adding lanes at this point is a difficult thing to do."
The city's evolving relationship with the NFL promises to bring special events to Allegiant Stadium, which Hill said "is a driver of our recovery." The 2022 Pro Bowl is scheduled at the stadium next January, and the NFL Draft is planned for April 2022.
"The NFL sees the value of Las Vegas and has complete confidence that Vegas knows how to put on events of that scale and we're excited about the partnership we have with the NFL."
'We're going to get over this'
The closing speaker, Derek Stevens, owner of the Golden Gate, D Las Vegas and Circa in downtown Las Vegas, was featured in a conversation with Vegas Chamber President and CEO Mary Beth Sewald.
Stevens is a master of one-on-one marketing, meeting and talking with customers at bars in his downtown properties.
A big sports fan and one-time owner of the Las Vegas 51s, the minor league baseball franchise in Las Vegas, Stevens said he always felt Las Vegas would be home to a major-league franchise — but that thought it would be baseball first because of the large number of home dates and the propensity of fans to follow their teams to different cities.
He's delighted that the Vegas Golden Knights have been so successful and that the Las Vegas Raiders have relocated to Southern Nevada, even though fans haven't been seeing games in person since the stadium opened in September.
Stevens is optimistic about the tourism industry's future, expecting that pent-up demand, led by independent travelers, will kick in by the second or third quarter of the year.
He also predicted that additional stimulus money would arrive from the federal government but that higher interest rates are on the horizon. California, he said, would continue to struggle, but that could result in new arrivals to Nevada.
"Over the course of history, we're going to get over this," Stevens said. "We're going to be vibrant because we're an event-based community, from watch parties to going to sporting events to going to big musical concerts and other entertainment. This is just a different kind of city. And it's just great. So we'll get over this, move forward and take it to the next level."
Contact Richard N. Velotta at rvelotta@reviewjournal.com or 702-477-3893. Follow @RickVelotta on Twitter.