Some 180K attendees to descend on Las Vegas for CES convention
January 6, 2018 - 11:28 am
Updated January 7, 2018 - 7:31 am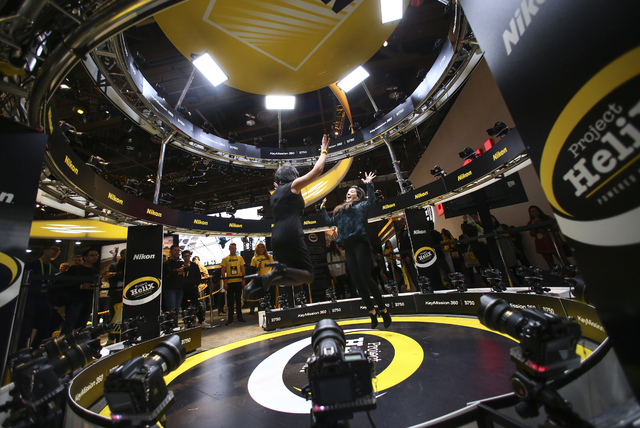 About 180,000 visitors are expected to swarm Las Vegas beginning this weekend to be among the first to experience 8K television, self-driving vehicles and robots that offer home security.
The visitors, along with hundreds of U.S. and foreign government officials, are arriving for CES, which is now in its 51st year.
It's the largest expo in Las Vegas by attendees and convention space, sprawling over 2.7 million square feet at the Las Vegas Convention Center, the Sands Expo and Convention Center and the Aria Convention Center.
The four-day event, once known as the Consumer Electronics Show, officially launches Tuesday. It generates $354 million of spending for the city as attendees fill up hotel rooms and restaurants, book nightclub tables and scoop up souvenirs at retail shops.
CES, which is closed to the public, will feature nearly 4,000 exhibitors ranging from $100 billion tech giants to bootstrap entrepreneurs. They cover a wide range of industries, from automobiles and music to health and sports.
As the event continues to mushroom, it is bumping into capacity constraints, said Gary Shapiro, chief executive officer of the Consumer Technology Association, which organizes the show.
"We could have had more exhibitors, but we were out of space," he said.
The Las Vegas Convention and Visitors Authority will break ground on the 1.4 million-square-foot expansion of the Las Vegas Convention Center on Monday. "We have been the most vocal in asking for (the expansion)," Shapiro said.
The $1.4 billion expansion project will be completed in time for CES 2021, according to the LVCVA.
Shapiro has also been lobbying for more affordable hotel prices. That remains the No. 1 complaint among attendees, he said. For those still seeking accommodations, a four-day stay at the Bellagio next week will cost $2,650, according to Booking.com.
If all goes according to plan, Resorts World will open its $4 billion, 3,000-room hotel-casino across the street from the expanded Las Vegas Convention Center in late 2020, potentially helping avoid a price spike for CES 2021.
Beyond gadgets
The show has moved beyond showcasing the latest consumer home gadgets. About one-third of exhibitors are selling products to other businesses, Shapiro said.
"Our job is to go where the future is going, and the mixture of products will always be evolving," said Shapiro, recalling the days when the show offered mainly radios and TVs.
Artificial intelligence — the ability of machines to learn from experience and perform some human tasks — will be one of the key buzzwords at this year's show and will have a larger presence, he said.
Amazon's virtual assistant Alexa, which uses AI to understand voice, was one of the biggest hits at the 2017 expo. Voice recognition will be featured in a host of products this year, including automobiles, he said.
"This is just the beginning. It is still early for AI," said Shapiro.
For the first time, CES is setting up a dedicated Artificial Intelligence Marketplace inside the Las Vegas Convention Center's south hall. The exhibitors will include Rokid, a Chinese company whose voice-activated assistant can give news and weather updates and carry out simultaneous translations between Mandarin and English.
Kai-Shing Tao, chairman and CEO of Remark Holdings, said he will be among those visiting the AI marketplace. His Las Vegas company is developing artificial intelligence solutions for commercial use.
"Last year's CES show was an intro to AI, and the technology has expanded so much since then," Tao said. "Every keynote speaker at CES will need to talk about how AI is integrated into their hardware and software."
About that TV display
The Las Vegas Convention Center will also host the large consumer electronic companies, including Sony, Panasonic, LG and Samsung, as well as auto companies.
LG will feature its 88-inch 8K OLED display, the largest in the world. The screen will have a resolution of 33 million pixels, the highest globally, the South Korean company said this week. Samsung will again show off its curved displays powered by Intel processors.
At the Sands Expo and Convention Center, there will be more than 900 startups in the Eureka Park zone — a 50 percent increase from last year — as well as new sections dedicated to sports technology and digital health.
Eureka Park will feature 42 country pavilions this year. France, Israel, Canada, Egypt and Singapore will be among the nations bringing their startups to the park.
"Countries want to show they are very startup friendly," Shapiro said.
More than $1.5 billion has been invested in startups featured at the Eureka Park zone since it opened in 2012.
The Aria Convention Center will focus on how technology is changing the entertainment, advertising and marketing industries and will feature speakers from social media giants like Google and Facebook.
Vehicles everywhere
Driveless, electric and connected cars will be another big theme at CES this year. The show will feature 400 vehicle technology exhibitors, including 11 auto manufacturers, turning the expo into the fourth-largest auto show by space.
Ford, Honda and BMW will be among the large manufacturers exhibiting cars and car-related technology.
Two French companies, Transdev and Lohr, will present i-Cristal, a fully autonomous electric shuttle that can hold 16 passengers, while the Chinese startup Byton will unveil its first electric car.
Canadian manufacturer Electra Meccanica plans to show off its three-wheel electric car. The single-passenger vehicle costs $15,500. Tesla, the largest producer of electric cars, will not be exhibiting.
Highlighting the importance of automobiles to the show, Ford Motor Co. President and Chief Executive Officer Jim Hackett will be the first keynote speaker on Tuesday. He will discuss the future of mobility in connected cities.
Lyft Co-founder and President John Zimmer, another keynote speaker, will give his vision of how ride-hailing services will shape transportation and communities. Lyft will make waves during the show as it shuttles people around Las Vegas in autonomous BMW sedans.
The auto section will likely be a hot spot not just for car enthusiasts but also for advertising and marketing managers as the dashboard transforms into a big screen, said Lori Schwartz, founder of StoryTech, a consulting firm that conducts tours of CES.
"All businesses need to understand how and where people are going to be consuming their content," she said. "The car of the future will be a portable living room."
Smart cities and robots
A "smart cities" zone will focus on how fifth-generation wireless technology will enable billions of objects like cars, homes and refrigerators to connect to the internet. Public utilities and services will be able to use that data to improve their services. AT&T said last week it plans to begin rolling out 5G this year.
Encounters with robots will be a common occurrence at the show. A robot from Taiwan-based Industrial Technology Research Institute will challenge Scrabble champion Will Anderson to a game. Robotelf Technologies will present a robot with dual cameras that can watch an empty home or play with children.
The new sports zone will feature wearable technologies and performance measurements to support athletes. The startup Black Box VR will unveil its resistance-based virtual reality fitness experience at the show.
Augmented reality, another hot topic, will have greater representation at this year's show. Schwartz said AR is finding more traction because it can be experienced through a phone, whereas virtual reality requires a headset.
"AR is showing the most movement on the enterprise side for training, education, business solutions. VR is still trying to find its legs," she said.
3-D printing, once seen as a game changer for manufacturing, will occupy less space this year.
Tours for time-pressed guests
Each convention center will feature forums dedicated to its particular themes. Overall, there will be more than 200 conference sessions and more than 900 speakers, including, for the first time, a segment dedicated to cryptocurrencies.
Other keynotes will be delivered by Intel Chief Executive Officer Brian Krzanich, Baidu Chief Operating Officer Qi Lu and Verizon Chief Technology Officer Hans Vestberg.
Guests who have limited time or are daunted by the show's large scale and number of exhibitors can sign up for educational tours by accredited CES partners StoryTech and Shelly Palmer.
A 90-minute tour of the Las Vegas Convention Center or Sands costs about $1,000. A three-hour tour covering both destinations costs about $1,500.
Contact Todd Prince at tprince@reviewjournal.com or 702-383-0386. Follow @toddprincetv on Twitter.