Wallace-Morris Surveying gets help from USDA loan program to expand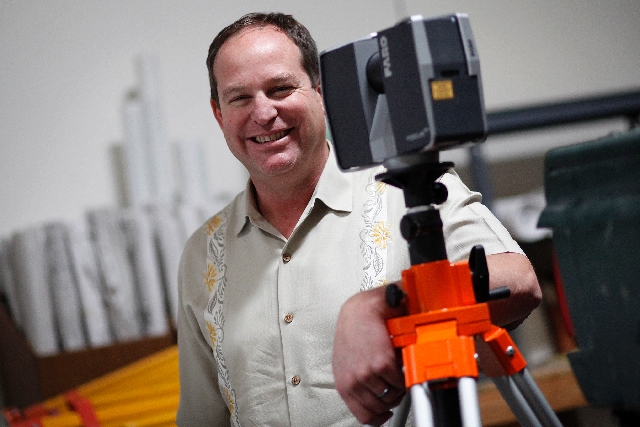 Wallace-Morris Surveying Inc., a small company in what is considered rural Las Vegas, survived the recession. But to attract new business as the economy recovers, co-owners Kevin Wallace and Craig Morris knew they had to invest in new equipment and add staff.
"We've been a successful surveying company," Wallace said. "We were trying to expand the business, and 3-D scanning is something I figured we needed to have here."
Wallace said the decision to seek a $100,000 loan to buy the Faro Focus three-dimensional scanner was a risk.
But it "turned out to work for us," he said.
The privately held company secured the funding it needed by working with Service1st Bank of Nevada, a small business bank with a knack for working with companies looking for government guaranteed loans.
Wallace-Morris secured the $100,000 loan, guaranteed by the U.S. Department of Agriculture Rural Development.
Wallace said he knew Bill Martin, former chief executive of Service1st Bank, and approached him about applying for a loan.
The only problem was that Service1st Bank's parent company, Western Liberty Bancorp, was merging with Phoenix-based Western Alliance Bancorp in a deal valued at $55 million. Service1st Bank is now Bank of Nevada.
"Because of the economy, it was very hard to get a loan," Wallace said. "He knew we were eligible for the guaranteed loan."
Wallace said there was more paperwork to fill out to apply for a federally guaranteed loan, but the interest rate on it was very good.
The loan closed late last year after the sale of Service1st to Bank of Nevada.
Wallace declined to elaborate on financial details. USDA Rural Development can provide a 60 percent to 80 percent guarantee on a qualifying rural business loan made by a lender.
Wallace-Morris Surveying is at 5740 Arville St. The business is considered to be in a rural area because of a lack of development there.
"I can't complain. We got a loan in this economy," Wallace said. "I would do it again."
Nationally, the USDA's Business and Industry guaranteed-loan program funding is expected to be $1 billion during the current fiscal year.
"This is a great example of what our guaranteed-loan program can do for a rural business," said Herb Shedd, business programs director. "We look forward to helping more … businesses make similar expansions to their business."
As a result of the loan, Wallace-Morris Surveying was able to buy laser-scanning equipment that lets the company produce 3-D scale models on a computer for use by both architects and builders.
Wallace said the innovative scanner "creates a point cloud," allowing the company to take a lot of measurements.
He said it almost "allows us to see a picture" of what the company is scanning, which is especially helpful for designing pipes or wiring.
The company has added 13 employees to help handle the additional business, between surveying and scanning jobs. Wallace-Morris, which was founded in 2006, is profitable and has 29 employees.
USDA Rural Development has
an active portfolio of more than
$181 million in loans and loan guarantees.
Shedd said these loans are intended to improve the economic stability of rural areas nationwide.
Contact reporter Chris Sieroty at csieroty@reviewjournal.
com or 702-477-3893. Follow @sierotyfeatures on Twitter.