Work on Massachusetts MGM casino getting underway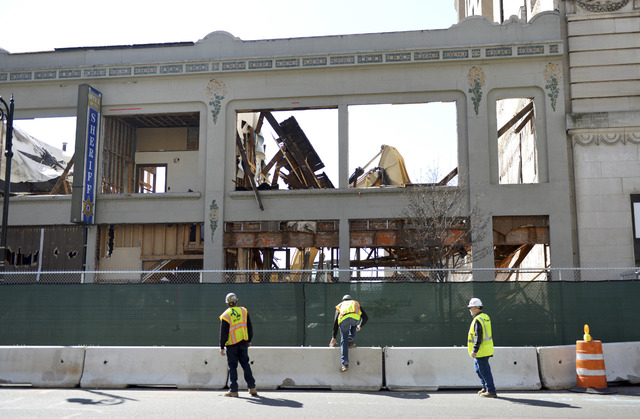 BOSTON — This time last year, MGM officials and state and city leaders were reveling in a confetti-filled groundbreaking at the future site of a resort casino in the western Massachusetts city of Springfield.
But what had been projected to be the state's first Las Vegas-style gambling destination has faced a series of setbacks. Now MGM Springfield is gearing up for its first full season of construction, one year later than hoped.
"It's had a serious number of twists and turns, but those are finally behind us," said Kevin Kennedy, Springfield Mayor Domenic Sarno's chief development officer. "We're pleased we're on course for a September 2018 opening."
The project endured a lengthy review by historic preservation authorities over the planned demolition of downtown buildings in the months after last year's March 24 groundbreaking.
Then MGM asked the state and city for permission to open a year later in September 2018, on account of a major interstate highway project happening nearby that it feared would impact the first year of operation.
The company followed that request up by proposing cost saving design changes, including the controversial elimination of a 25-story glass hotel tower (in favor of a six-story structure with the same 250 rooms) and a reduction in total square footage of the complex by about 10 percent.
Even with the changes, the project has ballooned from $800 million to $950 million because of updated labor, material and administrative cost estimates.
"Things happen on a complex project. It isn't unique," said MGM Springfield President Michael Mathis. "It was less active than we planned. But it's such a sprawling site that we were able to do some work all along the way."
Since the groundbreaking, Mathis said, underground utility work has been done and many downtown buildings have been razed or partly demolished to clear the 14.5 acre development site.
Preparations are now underway for the first major new structure — a roughly 3,400-space parking garage.
Mathis said 700 construction workers have been employed to date. The project is required to provide a minimum of 2,000 temporary jobs during construction and 3,000 permanent ones when it opens.
But Springfield and other government agencies will have to wait longer for their big payouts.
The Las Vegas-based company is required to pay Springfield more than $16 million before the casino opens and $25 million annually thereafter.
Kennedy, of the Sarno administration, said MGM has so far met its financial obligations. It has paid the city about $8 million of the pre-opening payments, as scheduled. Another $4.5 million is due later this year, and the final $4 million comes in 2017.
Massachusetts also claims a share of annual gambling revenues, and 10 surrounding cities and towns get more modest upfront and annual payments from the casino.
Springfield City Council President Michael Fenton said he'll be watching the project isn't "further watered down" without fair compensation to the city.
One open question, he said, is where MGM places a promised apartment complex eliminated in the new designs. The company has said the roughly 50 market-rate units be built within a half mile of the casino but not on site.
MGM's involvement in the casino debate in nearby Connecticut is also worrying, Fenton said.
Connecticut lawmakers have authorized the two tribes that separately own Foxwoods and Mohegan Sun to seek a new site for a jointly-run casino, likely in the Hartford-area near Springfield.
But MGM has sued in federal court, arguing the law violates the U.S. constitution by giving the two tribes an unfair advantage over other would-be developers. It's also helping finance another federal complaint by the Schaghticoke Tribal Nation that makes similar arguments.
"I have no issues with MGM trying to stop the expansion of Connecticut gaming," Fenton said. "But if they're teaming up with another tribe to compete with the Springfield casino, I have a real big problem with that."
Mathis declined to discuss the Connecticut lawsuits in detail.
"It has nothing to do with our day-to-day job here," he said. "We're focused on getting this project built. There's a separate part of the company that's pursuing opportunities in Connecticut and other parts of the country and the rest of the world."
Meanwhile, Wynn Resorts is hoping to open a $1.7 billion Boston-area resort in late 2018 and the Mashpee Wampanoag tribe said it'll break ground in April on a resort near Cape Cod that could open as soon as next year.
Plainridge Park, a slots parlor in Plainville, opened last summer.