Zappos signs key Las Vegas bicycle world sponsorships
August 21, 2014 - 5:21 am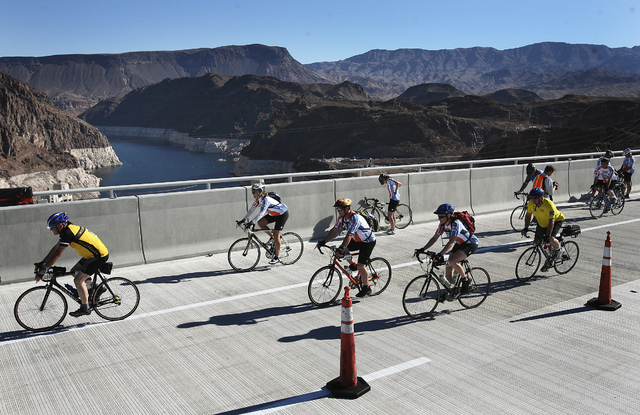 Zappos is making a big splash in the Southern Nevada bicycle world by signing deals to be the title sponsor of the Zappos.com Viva Bike Vegas bicycle ride Sept. 13 and the presenting sponsor of the Las Vegas Pedal Palooza bike race in downtown Las Vegas on Sept. 11.
Zappos, the downtown-based Internet retailer, recently cut the deal to be the title sponsor of the Viva bike ride, which is being organized this year by Perimeter Bicycling Association of America Inc. of Tucson, Ariz.
Zappos declined to disclose terms of the deals.
Perimeter Bicycling took over the Viva bike ride after Regional Transportation Commission of Southern Nevada announced in January that it no longer was staging the event. RTC dropped the event after losing $117,000 on it in 2013 and seeing ridership drop from 2,351 cyclists in 2012 to 1,731 in 2013.
Zappos became the title sponsor even though Viva ridership is expected to dip to about 500 because the public was informed by the RTC that the event was canceled, said Richard DeBernardis, Perimeter Bicycling founder and president.
Zappos has a two-pronged approach to its sponsorship strategy, said Loren Becker, who oversees Zappos community involvement and awareness efforts.
One strategy is to back national events in hopes of building brand awareness, driving traffic to the Zappos website and generating sales, he said. The second is sponsoring area events — such as Viva Bike Vegas — for a return on community instead of revenue, Becker said.
Becker said the Viva event will not be a big moneymaker for the company, but it represents the type of community event that Zappos wants to support.
Daniel Earl, Zappos events producer for the two bike events, said both "promote overall health and wellness and correlate back to cycling products that we sell on Zappos.com … Zappos values bicycling because it is a great way to reach potential Zappos customers and promote a healthy lifestyle."
And the Viva ride will allow out-of-town bicyclists to see the area's bicycle infrastructure improvements, while offering attractive scenery such as Red Rock Canyon, Becker said.
Earl said both events are being held during Interbike in the second week of September when the bicycle industry comes to Mandalay Bay Convention Center to showcase thousands of products.
"By being a part of these races, we can show a large cycling audience that we are a serious cycling retailer and even show off some of our Zappos employees as great athletes and racers," Earl said. "It's also a great way for us to hit on two of our four C's: Clothing and Community."
Becker said Zappos employees who register for health events such Viva receive registration reimbursements from the company if they complete the event.
DeBernardis said Zappos was an ideal match for the Viva ride because the company backs community health issues.
"A few weeks ago they said they wanted to be part of this event. They are a business that is interested in the development of its community and in health and wellness," he said.
"They see the reasons why we need to keep this bike event. It was an easy decision. They already had the philosophy of health and wellness. We were fortunate we met a symbiotic partner," DeBernardis said. "They impressed me with how fast they jumped into it at the last minute. They're truly into this for the value of the community."
Anyone interested in volunteering for the Pedal Palooza can contact Eric at elarsen@outsidelasvegas.org.
Contact reporter Alan Snel at asnel@reviewjournal.com or 702-387-5273.