Ex-Raider Henry Ruggs to plead guilty in fatal DUI case
Updated May 2, 2023 - 9:06 pm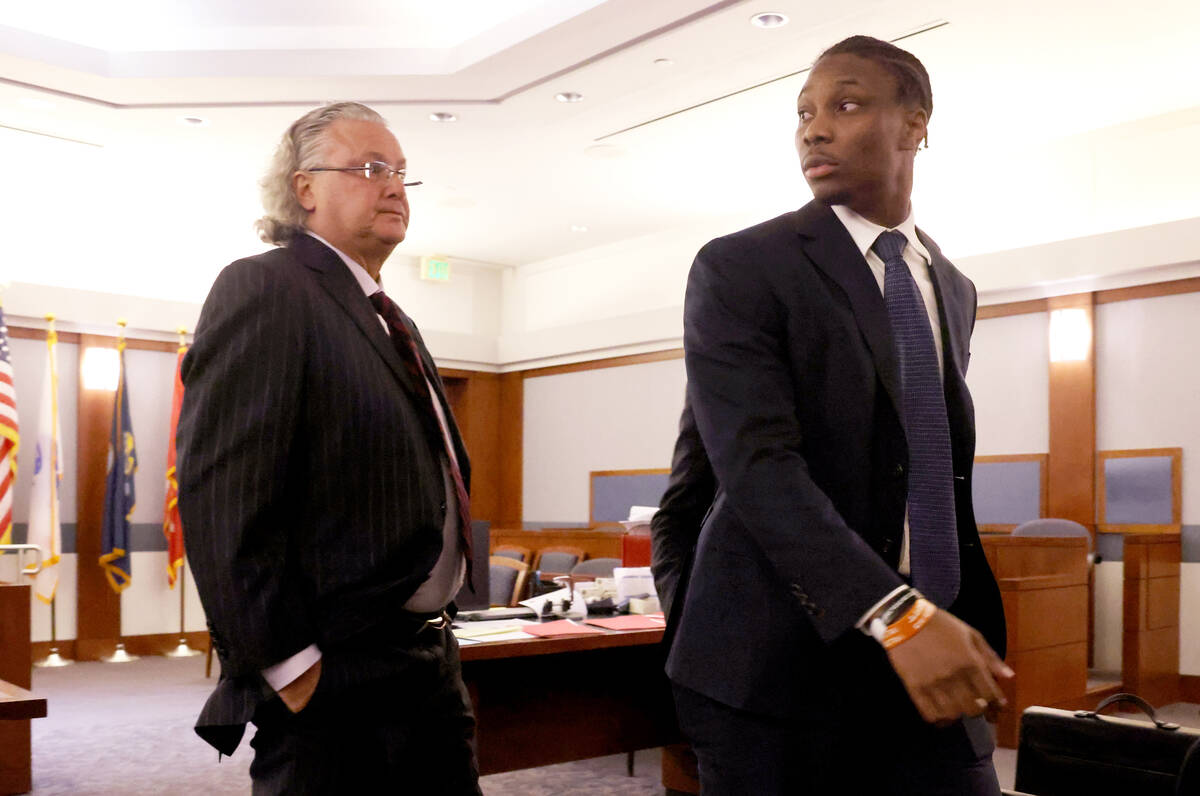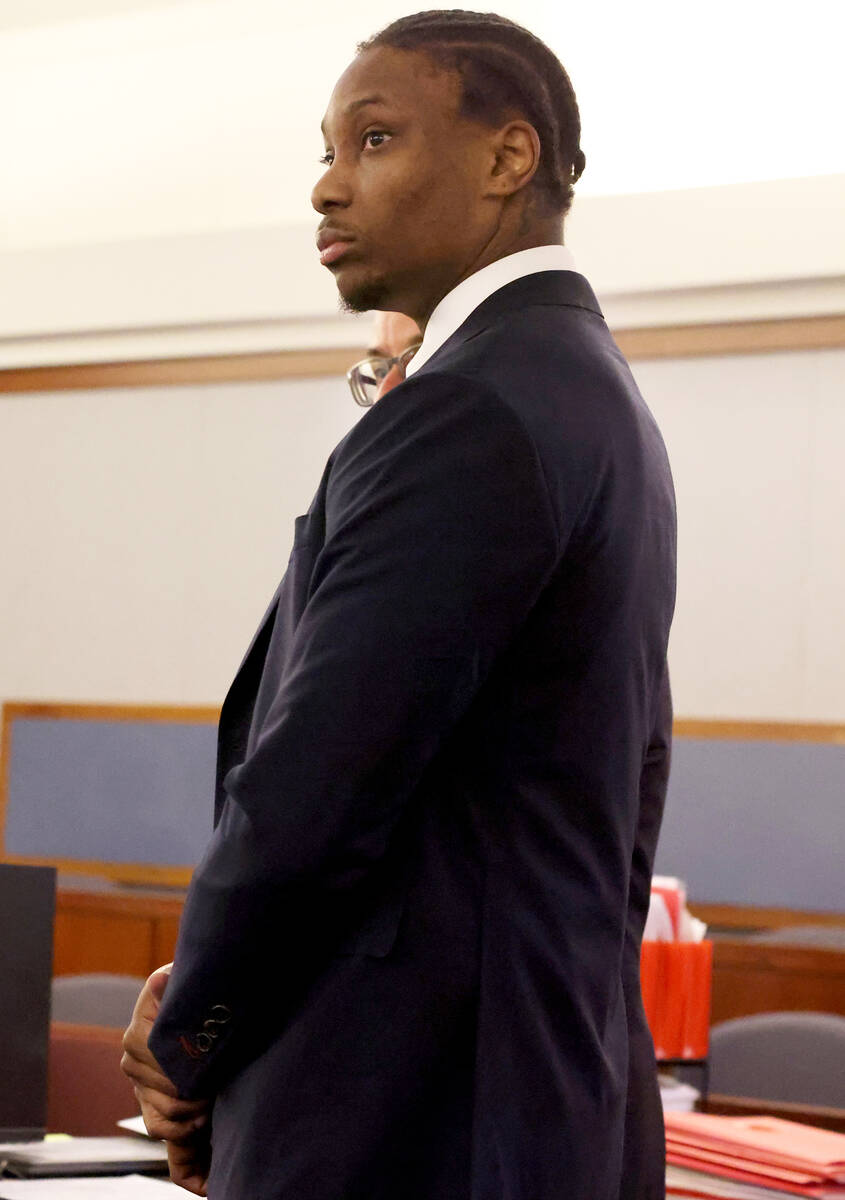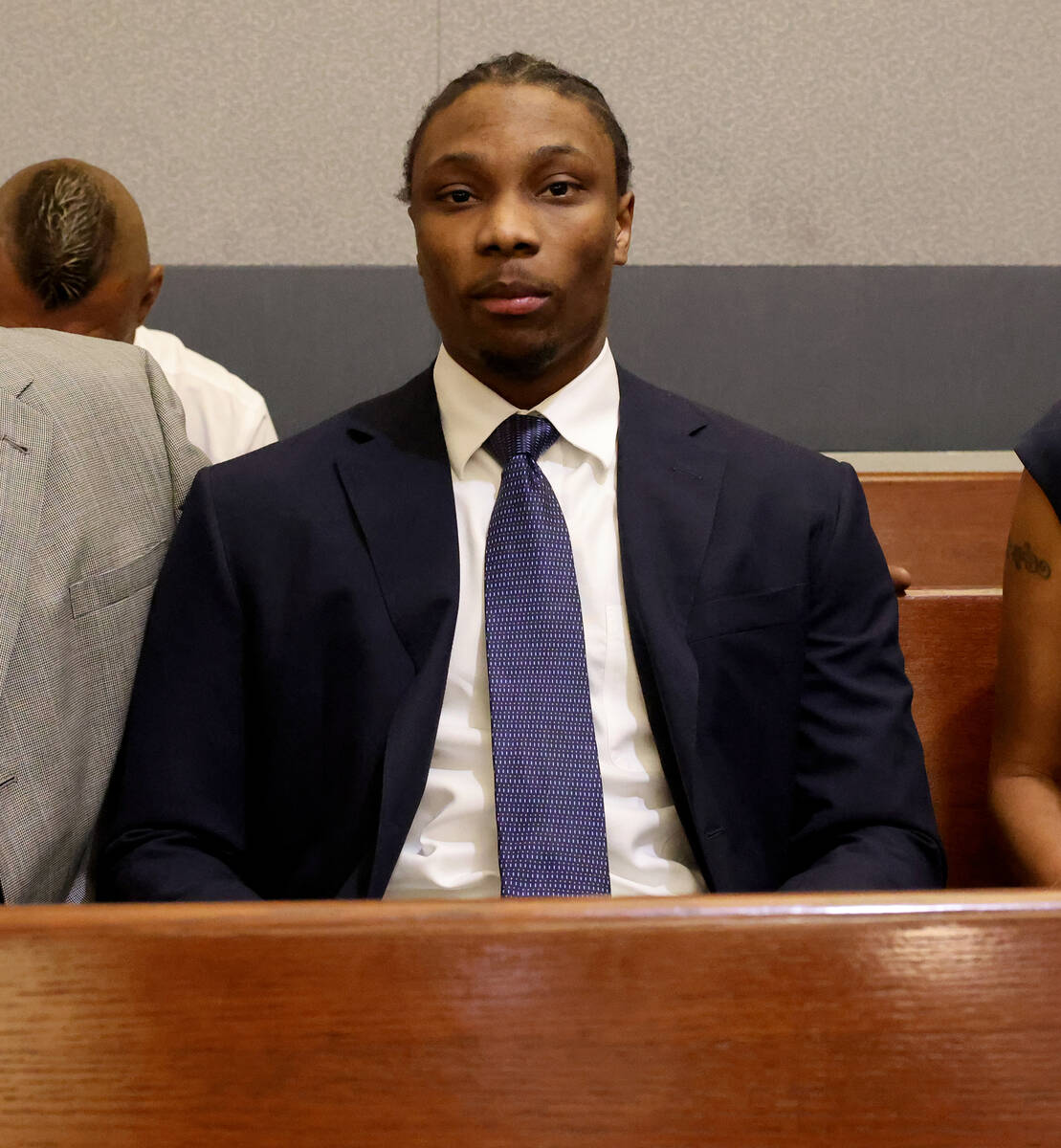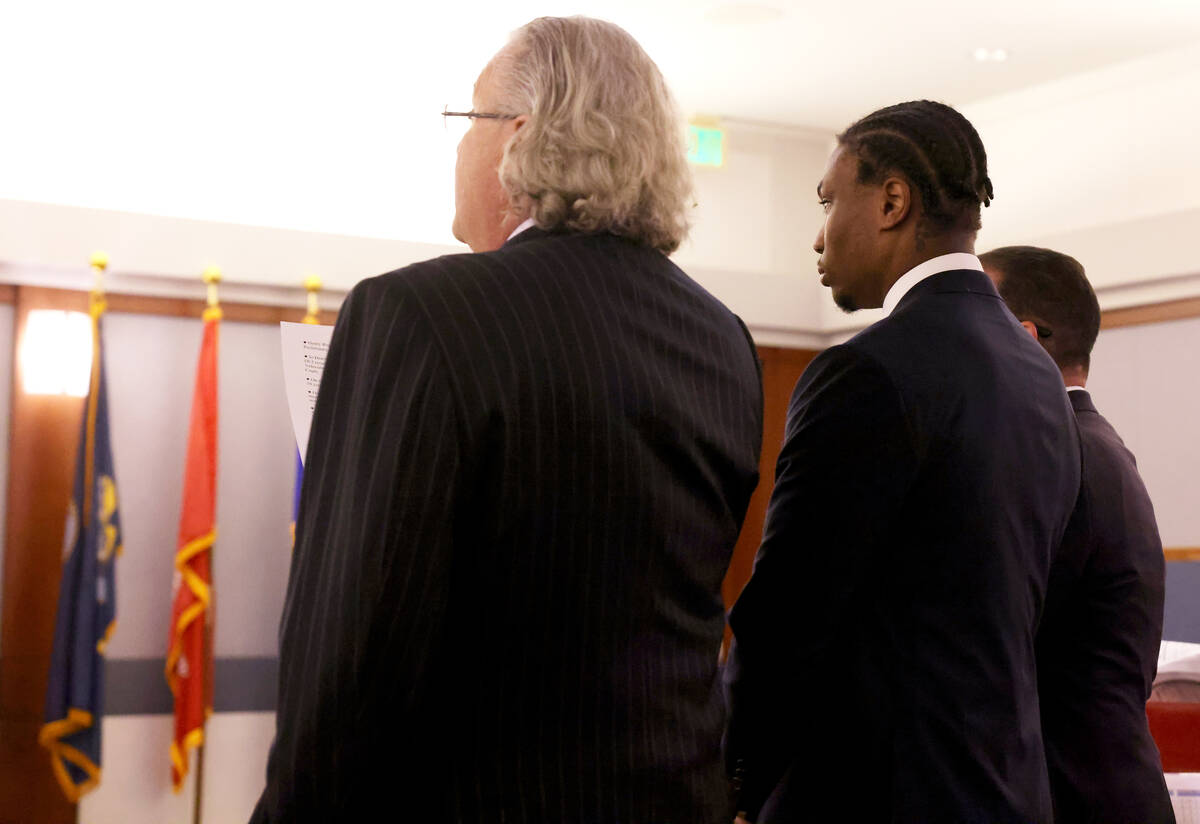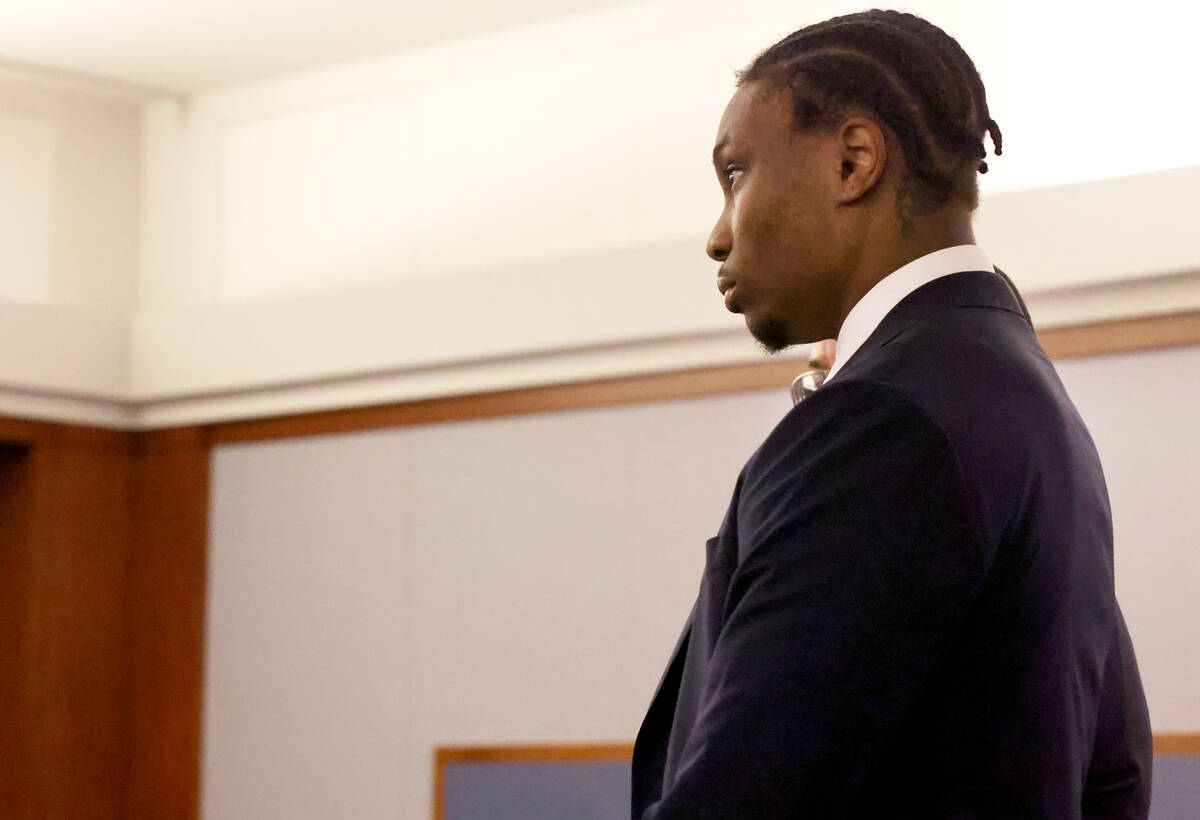 Former Raiders player Henry Ruggs is expected to plead guilty in connection with a DUI crash that left a 23-year-old woman dead in Las Vegas, his lawyers said Tuesday.
Ruggs defense attorneys waived his right to a preliminary hearing and said the former wide receiver will plead guilty to a felony charge of DUI resulting in death and a misdemeanor count of vehicular manslaughter. Ruggs did not officially enter a guilty plea on Tuesday, but his lawyer David Chesnoff said that "both pleas will take place in District Court."
"This is the first step toward a fair resolution to this matter and we look forward to closure for all the parties involved," Chesnoff and defense attorney Richard Schonfeld said in a statement released after Tuesday's hearing.
Ruggs' lawyers and prosecutors also agreed for Ruggs to serve a sentence of three to 10 years in prison, but a judge will have the final say on the sentence.
"This resolution is conditioned upon the court accepting the stipulations of the parties," Chesnoff said during the hearing. "In the event that the court does not accept the stipulations, Mr. Ruggs will be permitted to withdraw his guilty plea, proceed to trial and litigate all issues."
The vehicular manslaughter charge carries a sentence of six months in the Clark County Detention Center. But defense attorneys and prosecutors stipulated that Ruggs would serve the sentence for the misdemeanor count at the same time as the felony sentence, meaning he is expected to only spend time in prison.
Chief Deputy District Attorney Eric Bauman said Tuesday that being convicted of a vehicular manslaughter charge "requires a traffic infraction of negligence that results in the death of another person."
Ruggs initially faced charges of DUI resulting in death, DUI resulting in substantial bodily harm, two counts of reckless driving resulting in death or substantial bodily harm, and possession of a firearm while under the influence in connection with the fiery November 2021 crash that killed Tina Tintor and her dog.
The Naqvi Injury Law Firm, which has previously represented Tintor's family, did not respond to request for comment on Tuesday.
Ruggs is accused of driving his Chevrolet Corvette Stingray up to 156 mph down a residential street seconds before slamming into the back of Tintor's 2013 Toyota RAV4 on Nov. 2, 2021.
Tintor's car burst into flames, trapping her inside. Prosecutors have said that after the crash, Ruggs' blood alcohol level was 0.16 percent, twice the legal limit for drivers in Nevada.
According to a police report, Ruggs' girlfriend, Kiara Kilgo-Washington, who also goes by the name Rudy Washington, told police she and Ruggs were at Top Golf before the crash, where she ordered two drinks for herself "but did not know how many, if any drinks, Ruggs had consumed."
If convicted of two DUI counts — one for Tintor's death and another for injuries his girlfriend allegedly suffered — Ruggs could have been facing a maximum sentence of 40 years in prison. Defense attorney and former DUI prosecutor Thomas Moskal, who is not involved in the case, told the Review-Journal on Tuesday that Rugg's negotiations was a good plea deal for him.
"Three to ten is on the low end of what we see in DUI death cases in that courthouse," Moskal said, adding that a typical sentence for a DUI resulting in death has a minimum closer to five years in prison.
Moskal and Jay "Chip" Siegel, a prominent DUI defense attorney who is not involved in Ruggs' case, both said that multiple legal issues in the case could have led to the lower stipulated sentence, including a dispute over the search warrant that led to Ruggs' blood alcohol test.
"That's the whole reason that this case is going to resolve — it's mammoth," Siegel told the Review-Journal on Tuesday.
Chesnoff and Schonfeld have argued that police didn't have probable cause to ask a judge for the warrant to obtain Ruggs' blood at the hospital. The attorneys have argued that Justice of the Peace Harmony Letizia, who oversaw Tuesday's hearing and who signed off on the search warrant, had approved the warrant without being told that Washington claimed she did not know how many drinks Ruggs had consumed before the crash.
Both Bauman and Chesnoff declined to comment on the search warrant on Tuesday.
Multiple legal challenges in the case have delayed court proceedings and a preliminary hearing over the past year and a half. The hearing, in which a judge listens to testimony and determines if there is enough evidence for a defendant to stand trial, was scheduled for Thursday.
The case has also been bounced between judges in the Las Vegas Justice Court in recent months. The shuffling began when Chesnoff and Schonfeld argued that Ruggs was "singled out" when Justice of the Peace Ann Zimmerman moved to continue overseeing the DUI case in January, even though Justice of the Peace Joe Bonaventure had taken over a DUI specialty court during routine judicial reassignments.
Bonaventure recused himself after saying he made comments about the case while running for re-election last year, a move that was fought by defense attorneys before the case landed back in Letizia's courtroom for Tuesday's hearing.
Ruggs is scheduled to appear in front of District Judge Jennifer Schwartz on May 10. He was not taken into custody on Tuesday and remains under house arrest.
Contact Katelyn Newberg at knewberg@reviewjournal.com or 702-383-0240. Follow @k_newberg on Twitter.
RELATED
Judge stands by previous decision in Henry Ruggs' DUI case
Judge 'singled out' Henry Ruggs' DUI case, attorneys allege
Friends, relatives pack church for Tina Tintor funeral
Ex-Raiders star Henry Ruggs formally charged in fatal DUI case
Raiders release Ruggs after fatal crash