Judge cuts defendant's testimony short in Bunkerville retrial
August 10, 2017 - 7:41 pm
Updated August 10, 2017 - 9:31 pm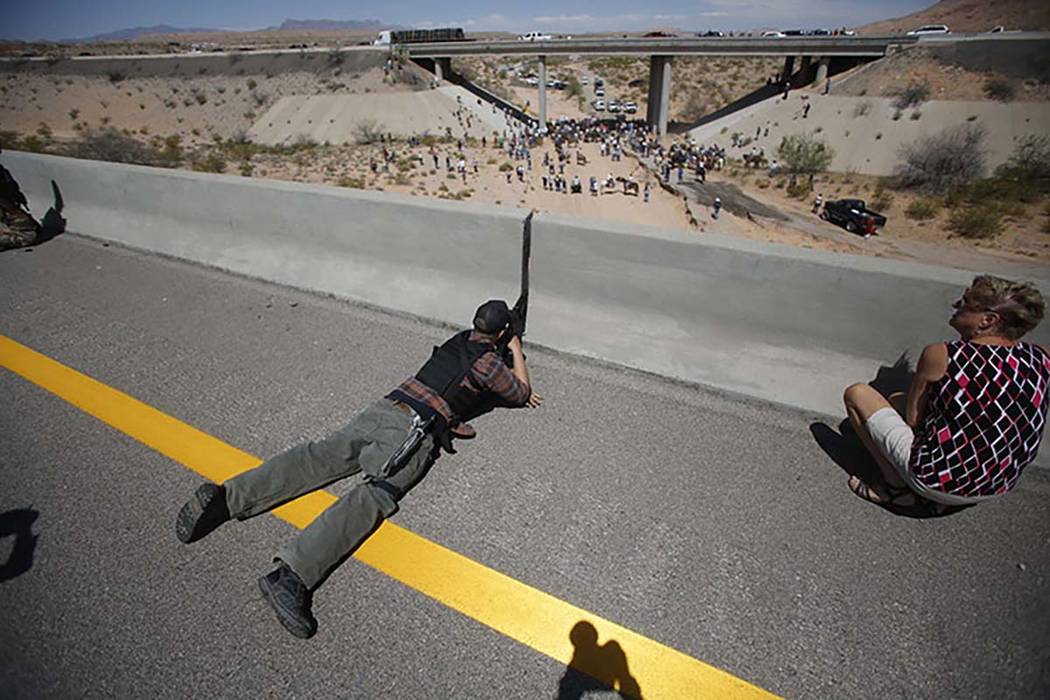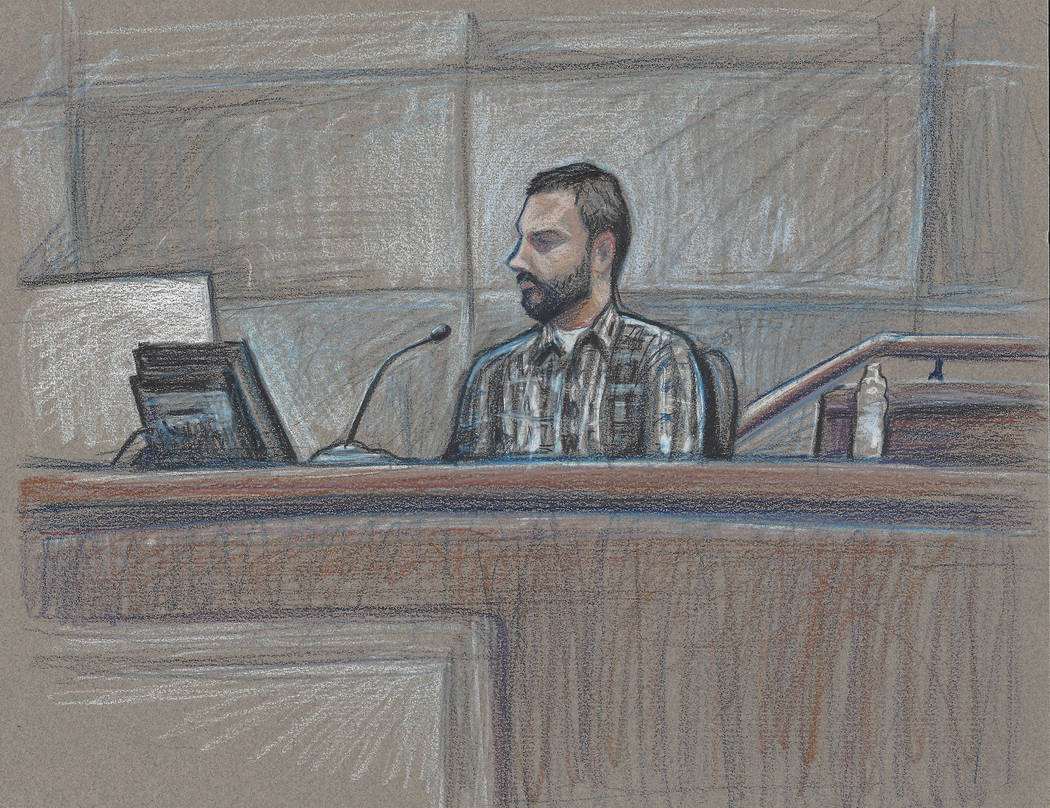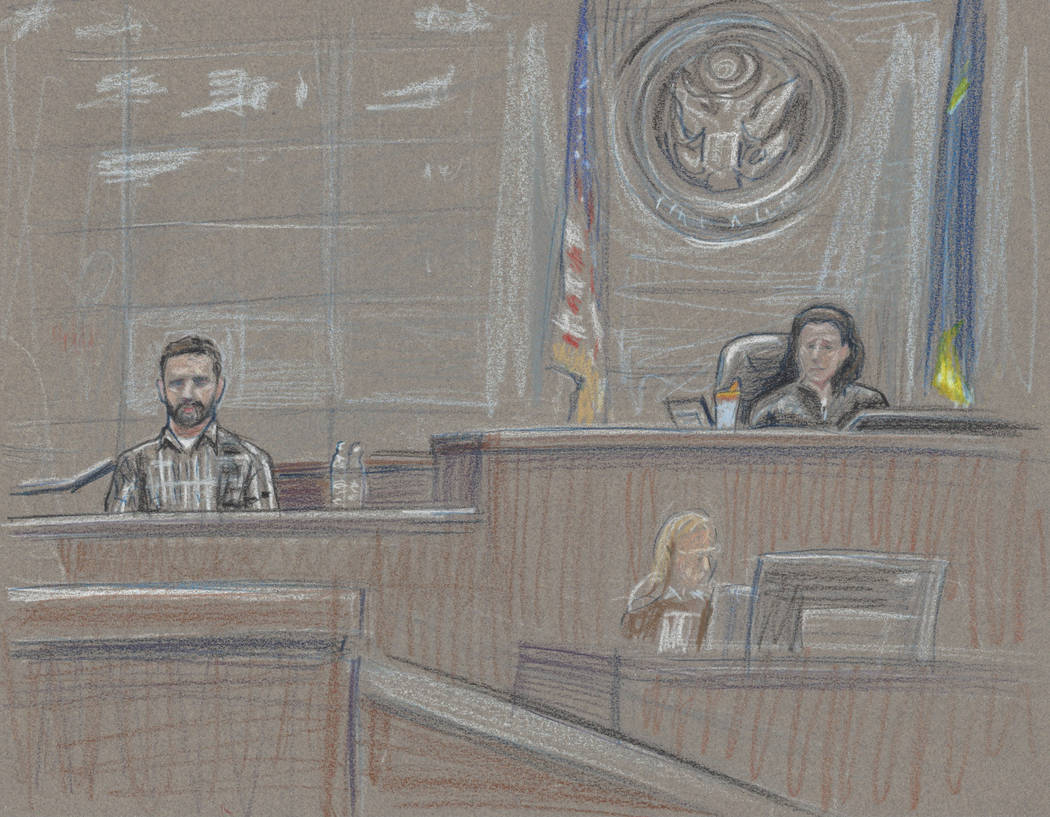 A federal judge in Las Vegas cut short the testimony of an Idaho gun enthusiast in the middle of his Bunkerville standoff retrial Thursday.
Eric Parker was photographed in April 2014 pointing a long gun through a barrier on an Interstate 15 overpass that overlooked a sandy ditch where protesters had gathered to face Bureau of Land Management agents.
Prosecutors first objected to Parker's testimony about 20 minutes after he took the stand and uttered the words "First Amendment."
Before the start of the second trial for Parker, a married father of two, and three other men, U.S. District Judge Gloria Navarro barred the defense from referencing constitutional rights to freely assemble and to bear arms. She also prohibited mention of alleged misconduct or excessive force by law enforcement.
After a lengthy sidebar, Parker's testimony continued before prosecutors objected to his use of the word "sniper." The judge disallowed the comment and sent the jury to lunch.
After returning from the break and spending less than an hour testifying on the stand, Parker described being handed a pair of binoculars while in Bunkerville before he "looked up and to the right." He seemed to be referencing the same area where he believed a sniper had been positioned.
Acting U.S. Attorney Steve Myhre immediately objected and requested a meeting with the judge and defense attorneys.
Moments later, Navarro returned to the bench and told Parker to step down. The judge ordered Parker's testimony stricken before asking defense attorneys whether they planned to call any more witnesses Thursday afternoon.
With no testimony scheduled for the rest of the day, Parker trudged off the stand, peering back at jurors as he made his way toward his attorney, Jess Marchese, who patted Parker's left shoulder. The defendant appeared to choke back tears as he tapped the table in front of him with the end of a water bottle, before collecting papers in a folder and clutching a Bible, which he has pored over throughout the trial.
Jurors exited the courtroom, and U.S. marshals escorted Parker toward a holding cell. He turned toward several people still gathered in the gallery, saluted them and slipped through the door.
Marchese said outside of court that Navarro ruled Parker had violated a court order by describing what he saw.
"We were trying to abide by the court's order," Marchese told a Las Vegas Review-Journal reporter. "The government objected, the court granted it, and I respect her ruling."
Parker was the first defense witness who testified before jurors. A day earlier, four people who attended the standoff gave "proffer" statements via Skype, but Navarro ruled that jurors would not be allowed to hear their testimony.
Scott Drexel, a friend of Parker's and co-defendant, is expected to testify Monday, according to his attorney, Todd Leventhal. Lawyers for the other defendants, Steven Stewart and Ricky Lovelien, have indicated their clients are unlikely to speak to jurors, which means Drexel could be the final defense witness.
The four men had driven to the rural northeastern Clark County town in support of rancher Cliven Bundy, who prosecutors allege conspired to thwart the federal government's roundup of roughly 1,000 cows from public land. They are facing a second trial after members of another jury declared in April that they were deadlocked on all counts against them.
At the first Bunkerville standoff trial in April, Parker told a different jury that he arrived at the highway bridge thinking he was going to watch Bundy's cows get released.
On Thursday, he spoke carefully about his presence, apparently aware that his comments were restricted.
"I knew there was a court order," he said. "I knew they had been arguing about grazing fees. I knew that (Bundy) had water rights. I knew they were rounding up cattle, and it was causing protests."
He told jurors in April that he lay down on the interstate and aimed his rifle after "I made a decision. I didn't want to hurt anybody, but I also didn't want to see those people get hurt in the wash."
But Marchese never got to ask on Thursday about images that showed Parker prone on the highway overpass.
The lawyer guided Parker through an aerial photo of the standoff, as the defendant showed how he moved from a parking lot to the roadway.
"When I got over to the bridge over here, my focus was other things," Parker said shortly before he was asked to step down.
Contact David Ferrara at dferrara@reviewjournal.com or 702-380-1039. Follow @randompoker on Twitter.
Bundy-BLM Battle
Read complete coverage of the feud between the Bundy family and the BLM