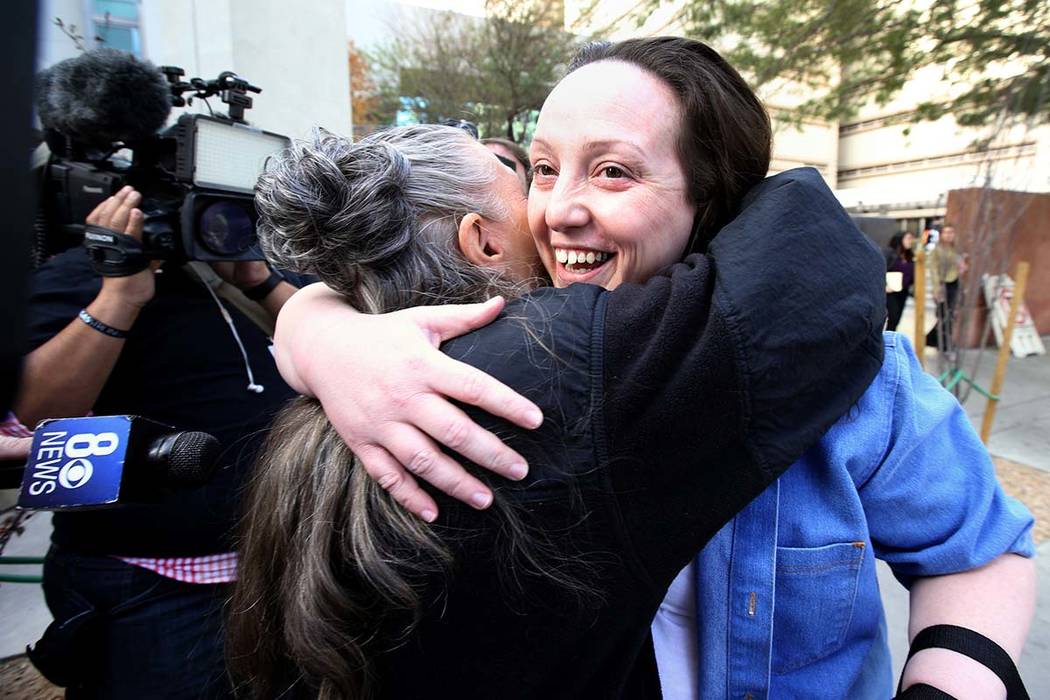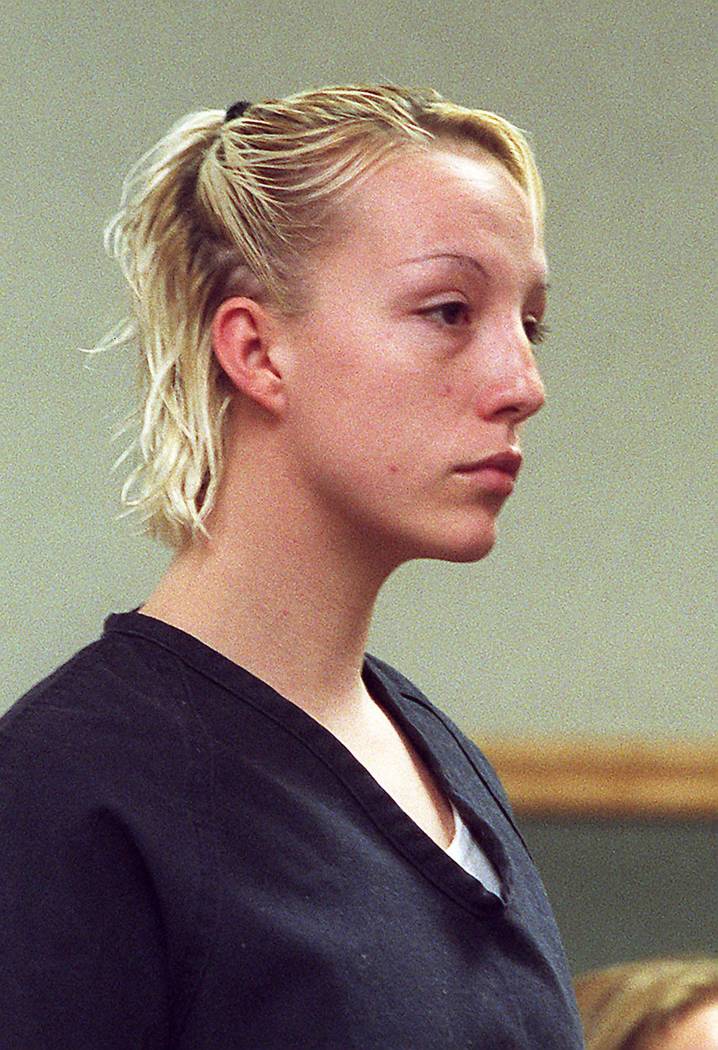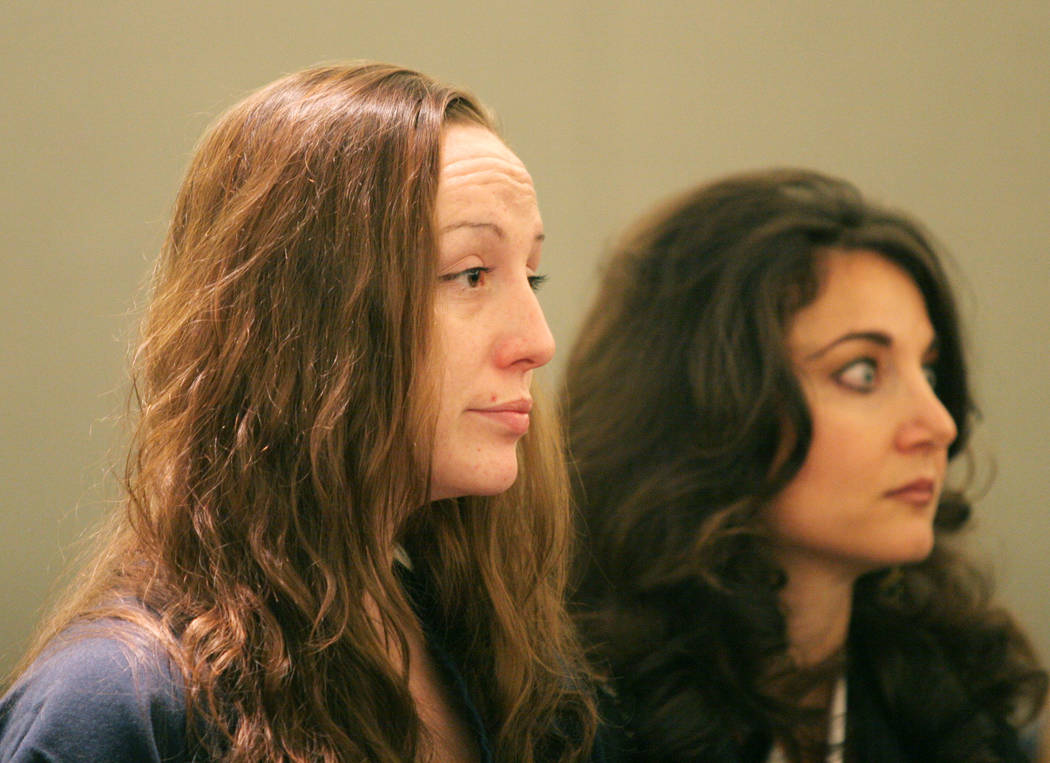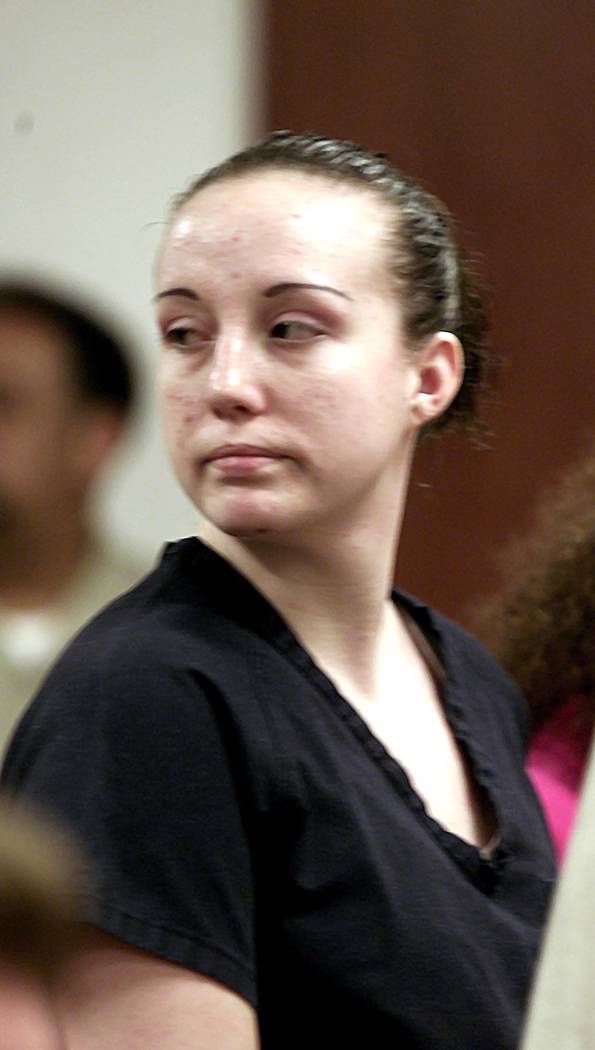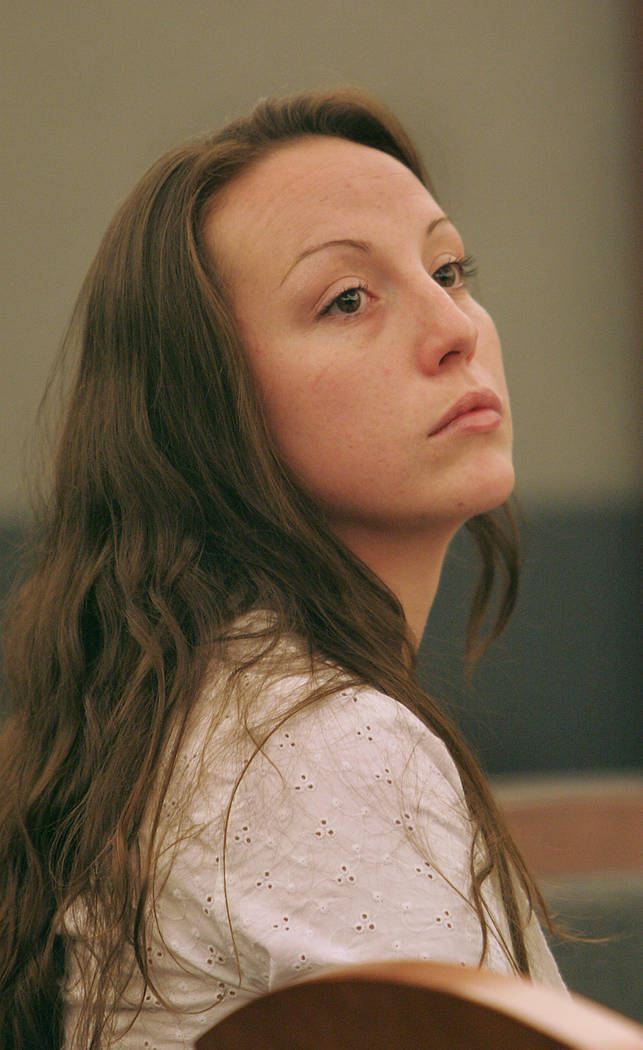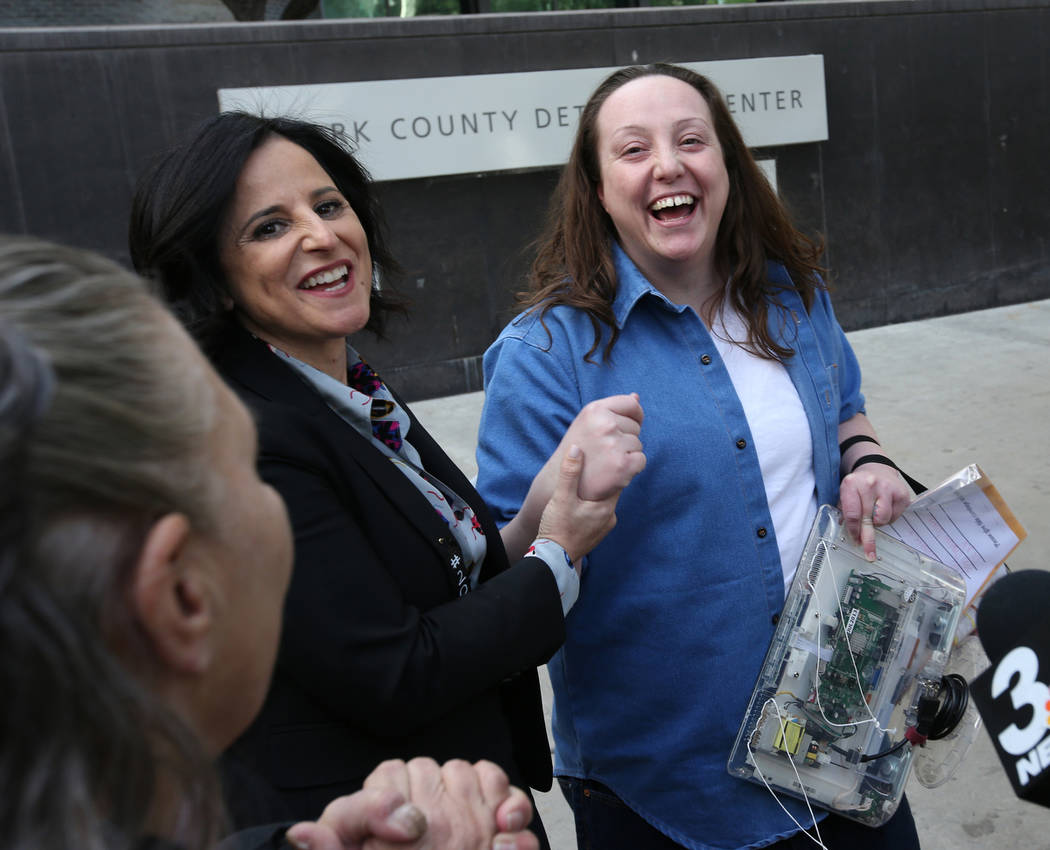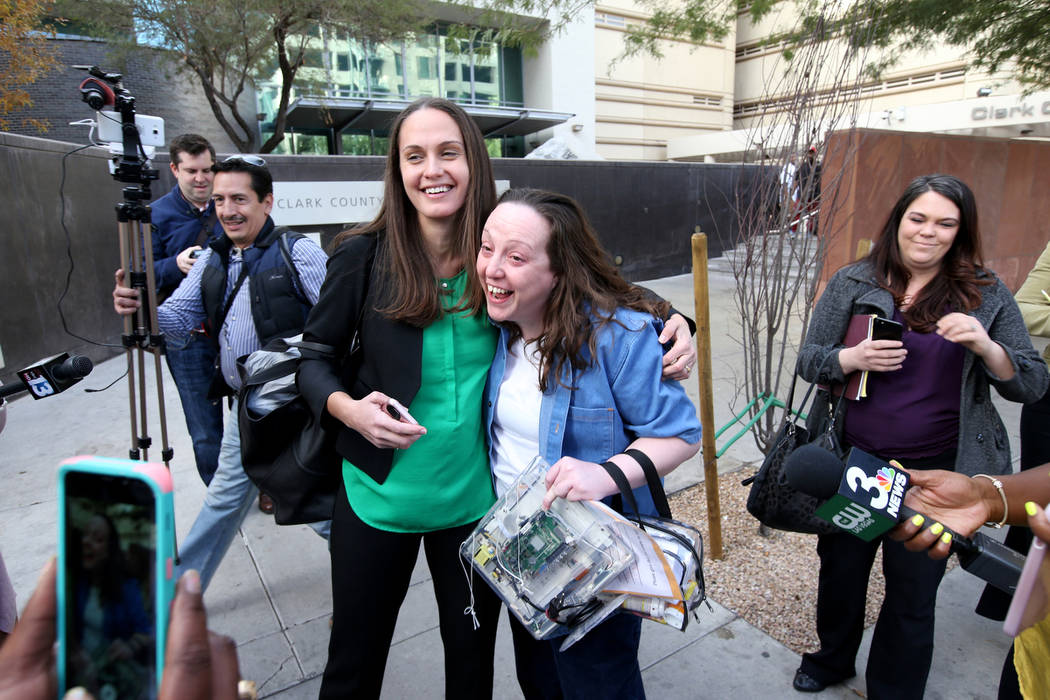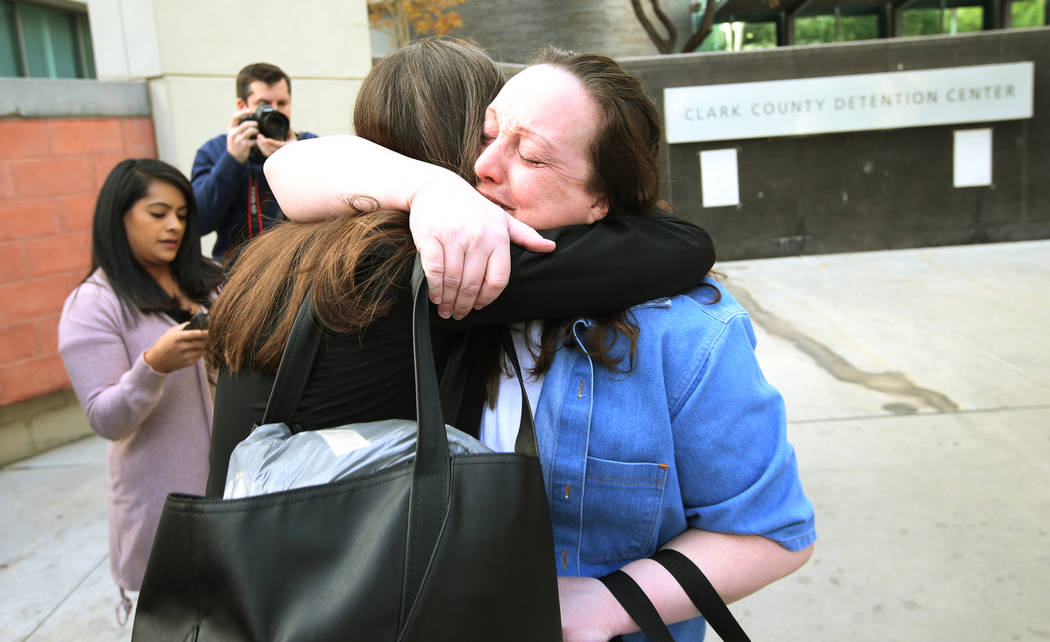 Kirstin "Blaise" Lobato walked out of the Clark County Detention Center on Wednesday, embracing friends and lawyers, after spending more than 15 years behind bars for the killing of a homeless man.
The release came after a judge dismissed charges against Lobato, who has professed her innocence and appealed her case for years, twice winning new trials.
"I feel so many things," Lobato told reporters gathered outside the Las Vegas jail. "I feel awkward with all of you standing here. … You know what, I'd really like some coffee."
Wearing a prison-issued blue denim shirt over a white T-shirt with blue jeans and white gym shoes, she let out a hearty laugh.
"I'm so overwhelmed and so happy and so grateful for all the people that have believed in me and fought for me all these years," she said. "I feel so much emotion."
After a few moments, she added: "I'm ready to go somewhere. I'm sorry, y'all. I gotta go."
Earlier Wednesday, a judge granted a request for Lobato's immediate release. The same judge had dismissed Lobato's case on Friday.
In her latest order, Chief District Judge Elizabeth Gonzalez ruled that Lobato would not have to serve another year in jail on a separate case.
"We are very pleased that this long struggle is finally over for Ms. Lobato and that she will finally be reunited with her family and friends," said lawyer Vanessa Potkin, director of post-conviction litigation for the New York-based Innocence Project.
Potkin was among those who welcomed Lobato to freedom Wednesday afternoon.
Also greeting Lobato outside the jail was 43-year-old Joye Taylor, a woman who befriended Lobato about six years ago as a fellow prisoner inside Florence McClure Women's Correctional Center in North Las Vegas. They consider themselves best friends and even joke that they are twins, Taylor said.
They kept in touch through letters and attorneys after Taylor served out her prison term.
"She never stopped fighting," Taylor said as she stood waiting for Lobato's release. "She's just really strong. She has a lot of good qualities, a lot of qualities that I admire — her strength being one of them."
In 2002, a jury convicted Lobato of first-degree murder for the killing of Duran Bailey, whose penis was severed. She had maintained her innocence at trial.
The Nevada Supreme Court later reversed that conviction. In a 2006 retrial, another jury found her guilty of voluntary manslaughter and sexual penetration of a dead body.
A year later, Lobato was found guilty of voluntary sexual conduct between a prisoner and another person, which added another year to her sentence.
Last month, District Judge Stefany Miley granted Lobato another new trial in connection with Bailey's death.
Gonzalez dismissed the 2006 voluntary manslaughter conviction against Lobato last week after prosecutors declined to proceed with a third trial.
Lobato's lawyers pushed for her immediate release, arguing that the woman already had "served over 15 years for a crime she did not commit."
Gonzalez signed an order Wednesday stating that Lobato, 35, was "entitled to credit for time served" in the sex case.
During a lengthy hearing in October, four forensic experts for the defense, including a former Clark County medical examiner and a university professor of forensic pathology, testified that Bailey probably died about 9 p.m. on July 8, 2001, when Lobato was seen in Panaca, about 165 miles northeast of Las Vegas.
The experts said they based their testimony on photos and reports indicating a lack of blowfly egg colonization on the homeless man's body. Lobato's post-trial lawyers said that pointed to her innocence.
Las Vegas attorney David Chesnoff, another who hugged Lobato in her first moments as a free woman, took on Lobato's case last year and worked with the Innocence Project.
He kissed Lobato's forehead and whispered: "I wish you all the best. You have wonderful people who care about you."
Now outside the walls, Taylor and Lobato have talked about starting their own business, though they are unsure what sort of venture they might take on.
"I just want us to live," Taylor said. "Anything forward moving, with all that behind us, and never look back."
Contact David Ferrara at dferrara@reviewjournal.com or 702-380-1039. Follow @randompoker on Twitter.
Order for Kirstin Lobato Release by Las Vegas Review-Journal on Scribd