'Sovereign citizen' Thomas Benson indicted, ordered to prison
Updated August 16, 2018 - 6:11 pm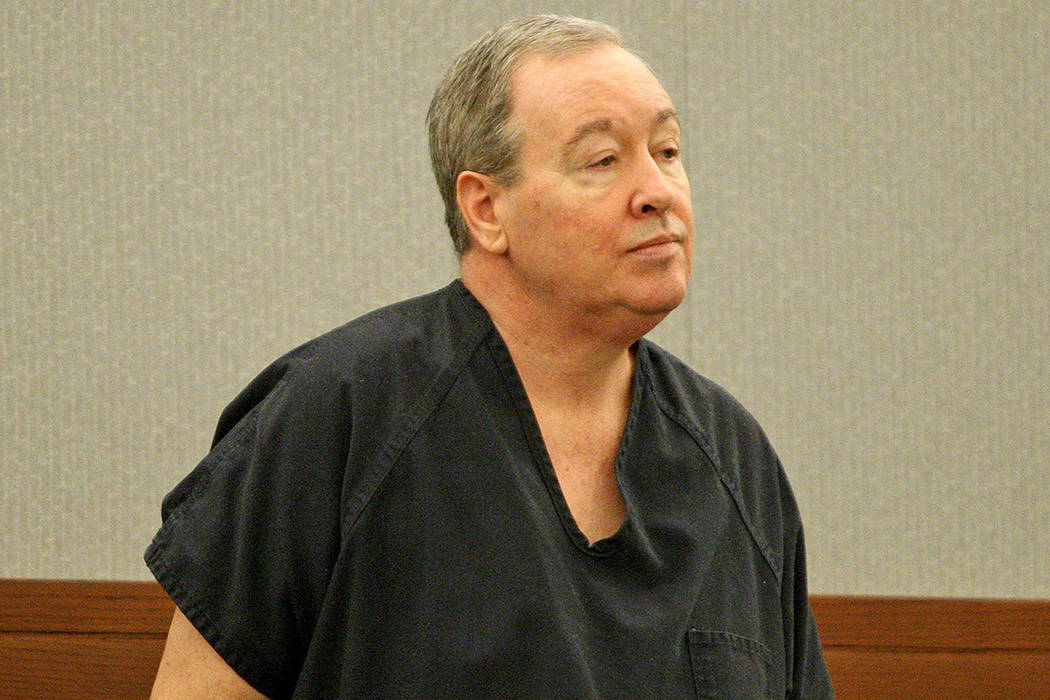 After receiving probation for filing bogus real estate paperwork, Thomas Benson has been indicted again and ordered to prison.
District Judge Ronald Israel this week revoked Benson's probation, after finding that he violated it, and imposed what had been a suspended sentence of two to five years in state prison, with 173 days credit for time served, court records show.
The order came after a Clark County grand jury indicted Benson — who authorities say follows anti-government "sovereign citizen" ideology — on charges of intimidating a public officer, a gross misdemeanor.
According to the Aug. 9 indictment, Benson sent a letter last month to a Las Vegas police detective who has investigated Benson to threaten or intimidate the detective from pursuing cases against him.
Benson told District Judge Michael Villani at an arraignment Thursday that he would defend himself in court and that he wanted to make a statement. Villani said the statement would be a guilty or not-guilty plea, but when Benson said he was challenging the court's jurisdiction, the judge entered a not-guilty plea because, he said, Benson refused to answer the court's question.
"Sir, if you're not answering the court's question, that is a basis for me not to allow you to represent yourself," Villani said. "You understand that?"
"I comprehend," said Benson, who added that the word "understand" is defined in a dictionary as "to stand under the jurisdiction, and I do not stand under the jurisdiction."
Sovereign citizens are known for financial scams, nonsensical court filings and occasional violence. Benson — who has said that he never claimed to be a sovereign citizen — has proclaimed in court filings that he is "not a person," showed his "proof of life" with blue footprints and issued orders from a nonexistent court.
He was charged twice in Clark County over fraudulent checks; was accused by prosecutors last year of squatting in a Las Vegas condo; and was arrested last year on charges stemming from allegations of a takeover of a bank-owned house in the northwest valley.
Benson pleaded guilty in January to two felonies, each from separate cases against him. With one plea, he admitting to offering a false instrument for filing or recording, specifically, filing a fake lease with the Clark County recorder's office. With the other, he pleaded guilty to false representation concerning title, filing a "lis pendens" with the county, or notice of legal action, against the foreclosed house he was accused of trying to take over.
In May, he received five years of probation and a suspended prison sentence of 24 to 60 months in one case and two years of probation and a suspended sentence of 12 to 30 months in the other.
Besides being ordered to prison in one case, Benson was ordered last week in the other case to serve 90 days in Clark County Detention Center and to be dishonorably discharged from his probation, court records show.
The Review-Journal reported in 2016 on Benson's history of unusual court filings, as well as some of his associates and homes linked to him. He sued the paper, this reporter and several others in 2017. A federal judge dismissed the case this year.
Contact Eli Segall at esegall@reviewjournal.com or 702-383-0342. Follow @eli_segall on Twitter.