Arrest report details 'totally random' fatal shooting on I-15
October 17, 2016 - 9:00 pm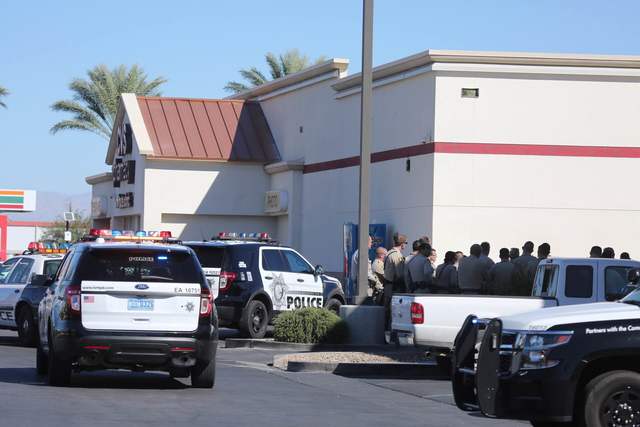 Tracey Donahue was puffing a cigarette out her passenger-side window early Saturday, her husband Tom Donahue at the wheel, when their trip to grab a meal together was interrupted by gunfire while on southbound Interstate 15.
At least six bullets ripped through the couple's car about 9:25 a.m. in a "totally random" shooting, Las Vegas police said.
Seconds later, Tom shouted that he'd been shot. He turned to his wife, who was slumped over in her seat, blood pouring from her neck. He tried to pull the car over, but crashed into a freeway median, an arrest report details.
Tom called 911. He applied pressure to Tracey's neck. And he racked his brain, trying to describe what had just happened. All he knew was that the shooter's car was white. He hadn't been in a road rage incident while driving, and he didn't catch a license plate number.
As he waited for paramedics to arrive, no one stopped to help, his daughter, Amber Garcia, said in a social media post later that day.
Tom, 55, was rushed to University Medical Center with injuries that were not life-threatening. Tracey, 48, was pronounced dead at the hospital about an hour later.
* * *
Less than 20 minutes after the couple was shot, several people began calling 911 from the CVS Pharmacy at 8116 Las Vegas Blvd. South, near Windmill Lane, the arrest report reads. A man armed with two handguns had walked into the store.
As employees and patrons ran toward the back of the CVS and funneled out of an exit door, the armed man approached a female employee near the pharmacy counter. He pulled his pants down, held up one of his guns and demanded a sexual act.
The woman shoved him, said police were on the way and escaped. Security footage confirms the account.
* * *
Tom and Tracey were the only people shot on the interstate that morning, but police said at least two other cars were struck by bullets.
One man, whose semitrailer had been shot near the southbound Tropicana Avenue exit, pulled over, called police and told them everything he saw:
The shooter's car was white, as Tom had said. The witness added that the vehicle — which he guessed was a Lincoln Town Car — was "dirty" with a broken right front headlight. The driver looked to be the only one in the car.
The witness also caught the first three numbers of the shooter's plate, according to the arrest report.
* * *
When police arrived at the CVS, a car similar to the vehicle in the interstate shooting was in the parking lot.
The man who had walked into the store with two guns exited the store "several minutes" later, no longer armed, the arrest report reads. He did not comply with police.
With a police K-9's help, Kenneth McDonald, 29, was arrested. A handgun and a BB gun were found in the men's restroom.
The handgun, which held 18 rounds, was empty. At least 17 shell casings were collected from inside the car police found in the drugstore parking lot.
* * *
McDonald is being held without bail at the Clark County Detention Center. He faces a series of charges, including one count each of murder and attempted murder.
McDonald told police he never possessed a gun that day, his arrest report reads. He instead told police someone driving a white Ford Crown Victoria — which matched the description of Tom and Tracey's vehicle — started "shooting at him."
He added that he went to the CVS "to get some medication" because his back was sore.
* * *
Tom's daughter, Amber Garcia, posted in a GoFundMe page she created for her stepmother's funeral expenses that Tracey was an "amazing woman" who loved her husband and her family "beyond words."
"She was funny and so full of life, her contagious smile and laugh would brighten the room," the post continued. "You dont (sic) realize how much you take your family for granted till something like this happens and your whole world crumbles."
In the same post, Garcia said the couple may have been targeted because the couple's car resembles an old police car and the shooter "thought he was shooting an officer," but that has not been confirmed, Metropolitan Police Department spokesman Michael Rodriguez said, citing the multiple vehicles that had been shot.
McDonald's 72-hour hearing in court is scheduled for Wednesday morning.
Contact Rachel Crosby at rcrosby@reviewjournal.com or 702-387-5290. Follow @rachelacrosby on Twitter.
RELATED
Woman killed in 'totally random' shooting on Interstate 15 in Las Vegas