DA: Fatal shooting in parking lot was 'clear case of self-defense'
Updated May 4, 2020 - 7:29 pm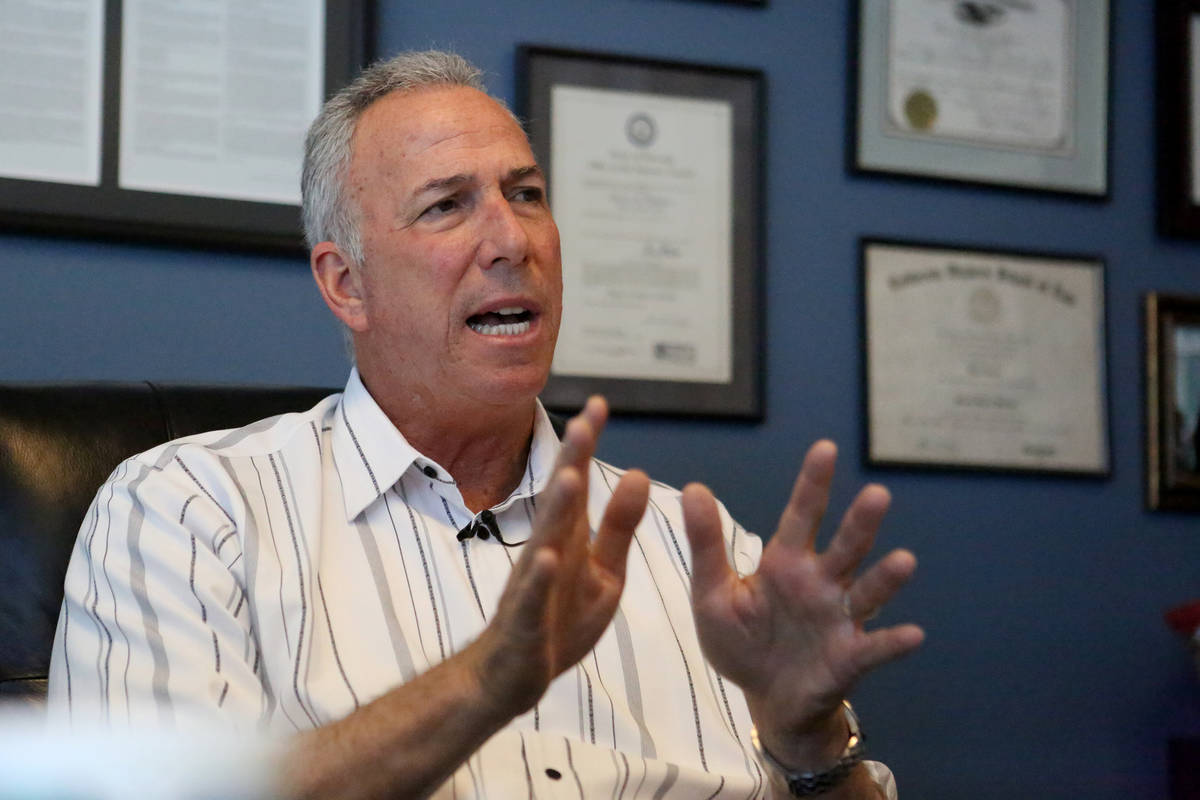 Clark County District Attorney Steve Wolfson said Monday that the fatal shooting of a man last month by the head of a Las Vegas motorsports company was "a clear case of self-defense."
BJ Baldwin, president of Baldwin Motorsports in Las Vegas and the son of a gaming executive, was having a fast-food dinner with a woman in a shopping complex parking lot at 9640 W. Tropicana Ave., near Fort Apache Road, early on April 22 when two men approached. An altercation broke out "and gunfire was exchanged," Metropolitan Police Department Lt. Ray Spencer said previously.
Baldwin shot Joseph Smith, 43, during the exchange.
A Las Vegas police report indicates Smith was accompanied by his brother, Kevin Smith, 40. Kevin Smith told police his brother was upset that morning because of a failed attempt to buy firearms from a gun store in the complex.
Prior to the shooting, Kevin Smith said, his brother threw rocks at the gun store's front window. The siblings left the shopping complex on Tropicana, then later returned on foot, police wrote in the report.
"Kevin had a feeling Joseph was going to do something stupid, but denied knowing what," the report said.
Kevin Smith said the siblings saw Baldwin and his acquaintance in the parking lot upon their return.
"(Kevin) Smith said Joseph walked up to them, pulled his gun out, pointed it at the female and smiled as he began shooting at the male," the report said. "Kevin stated Joseph was the first to fire his weapon."
Kevin Smith told police they did not know the couple.
"Kevin told detectives the white male shot in self-defense and should not be charged," police said.
Baldwin told police he feared for his life as Joseph Smith approached.
"As Joseph Smith got closer, he turned his firearm toward Baldwin," the report said. "When Joseph Smith turned his pistol toward Baldwin, Baldwin drew his 9 mm semiautomatic pistol from a holster on his waist and stepped north, taking cover behind a trash can."
Police said Joseph Smith fired seven times at Baldwin, and Baldwin fired 11 times at Smith. Baldwin said he didn't know who shot first. Baldwin also said he did not shoot at Kevin Smith, who was unharmed.
Baldwin, who has a concealed weapon permit, then took off with the woman. The woman, while crying, attempted to call 911 and said "we were just in a" and hung up, police said. The pair then drove to the house of Baldwin's father, Bobby Baldwin, chairman and CEO of Drew Las Vegas, a Strip resort set to open in 2022.
There they contacted an attorney, who called 911.
Police said Joseph Smith's girlfriend showed up at the scene and found her boyfriend dead. The woman reportedly placed his firearm in her vehicle but later pointed police to it. There was no indication in the police report that she was arrested or charged.
Kevin Smith was eventually arrested on a warrant. Las Vegas Justice Court records show he is charged with conspiracy to commit robbery, attempted robbery and assault with a deadly weapon.
Contact Glenn Puit by email at gpuit@reviewjournal.com. Follow @GlennatRJ on Twitter.