Family gathers at vigil for boy shot dead in North Las Vegas
Updated November 14, 2018 - 9:53 pm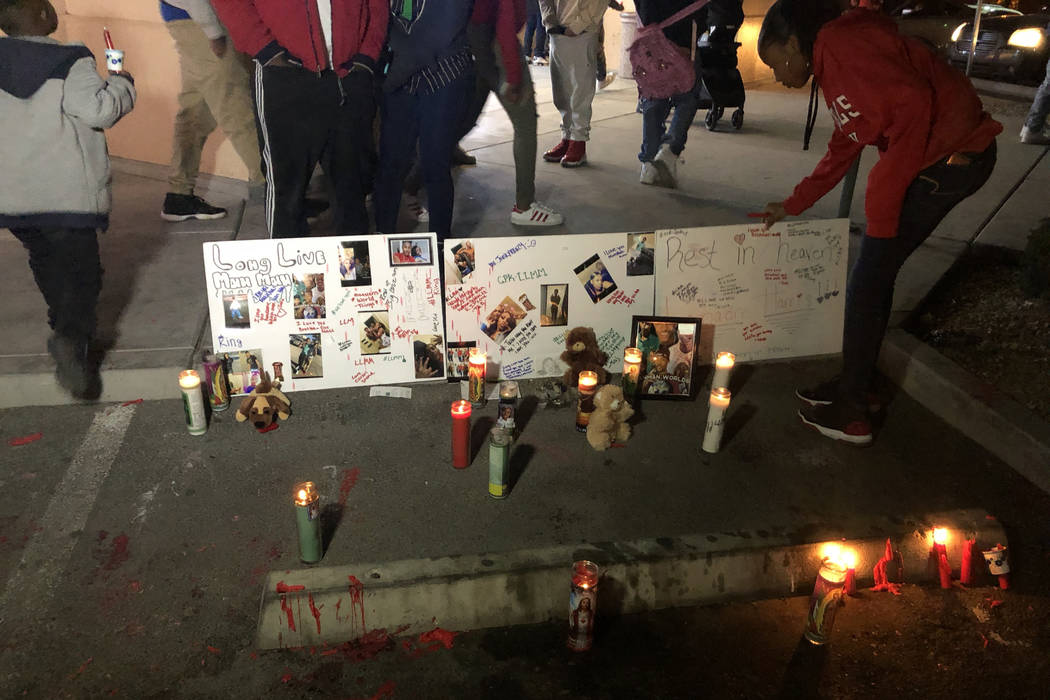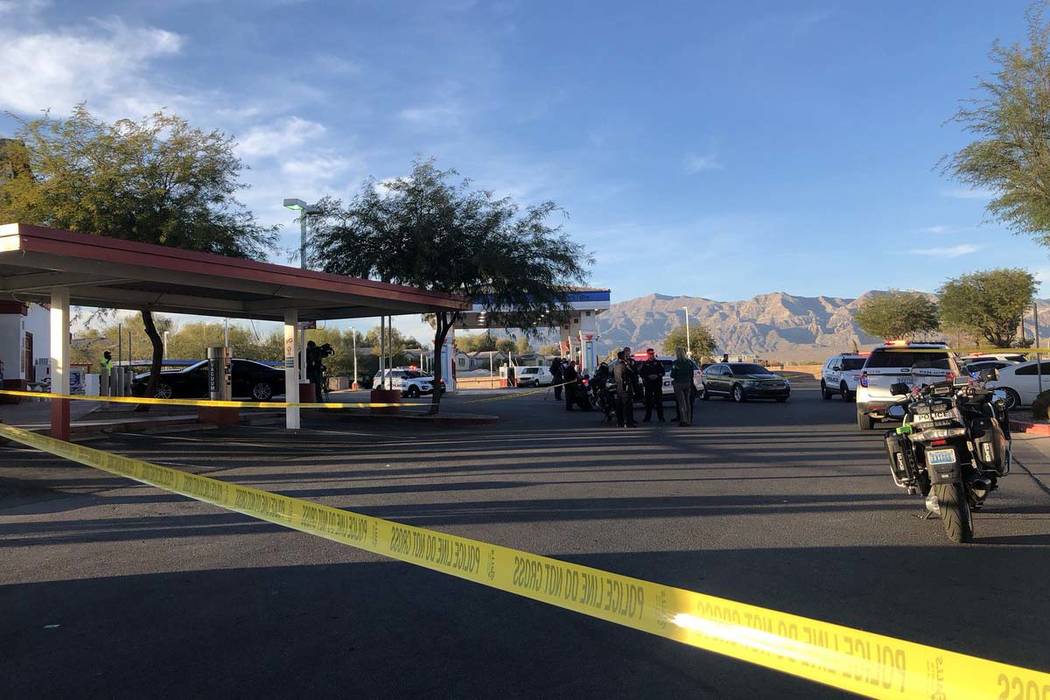 Sydney Harris didn't want to believe it was real Wednesday night when her family and friends gathered at the spot where her teenage son was fatally shot the day before.
"I know it's real because I saw his body," the 33-year-old said. "But I don't want to believe and accept it, that my son — my 16-year-old son — is actually gone."
LaMadre Harris had been on his way to a store Tuesday afternoon, his mother said. North Las Vegas police initially indicated the boy was expected to survive the shooting in a strip mall parking lot in the area of West Centennial Parkway and North Goldfield Street, near North Fifth Street.
Officers were called to the area about 2:10 p.m., and the boy was taken to University Medical Center.
"Medical staff worked diligently to save his life," a police release said Wednesday.
The Clark County coroner's office will release the boy's cause and manner of death.
"I don't know what happened; it took a turn for the worse," Sydney Harris said as she stood in front of poster boards and candles on the ground near where LaMadre was shot.
Posters were decorated with pictures of LaMadre, as well as the phrases "Rest in Heaven" and "Long Live Man Man," referencing LaMadre's childhood nickname.
"That's what I named him when he was born," Sydney Harris said. "He looked like a 'man man' because when he was first born, it was a little dark around his mustache, and I'm like, 'Ah this is a man man.'"
LaMadre's cousin, 41-year-old Jamika Johnson, said LaMadre's 18-year-old sister was standing next to the boy when he was shot. Police determined a person walked up to the boy and shot him multiple times before fleeing.
"My cousin, he's gone, but he has a sister that's traumatized," Johnson said. "She watched her brother die."
Johnson said she believed LaMadre's sister narrowly avoided being shot herself, and that "by the grace of God" the shooter didn't have enough bullets.
"Now she has to live with that image and the trauma of having to experience that every day," Johnson said. "Nobody should have to go through this."
North Las Vegas Police Department spokesman Aaron Patty said Wednesday night that he didn't know if the boy's sister was with him when the shooting happened, but that "multiple teenagers were around."
Both Johnson and Sydney Harris said they didn't know who was responsible for the shooting.
"I wasn't here; I just don't know," Sydney Harris said. "I'm hoping for justice; I'm hoping for them to figure out what's going on and who is responsible for this."
Detectives don't think the shooting was random. Patty said Wednesday night that no arrests had been made.
Sydney Harris said her son, a student at Legacy High School, which is less than a mile from where he was shot, loved to dance, play basketball and make clothes. She called him the "cut-up jean king" for his habit of altering blue jeans, and said he was "the goofball of the family."
"He was a normal kid that did 16-year-old stuff," she said. "He didn't deserve to die by the hands of a killer. He didn't deserve to die the way that he died."
Anyone with information on the shooting may call North Las Vegas police at 702-633-9111 or Crime Stoppers at 702-385-5555 to remain anonymous.
A GoFundMe page was set up Wednesday to raise money for the family.
Contact Katelyn Newberg at knewberg@reviewjournal.com or 702-383-0240. Follow @k_newberg on Twitter. Review-Journal staff writer Mike Shoro contributed to this story.