Family waits 2 decades for Las Vegas cold case murder arrest
Updated January 26, 2018 - 11:20 pm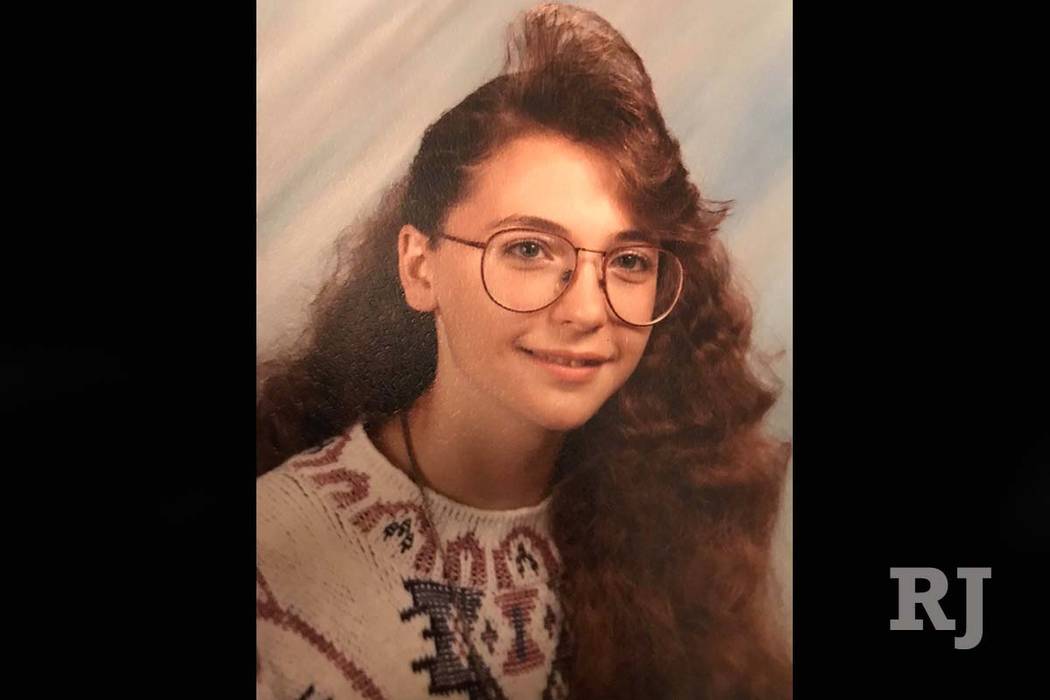 After waiting more than two decades for an arrest in her older sister's killing, Marie Ann Iverson Coker's first instinct was to look up the suspect's social media accounts.
"I have waited almost 21 years. I needed to see the last person she saw," Coker said. "I needed to."
Last week, Las Vegas detectives arrested Arthur Lee Sewall Jr., 51 — a former Metropolitan Police Department officer previously convicted of using his badge to threaten women for sexual favors — on charges of murder and sexual assault in Nadia Iverson's cold case killing.
Police learned in early 2017 that Sewall's DNA was found in Iverson's rape kit. On May 8, 1997, four days after Iverson's 20th birthday, Metro found Iverson's body with a gunshot wound to her head inside a duplex under construction north of downtown Las Vegas. She had been in Las Vegas only a few months.
With an arrest, Coker said, maybe her family can finally find the peace they've sought for nearly 21 years. But processing the whirlwind of emotions has proved challenging.
She had never heard of Sewall. The mugshot looked different than the face she had spent all that time picturing.
Coker has barely slept since the arrest. Her parents are a mess, and her brother is beside himself. They didn't know she had been raped.
"After 20 years, everything is right back where it's in your face," Coker said.
'She was just gone'
Iverson's family still doesn't know why she left their hometown of Pittsfield, Pennsylvania, in late January or early February 1997.
"There was no goodbye," Coker said. "There was no nothing. She was just gone."
Iverson grew up wanting to be a hairdresser. She had spent her childhood practicing on Coker, leading to some "heinous" school pictures. Iverson's practice extended to eyeliner, holding her sister against a wall to apply it. She could have been an artist, too, her sister said.
Most of all, perhaps, Iverson wanted to find love and start a family, Coker said. As a preteen, Iverson would write down the names of her future children.
She was engaged for some time before the couple split up, Coker said. In a small town, it was hard to avoid seeing her ex's face.
Maybe the loneliness got to be too much to bear, Coker said.
Iverson met a new guy, and a few weeks later, the only things she left in her room were her jeans and her favorite leather jacket.
An arrest warrant for Sewall indicates Iverson and her boyfriend drove to Las Vegas together and began using drugs. Her boyfriend soon served time behind bars, and Iverson turned to sex work for drugs, the warrant said.
"That was extremely hard to process, and in some ways (I) have to accept (it)," Coker said.
Nadia and Marie
There was a post office and stop light in Pittsfield, but no grocery store.
Coker called it an "if you blink, you'll miss it kinda town."
Iverson and Coker shared a room growing up in the '80s and early '90s. They shared a water bed in a house with a wood stove. They'd chop down trees to fuel it, and they would fish for crappies in the pond behind their house. The crappies — and the frogs their dad would ask them to catch — were dinner.
Iverson didn't like getting her hands dirty, her sister said.
"I was the tomboy who played in the mud and she was wearing makeup and the latest clothes," Coker said.
Iverson was smart, Coker said, but didn't care much for school and marched to the beat of her own drum.
Coker said her sister was a product of the time — big hair and hair metal. The pair would drive down the back roads of their little town, belting Paula Abdul, Poison and Guns N' Roses.
Coker swears her sister used an entire bottle of hairspray each time she did her hair.
"You could touch it and hear it crinkle."
As a child, Coker would try on Iverson's clothes, much to her older sister's chagrin.
"I looked up to her," Iverson said.
Their parents tried hard to dress them alike — down to their swimsuits — before Iverson starting wearing black and rock band T-shirts.
She exuded confidence and leaned into her feminine chic, but, "Hell or high water, you were not gonna find her in a dress," Coker said.
On a rare occasion she was seen wearing one, a school dance, it was a "goth" dress.
"It was so funny," Coker said. "She just rode with it and made it look as best as she could."
Sometimes Iverson would turn to Coker and ask to take a late-night walk along state Route 27. It beats sitting around, Iverson would say.
"It was an adventure, and I'm glad I had it with her," Coker said.
Aidan
Since Iverson left, her younger sister has struggled to balance moving on while keeping Iverson's memory alive.
When Coker was pregnant with the first of her three children, her husband chose the name "Aidan" for their first child. He didn't know her sister's name, Coker said.
Coker said she was writing her future baby boy's name over and over again. Something clicked, and she screamed. Her husband rushed into the room.
"Spell it backwards," Coker said she exclaimed to her husband.
Nadia.
She had planned to name a daughter after her sister, but she's only ever had boys. Aidan, now 13, is proud of his name.
Coker laughed a sad laugh.
"I got my Nadia after all."
Contact Mike Shoro at mshoro@reviewjournal.com or 702-387-5290. Follow @mike_shoro on Twitter.
Related
Former Metro officer suspected in Las Vegas cold case admits details in arrest report