Friends, family attend vigil for slain Canyon Springs student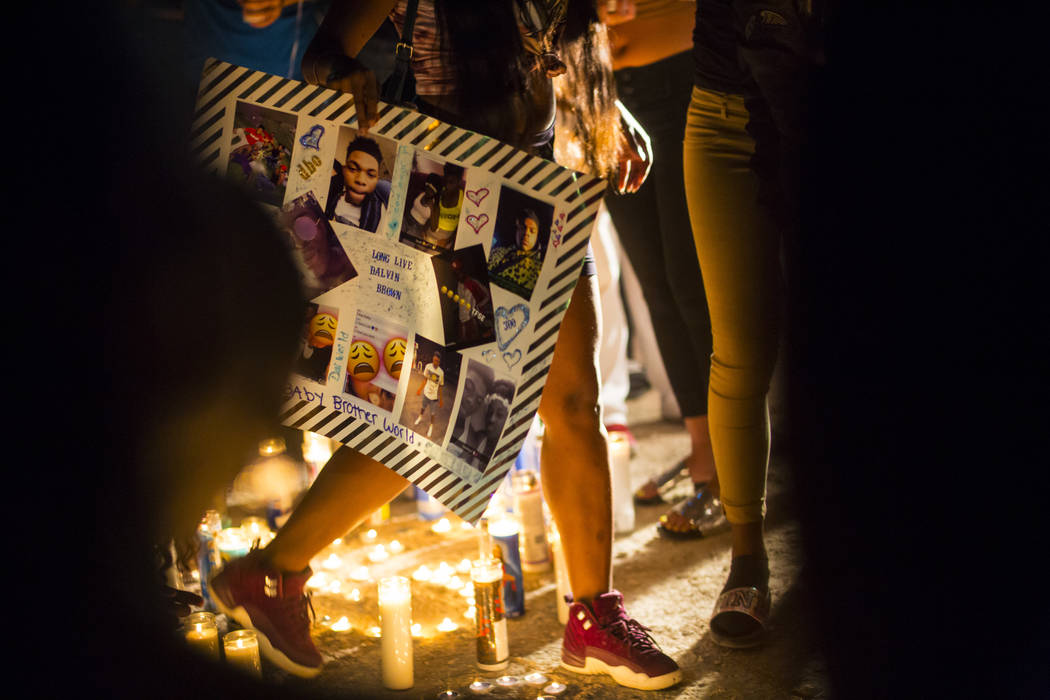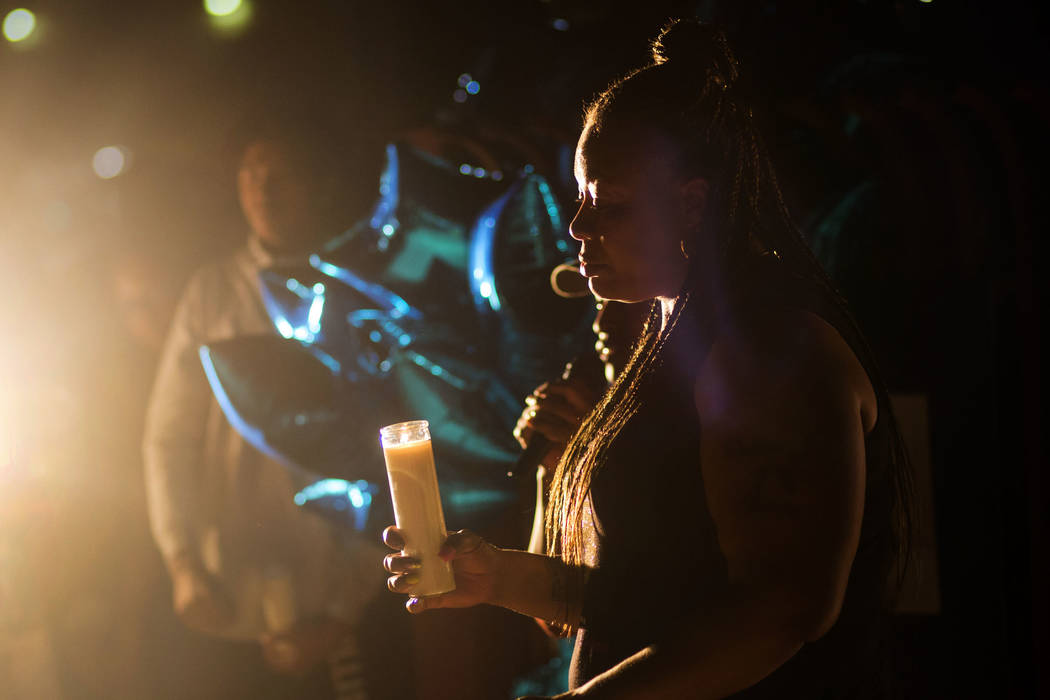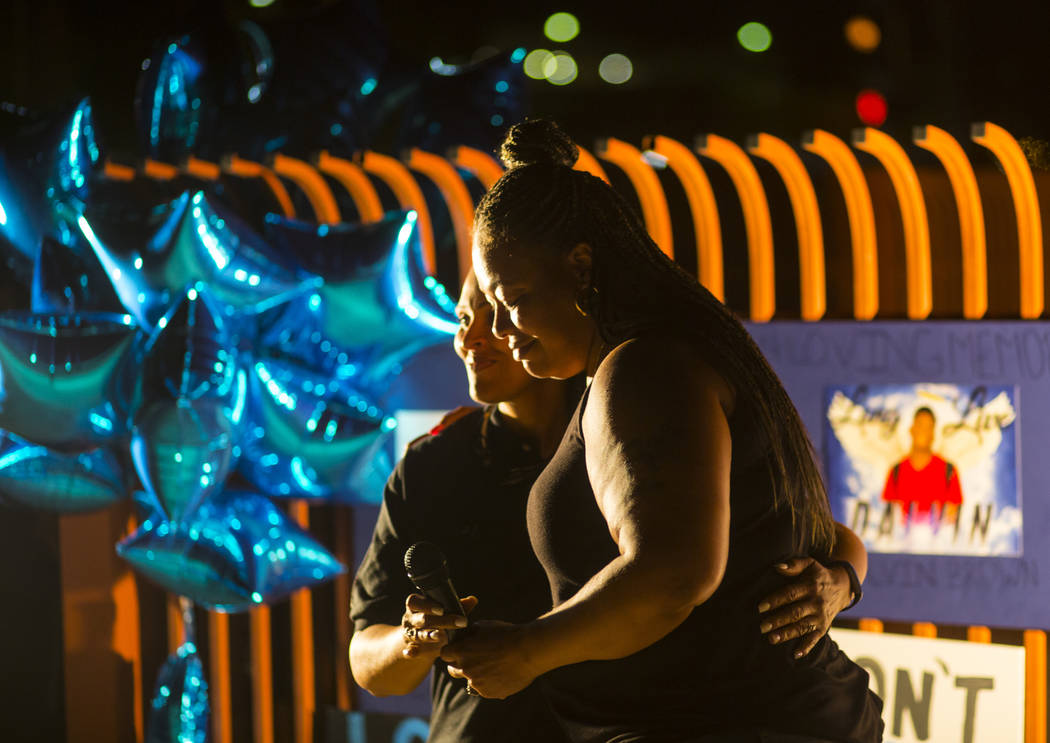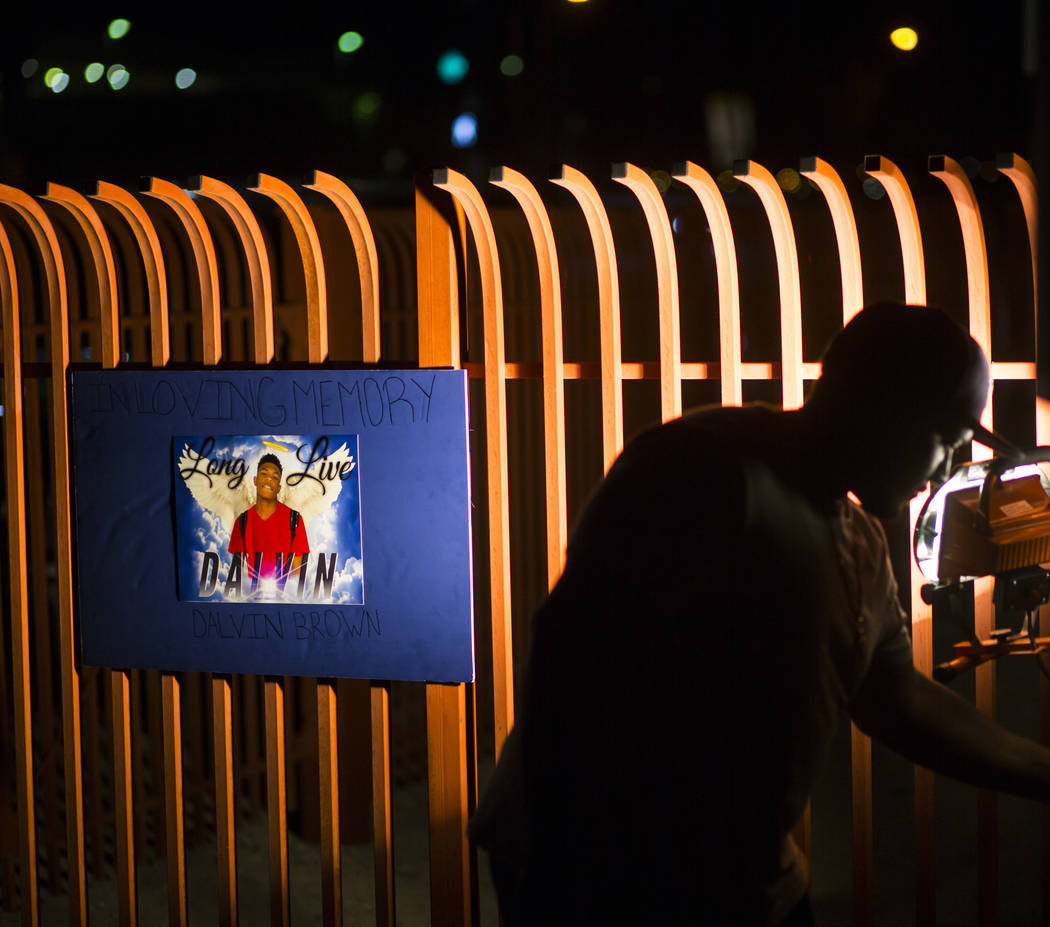 If Dalvin Brown could see the crowd of people gathered in the dirt lot across from Canyon Springs High School, he would have said, "Don't panic."
That was the catchphrase of the 18-year-old, who died Tuesday after being shot at the school. What he meant by those words was to take it easy, "don't stress out," his friends said during a vigil held Thursday night across from the North Las Vegas school.
Friends and family gathered to light candles, release balloons and share memories of the student, who was a junior at the school. The blue balloons, Brown's favorite color, drifted into the night after teenagers released them, and candles on the ground were arranged in heart shapes.
Brown's mother, Annie Marshall, urged the group of more than 100 to unite for Brown's sake.
"My baby was taken from me by probably another student," the 38-year-old said. "I ask that y'all put down the guns."
Marshall described her son as a "lovely person," a teenager passionate about sports and his friends.
"He always protected people," she said.
Marshall said that she doesn't know what happened the day Brown was shot, but she urged the teenagers gathered Thursday not to retaliate.
Leaders of the Refreshing Waters Ministries, who organized the vigil across from the school, repeated the call to unite.
"It's bigger than us trying to find out who did this," said the church's pastor, Lola Hester.
Deenayda Christian, the church's youth pastor, invited friends of Brown to speak. The memories lasted for nearly an hour as person after person shared stories about the student.
Tommy Anderson, one of Brown's friends, said the 18-year-old was like a brother to him. He remembered playing sports with Brown and planning for their futures.
"We were going to …" Anderson said before his tears prevented him from finishing the sentence.
Brown's favorite sports were basketball and football, and he hoped to attend college, Anderson said.
Others said Brown always had a smile on his face. One teacher said Brown was a "light" in the classroom and a "blessing."
Christian praised Brown after hearing from his friends.
"This is not gang-related," she told the crowd. "This is another young man who fell to senseless violence."
After Brown's friends spoke, Marshall lit the first candle as the rest of the group lit the ones on the ground. Groups of people signed posters with pictures of Brown and references to his nicknames. One poster read "Long Live Dal300."
Teens hugged one another, tears running, as they mourned for the 18-year-old, whose friends said he would have loved to see the large group gathered together.
According to a GoFundMe account created Wednesday night, Brown dreamed of playing professional basketball in the NBA. As of Thursday night, $1,585 had been raised for a memorial service for him.
In addition to his mother, Brown is survived by four siblings.
The coroner's office said Thursday that Brown died from a gunshot wound to the chest.
Police said they received "hundreds" of calls Tuesday, starting at 2:39 p.m., of shots fired at the school, 350 E. Alexander Road, acting Chief Justin Roberts said Tuesday.
Brown and a person had an altercation before the shooting, North Las Vegas police said. The shooter escaped the scene before police arrived, and detectives had not determined a motive.
Contact Katelyn Newberg at knewberg@reviewjournal.com or 702-383-0240. Follow @k_newberg on Twitter.
Related
Teen shot at North Las Vegas school died of single gunshot wound
Fatal shooting, gun seizures lead to Clark County schools safety group
Teen killed at North Las Vegas high school was student, police say