Las Vegas man faces murder charge in son's shooting death
Updated November 6, 2019 - 3:13 pm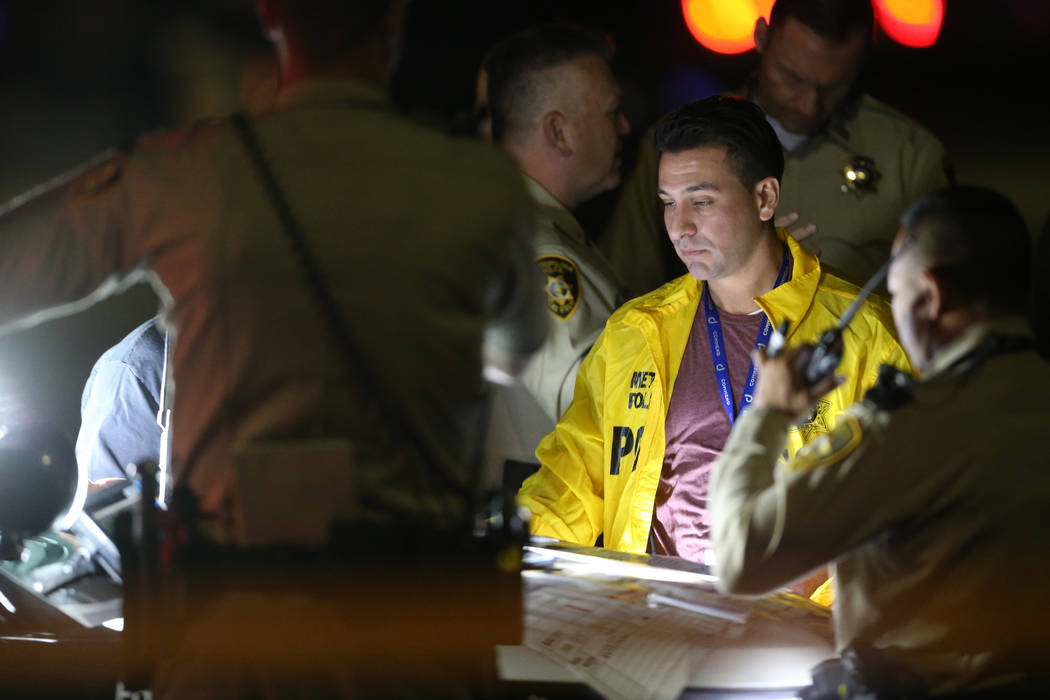 A Las Vegas man facing a murder charge in the fatal shooting of his adult son Tuesday evening "snapped" before he shot him twice, once in the chest then under the chin, according to police documents.
At Glenn Harris' initial court appearance Wednesday afternoon in Las Vegas Justice Court, Justice of the Peace Ann Zimmerman ordered him held without bail until his arraignment Friday morning. A judge at that time is expected to address his custody status, Zimmerman said.
Harris, 58, was booked into the Clark County Detention Center late Tuesday on a charge of murder with a deadly weapon.
Metropolitan Police Department officers were called about 5:10 p.m. Tuesday to a house on the 6200 block of Burnt Hills Drive after a caller "made threats that he was going to barricade and commit suicide," police said that night.
Officers found Sandra Harris standing outside the home. She told officers that her husband shot their 30-year-old son, Erik Harris, once in the stomach, then placed the barrel of the gun under his chin and fired a second time.
Police surrounded the home and, after a short standoff, Harris surrendered. He told police he'd "had enough of Erik and how Erik had a long history of making threats towards the family," according to his arrest report.
Erik's body was found in the center of the garage, with a gunshot wound to the left chest and a contact wound to his neck below his chin, the report said. Two .45-caliber shell casings were found at the scene, and police located a .45-caliber semiautomatic pistol in a closed drawer in a toolbox in the garage.
The Clark County coroner's office on Wednesday afternoon said Erik Harris' death was a homicide from multiple gunshot wounds.
A neighbor who heard gunshots coming from the home "went to go check on the family." Glenn Harris told her that his son "had pushed him too far," the report said.
Sandra Harris told police her son no longer lived with them, but they would allow him to come by the house during the day.
"Typically she would have to drive him to a friend's house at night where he would stay, but basically Erik didn't have a consistent place to sleep," the report said.
Shortly before the shooting, Sandra Harris told police, she tried to get her son to leave, but he stayed in the garage with his father. She then heard yelling from the garage and ran out in time to witness the second gunshot being fired into her son's body, the report said.
Glenn Harris told detectives that his son had been doing drugs for several years and couldn't hold a job, but he made it clear that his son had never been physically violent toward the family.
"Glenn told detectives he had enough and snapped but would not provide specific details of the encounter directly prior to the shooting," the report said.
At his hearing Wednesday, Harris said he worked for the past 20 years as a mechanic until a recent injury that left him hospitalized for two weeks.
He has no criminal history, according to a prosecutor.
Sandra Harris declined comment Wednesday morning, her voice filled with emotion. There were two vehicles parked in the driveway of the home. A small amount of yellow crime scene tape was still tied to a post several houses down from the shooting where police had blocked off the street.
Contact Glenn Puit at gpuit@reviewjournal.com or 702-383-0390. Follow @GlennatRJ on Twitter. Review-Journal staff writers Rio Lacanlale and Alexis Egeland contributed to this report.