Las Vegas police arrest 19-year-old suspect in double homicide
Updated August 13, 2019 - 7:24 pm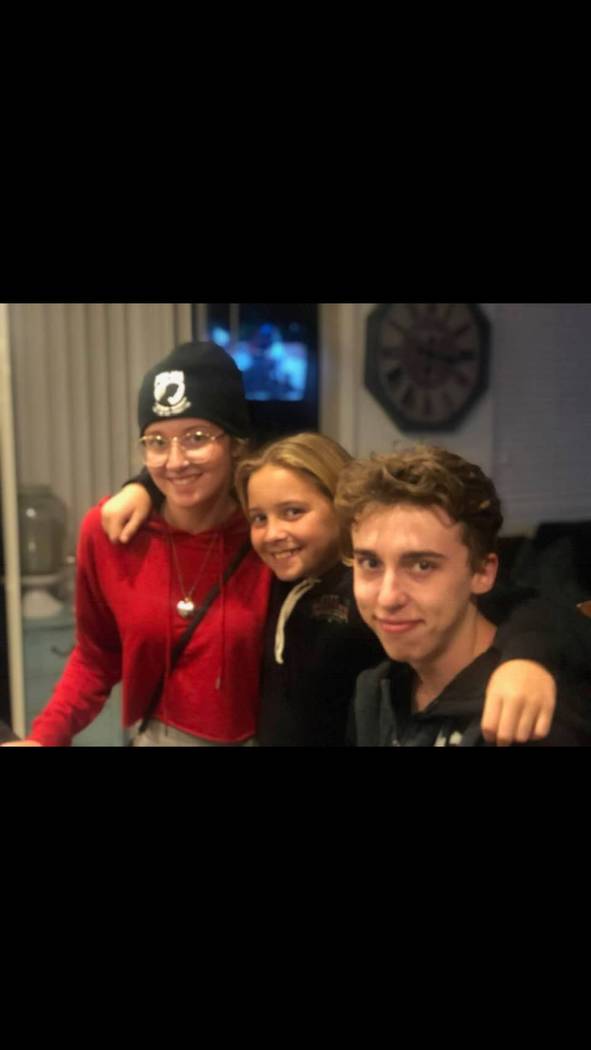 A 19-year-old man was arrested Thursday night by Las Vegas police in connection with a double homicide last week in the northwest valley.
Chance Underwood faces two counts of open murder in the Aug. 2 shooting deaths of Timothy Allen Bailey and Harlee Andrew Deborski, both 19.
Underwood remained held without bail Saturday at the Clark County Detention Center. A status check in the case is scheduled for Tuesday, after his initial appearance in court on Saturday morning,
Las Vegas police have said the shooting happened between 8 and 9 p.m. Aug. 2 in a home on the 7800 block of Airola Peak Street, near West Grand Teton Drive and North Hualapai Way.
Bailey died of a gunshot wound to the back of his head, while Deborski was killed by a gunshot wound to his head, according to the coroner's office. Both deaths were ruled homicides.
The Metropolitan Police Department has not released details on the circumstances leading up to the shooting, but in addition to the murder charge, Underwood faces one count each of burglary while in the possession of a gun and carrying a concealed weapon without a permit, jail records show.
Court records indicate that Underwood does not have a criminal history in Clark County.
Metro has not said whether Underwood knew Bailey and Deborski, but Deborski's father told the Las Vegas Review-Journal on Friday that the three were acquainted.
"I'm still not sure exactly the motive behind it," said 38-year-old Jason Deborski.
Harlee Deborski and Bailey both worked at Jason Deborski's audiovisual company, Intrinsic Production Resources. Harlee Deborski, who has worked for his dad since "he was able to walk," got his friend the job about a year ago.
Jason Deborski said he didn't know much about Bailey, but his son had been friends with the 19-year-old since their middle-school years. He said the last time he spoke to his son, Harlee Deborski was on his way to pick up Bailey from work.
"He said, 'I love you, dad; I'm going to go hang out at Tim's,' " Jason Deborski said.
He described his son as an outgoing kid who loved sports, video games, nature and taking his dad to see new "Star Wars" films. They were planning to attend a Golden State Warriors game together and go skydiving for Jason Deborski's birthday.
"We were inseparable, we never left each other's side, and he was my best friend," Jason Deborski said, later adding that "We said 'I love you' every day."
Harlee Deborski came from a large family, with 10 siblings and step-siblings between his dad and mom's families. Jason Deborski said the 19-year-old was "just beginning his life."
Rilee Johnson, 19, said that she and her stepbrother grew close over the three years they knew each other. She said Harlee Deborski, whom she referred to as her older brother, made her feel welcome in her new blended family.
"Harlee just is such a goober," said Johnson, who's Jason Deborski's stepdaughter. "He always made you laugh. He could never be serious."
She started a GoFundMe to raise money for funeral costs. As of Saturday it had reached $6,688 out of a $6,000 goal.
Johnson said she doesn't know why the shooting happened. She said Harlee Deborski stopped talking to Underwood more than a year ago, but she didn't think the two held animosity between them.
"The kid that is being charged with this, it's the last person we would have guessed," she said, later adding her family "just wants some closure as to why."
Bailey's family could not be reached on Friday.
Jason Deborski said he is planning a candlelight vigil for his son and Bailey for 8 p.m. Monday at Desert Breeze Park, 8275 Spring Mountain Road.
"They were good kids, and I want the world to know they were good kids," Jason Deborski said.
A previous version of this article incorrectly reported the date of the shooting.
Contact Rio Lacanlale at rlacanlale@reviewjournal.com or 702-383-0381. Follow @riolacanlale on Twitter. Contact Katelyn Newberg at knewberg@reviewjournal.com or 702-383-0240. Follow @k_newberg on Twitter.