Lawsuit filed on behalf of 450 Las Vegas shooting victims
November 20, 2017 - 12:38 pm
Updated November 20, 2017 - 4:44 pm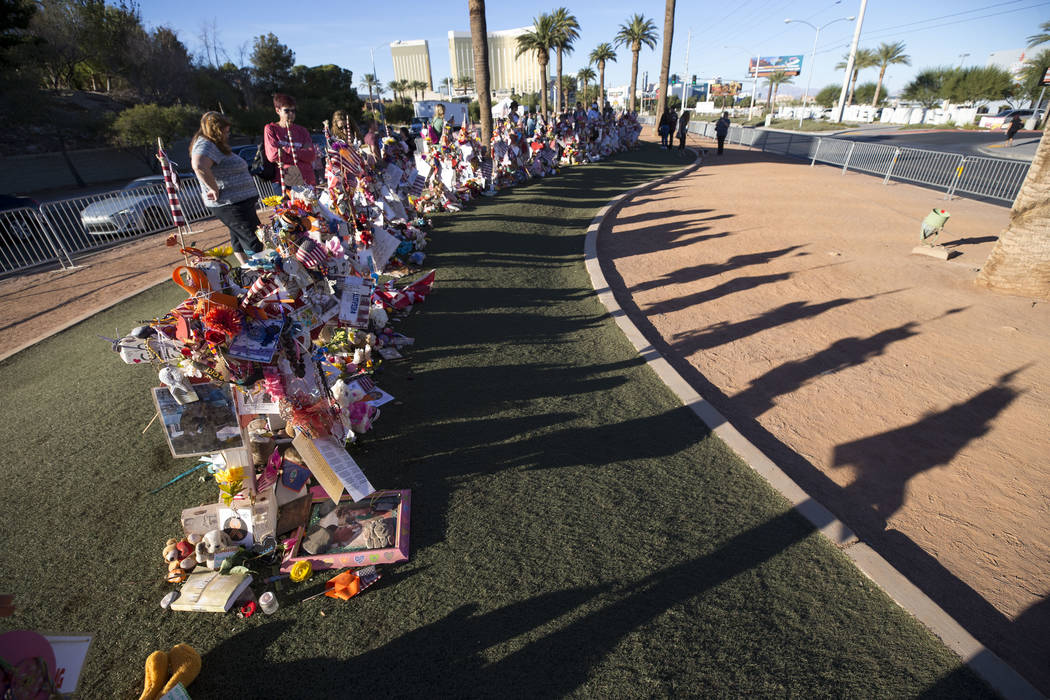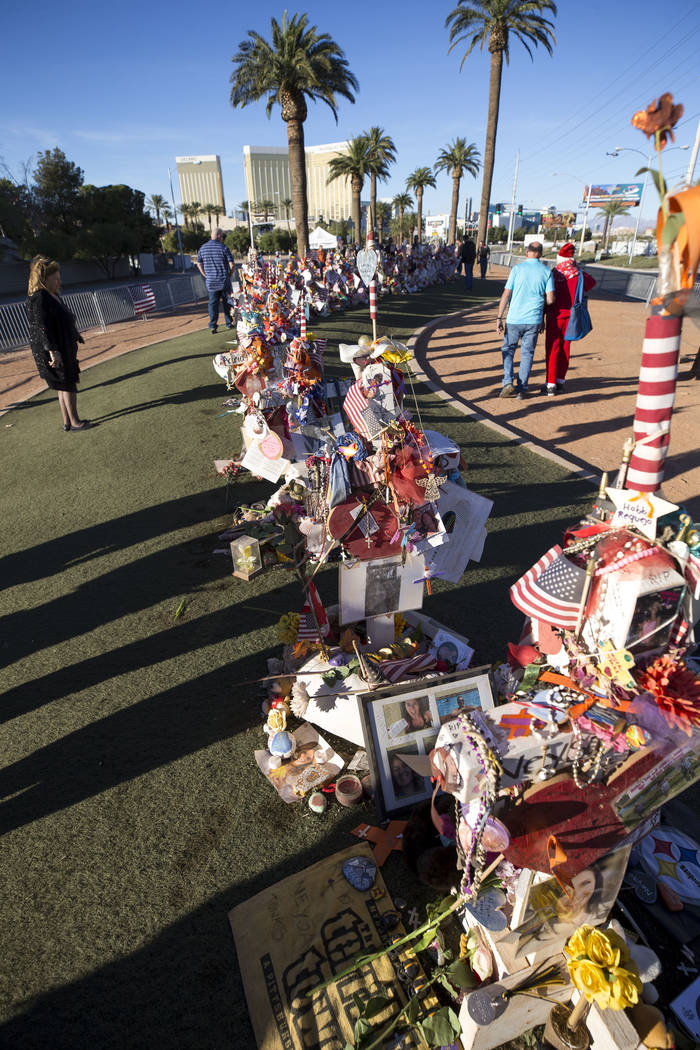 More than 450 victims of the Oct. 1 massacre in Las Vegas have filed a lawsuit in California against MGM Resorts International and other defendants, including the gunman's estate.
The lawsuit includes two wrongful death claims, while lawyers involved in the litigation also have filed other complaints in Los Angeles, according to a news release from the Texas-based firm Abraham, Watkins, Nichols, Sorrels, Agosto & Aziz.
Among five complaints filed Monday in Los Angeles Superior Court, one names hundreds of victims from Nevada, California and 19 other states, along with victims from Canada.
Alleging negligence, the suit claims that MGM had a "duty of reasonable care" and failed to properly monitor the people entering and leaving the Mandalay Bay suite from which shooter Stephen Paddock fired upon a crowd of thousands at the Route 91 Harvest festival, killing 58 and leaving more than 500 injured.
Along with the hotel-casino giant and Paddock's estate, defendants include MGM Resorts Festival Grounds LLC, Live Nation Entertainment Inc. and Contemporary Services Corp., a security company.
Through Paddock's VIP status with the resort company, he was allowed "exclusive access" to a service elevator at Mandalay Bay, which gave him the means to "stockpile weapons and ammunition in his hotel suite over the days leading up to the mass shooting," the lawsuit states.
The complaint references a "do not disturb" sign that hung on the door of the gunman's suite for days without staff checking on the room, along with security cameras he placed on a hotel room door, in a service cart and in the hallway of the 32nd floor where the room was located "to prolong his shooting spree."
According to the suit, MGM acted negligently in several ways: failing to monitor the hotel premises with a closed-circuit television, failing to respond to the shooting of security officer Jesus Campos, failing to notice or take precautions against Paddock's delivery of guns and ammunition to his hotel room, failing to adequately prevent or discover broken windows; failing to train employees on suspicious activity, and ignoring the "do not disturb" sign.
In a statement, MGM said: "The incident that took place on October 1st was a terrible tragedy perpetrated by an evil man. These kinds of lawsuits are not unexpected and we intend to defend ourselves against them. That said, out of respect for the victims, we will give our response through the appropriate legal channels."
According to the lawsuit, Live Nation, which controlled the concert venue, did not adequately mark exits or properly train workers on an "appropriate plan of action in the case of a foreseeable event, such as a terrorist attack or other emergency."
Against Paddock's estate, the lawsuit claims assault, battery and intentional infliction of emotional distress.
Another lawsuit, initially filed in Clark County by Paige Gasper, a California woman who also was injured in the shooting, has been transferred to Los Angeles, according to court documents.
Separate suits also were filed by the families of Christopher Roybal, a 28-year-old Navy combat veteran from Colorado Springs, and Rocio Guillen Rocha, a 40-year-old mother of four, who died after being struck by gunfire while attending the concert. A fifth lawsuit names Kristina Staples, another California woman, who suffered a gunshot wound and remained in a coma for weeks after the shooting.
Contact David Ferrara at dferrara@reviewjournal.com or 702-380-1039. Follow @randompoker on Twitter.