NHP trooper dies after being shot; suspect in custody
Updated March 27, 2020 - 10:33 pm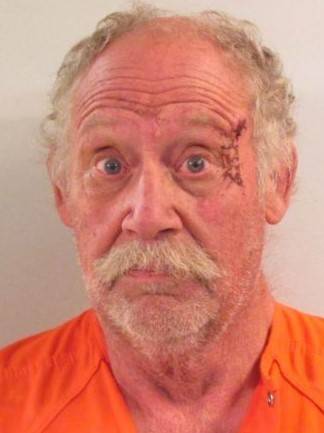 A Nevada Highway Patrol trooper from White Pine County was shot and killed early Friday — and then stripped of his uniform — when he stopped to help a motorist in a remote part of the state.
It marked the agency's first death of a trooper in the line of duty in more than a decade.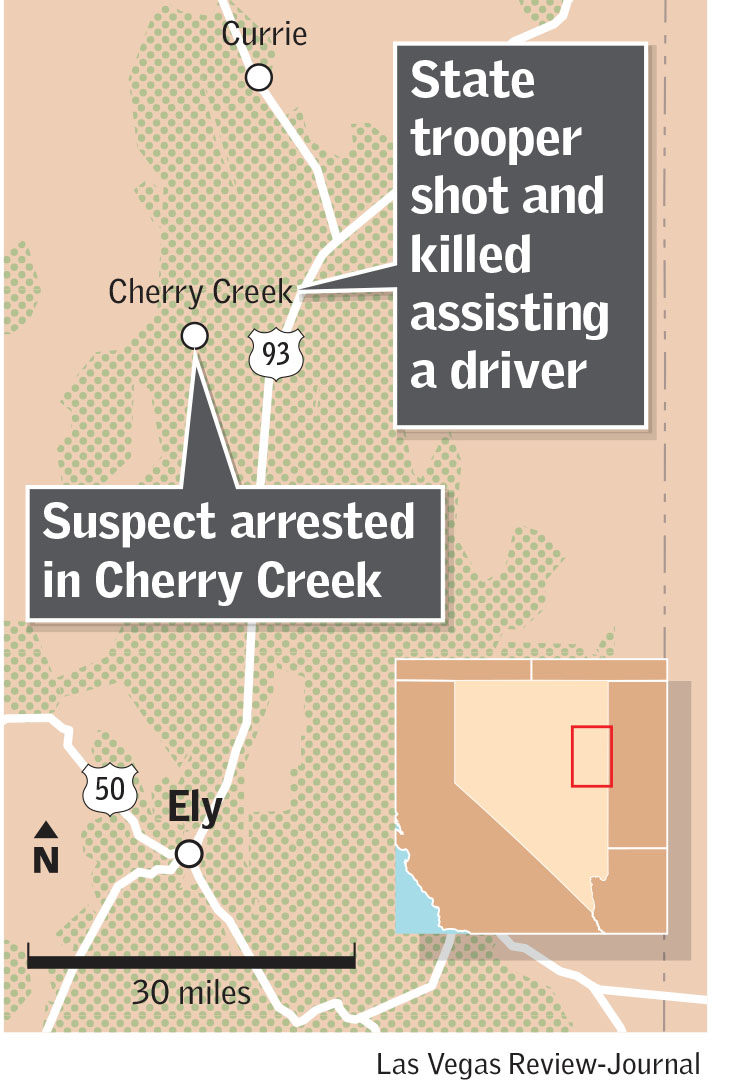 Sgt. Benjamin Jenkins, 47, was a married father of four with five grandchildren. The Elko native and military veteran "devoted his life to public service," authorities said Friday.
"He was hardworking and dedicated to the troopers he led and set an outstanding example for others to follow," Highway Patrol Col. Dan Solow said during a Friday afternoon news briefing. "His loss is devastating to us all."
The shooting occurred shortly before 6 a.m. on U.S. Highway 93, north of Ely, about 245 miles north of Las Vegas, according to Solow. The suspect, identified as 65-year-old White Pine County resident John Dabritz, was arrested four hours later in the small town of Cherry Creek, roughly 50 miles from the site of the shooting.
The Highway Patrol was alerted of the shooting by Jenkins himself, who radioed in that he had been wounded.
Investigators do not believe any other crimes were committed during the four-hour window before the arrest was made.
Hourslong manhunt
After the shooting, Solow said, the motorist stripped the trooper of his uniform and police belt and took off in his patrol car, prompting a statewide manhunt that drew the help of at least five Nevada law enforcement agencies and the Utah Highway Patrol.
Dabritz, who authorities said has a criminal history dating to 1973, was taken into custody after the patrol car crashed in a ravine.
An "exact timeline," including when the shots were fired, was not known, because as of 3 p.m. Friday, Dabritz had not provided authorities with a statement, according to Solow.
While a motive remained unclear Friday, the suspect's ex-wife, Haydee Dabritz, told the Las Vegas Review-Journal that the man has long struggled with bipolar disorder and alcoholism. Before his diagnosis, she said, he was a brilliant chemist in California.
Authorities also did not know what prompted Jenkins to stop and help the motorist, but, Solow said, "We stop and check on all motorists, especially in those remote areas."
Dabritz is being held at the White Pine County Jail, according to booking records. It was not clear Friday what charges he would face.
The Metropolitan Police Department and the Washoe County Sheriff's Office are taking the lead on the investigation.
'A hero to his community'
Jenkins, a veteran of both the Army National Guard and Air National Guard, started his career with the Highway Patrol in 2009 as a trooper in Jackpot. He was promoted to sergeant in Elko in 2017.
Before joining the Highway Patrol, Jenkins worked as a training officer for the Nevada State Fire Marshal Division, a crew supervisor for the Nevada Division of Forestry and an assistant fire chief for the Spring Creek Volunteer Fire Department.
In 2011, Jenkins received the Gold Medal of Valor — the Nevada Department of Public Safety's highest honor — for his actions during a domestic-related shooting in Wells, during which Jenkins and other officers came under fire and an Elko County sheriff's deputy was critically wounded.
Jenkins and the other officers helped get the wounded deputy medical treatment and played a critical role in the suspect's arrest, the Elko Daily Free Press reported at the time.
"Without question, Sgt. Jenkins was a hero to his community, his law enforcement colleagues, the state of Nevada and our country," George Togliatti, director of the Department of Public Safety, said Friday. "This is a tremendous loss for the Nevada Highway Patrol, his family and everyone Sgt. Jenkins touched during his long and honorable career in public service."
'A good community member'
Jenkins' death was the first in the line of duty since February 2008, when trooper Kara Kelly-Borgognone, 33, died after a crash near Sparks.
The last Nevada Highway Patrol trooper to be fatally shot in the line of duty was 25-year-old Carlos Jose Juan Borland, who was killed on Dec. 1, 1993, according to the Officer Down Memorial Page and the National Law Enforcement Officers Memorial Fund.
"It is just a real sad tragedy," said Nathan Robertson, mayor of Ely, near where Friday's shooting occurred. "He was a good community member."
Gov. Steve Sisolak issued an order requiring U.S. and Nevada flags to fly at half-staff at all state buildings and grounds until sunset Monday in honor of Jenkins.
In a statement, the governor said that he and his wife, Kathy, "were absolutely heartbroken to learn of the tragic and senseless killing."
Sisolak added that Jenkins "undoubtedly saved many lives throughout his career in law enforcement."
"Our hearts go out to Sgt. Jenkins' wife, his children and grandchildren, and the entire Elko community for this irreplaceable loss," the governor said.
Jenkins is survived by his wife, mother, children and grandchildren. Efforts to reach his family on Friday were unsuccessful.
Details of his memorial service were pending, but Solow vowed that the Highway Patrol would give the trooper "hero's treatment when the time comes."
Contact Rio Lacanlale at rlacanlale@reviewjournal.com or 702-383-0381. Follow @riolacanlale on Twitter. Review-Journal staff writers Katelyn Newberg, Glenn Puit and Dalton LaFernay contributed to this report.
How to donate
To help the Jenkins family directly, donations can be made online at www.ipof.vegas/donate, or deposited to Wells Fargo Bank account 5906636682 and Nevada State Bank account 5795937738. The accounts have been established by the Injured Police Officers Fund, and 100 percent of donations will go to the trooper's family.