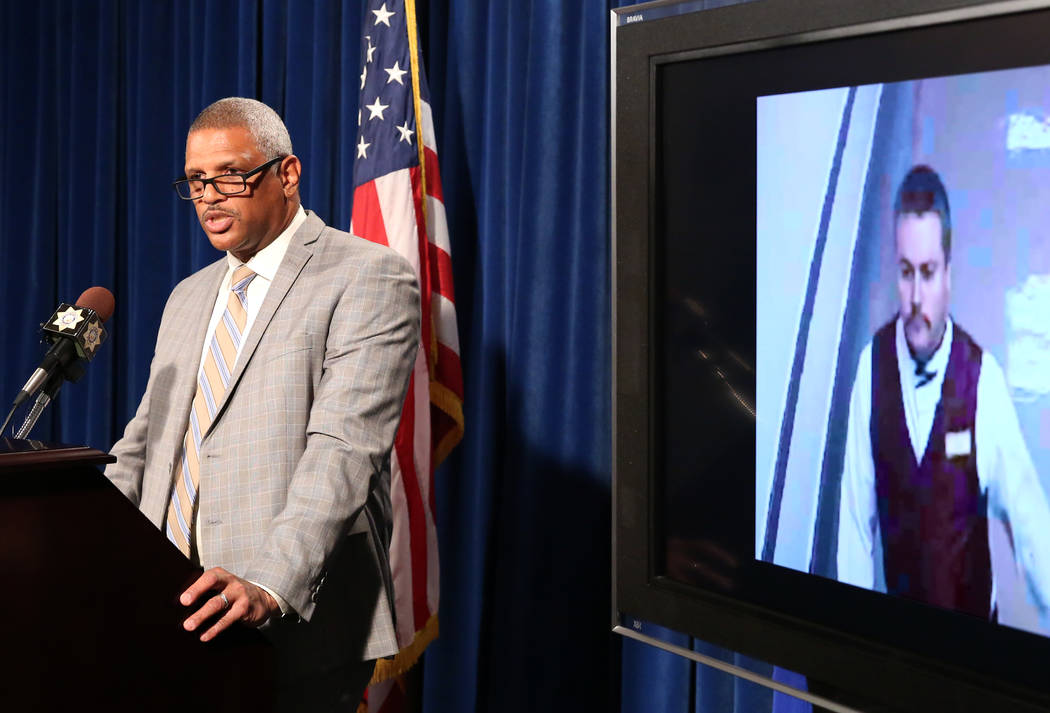 Slaying suspect Anthony J. Wrobel's dayslong run from Las Vegas ended early Thursday at a freeway rest stop near a small town in the Texas Panhandle, where a sheriff's deputy spotted a stolen license plate on his dark gray Cadillac.
But police said the arrest of the 42-year-old casino dealer accused of shooting two executives of The Venetian wasn't luck.
"This case is a true example of good, old-fashioned police work," Metropolitan Police Department homicide Capt. Robert Plummer told reporters Thursday in Las Vegas.
Wrobel is accused of going to a picnic Sunday in Las Vegas for employees of The Venetian and opening fire on the executives, Mia Banks and Hector Rodriguez. Banks, 54, died at Sunrise Hospital and Medical Center, and Rodriguez was seriously wounded and remains hospitalized.
Police and court documents provided new details shortly after Wrobel's arrest that alleged the crime involved intense planning.
Getaway car and a note
Three days before the shooting, they said, Wrobel had stashed the Cadillac at a parking garage at McCarran International Airport so he could quickly leave behind the black-and-purple Charger seen speeding away from the crime scene. He also left a note for detectives in his abandoned apartment detailing his anger toward his bosses, they said.
But his arrest also indicated that he was forced to make impromptu decisions while on the run. The license plate spotted by the deputy near the small town of Vega, Texas, had been reported stolen Tuesday from another car in Cedar City, Utah, police said.
The Oldham County sheriff's deputy radioed for backup after running the plate. Plummer said at the news conference that Wrobel was asleep when the deputies approached the car around 3 a.m. He woke up and grabbed a handgun, then dropped it when authorities confronted him, Plummer said.
Authorities do not know where Wrobel was going. Metro homicide investigators were traveling to Texas on Thursday to interview the suspect, Plummer said. Wrobel was being held in the Oldham County Jail, awaiting extradition to Clark County, where he faces counts of murder and attempted murder.
The FBI filed a federal arrest warrant for Wrobel after discovering he had fled Nevada but did not disclose his destination. A criminal complaint, filed Tuesday in U.S. District Court, charged him with unlawful flight to avoid prosecution.
During the execution of a search warrant after the shooting, investigators found Wrobel's home was apparently abandoned, the Metro warrant said
"A single sheet of paper was found on a coffee table expressing the writer's anger at Venetian management," according to the warrant. Police think Wrobel wrote the letter, but Plummer wouldn't disclose further details.
Wrobel had abandoned a revolver, three magazines and scores of rounds of ammunition in the Charger he left at McCarran International Airport. the warrant said. At the time of his arrest, he had a handgun and two high-capacity magazines, Plummer said.
In a statement after the arrest, Alyssa Anderson, a spokeswoman for The Venetian's parent company, Las Vegas Sands Corp., thanked authorities for their work leading to the arrest.
"All of us continue to mourn the loss of Mia Banks, our hearts are with Mia's family," she said of the hotel's 54-year-old vice president of casino operations. "We hope this news provides some solace for everyone impacted by this tragic event."
Wounded executive improving
She also said that Rodriguez, The Venetian's executive director of table games, was continuing to improve, "and we look forward to the day that he is released from the hospital."
The Metropolitan Police Department has called the shooting a targeted act of workplace violence and described Wrobel as "disgruntled." Wrobel was an employee of The Venetian at the time of the shooting and had been working at the hotel-casino as a dealer for 15 years, police said.
The shooting sparked a nationwide manhunt. Federal investigators from the FBI, U.S. Marshals Service and Bureau of Alcohol Tobacco, Firearms and Explosives joined Metro in the search for Wrobel, a Las Vegas police spokesman said Monday.
Wrobel's father, Joseph, who lives in Illinois, said Thursday before hanging up the phone that he had not spoken to his son since last month. Police said Tuesday that Wrobel's family was cooperating in the investigation.
Sands Corp., parent company of The Venetian, will donate $50,000 to the National Law Enforcement Officers Memorial Fund, spokesman Ron Reese said. The company had offered the money to anyone who provided information that led to Wrobel's arrest.
The Review-Journal is owned by the family of Las Vegas Sands Corp. Chairman and CEO Sheldon Adelson. Las Vegas Sands operates The Venetian.
Contact Blake Apgar at bapgar@reviewjournal.com or 702-387-5298. Follow @blakeapgar on Twitter. Review-Journal staff writer Mike Shoro contributed to this report.