New Las Vegas police program targets domestic violence
Updated January 24, 2019 - 11:46 pm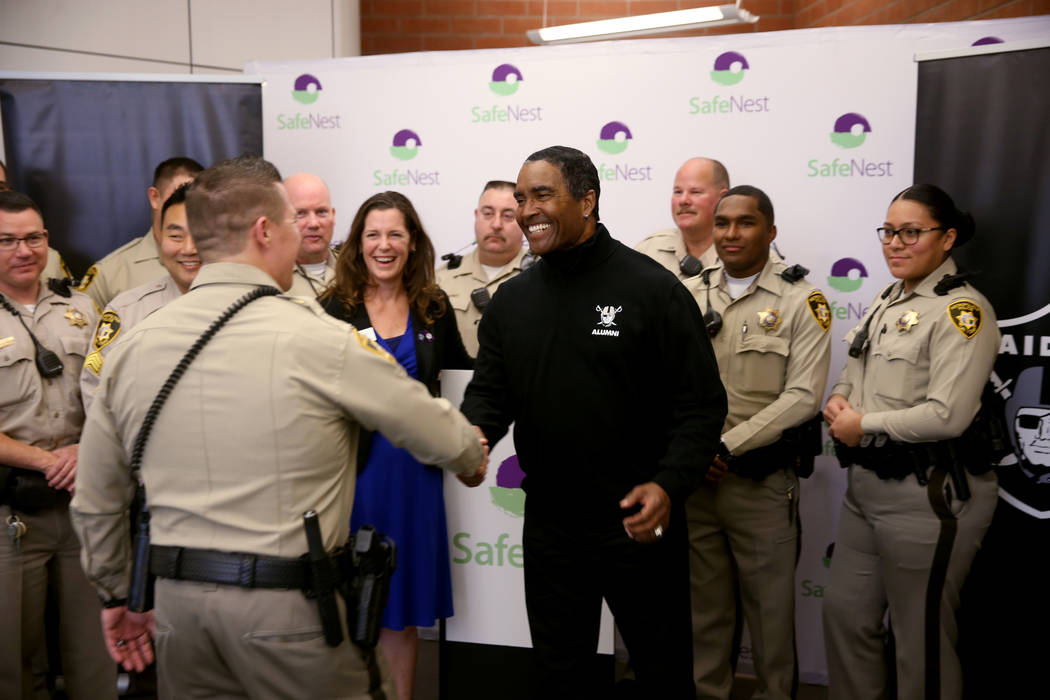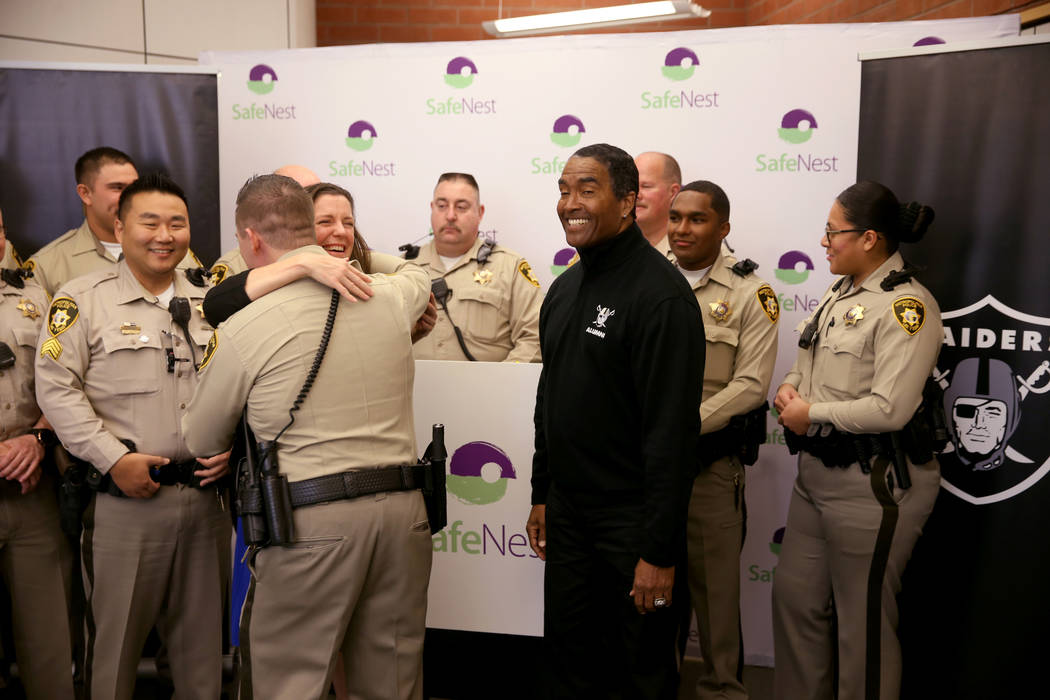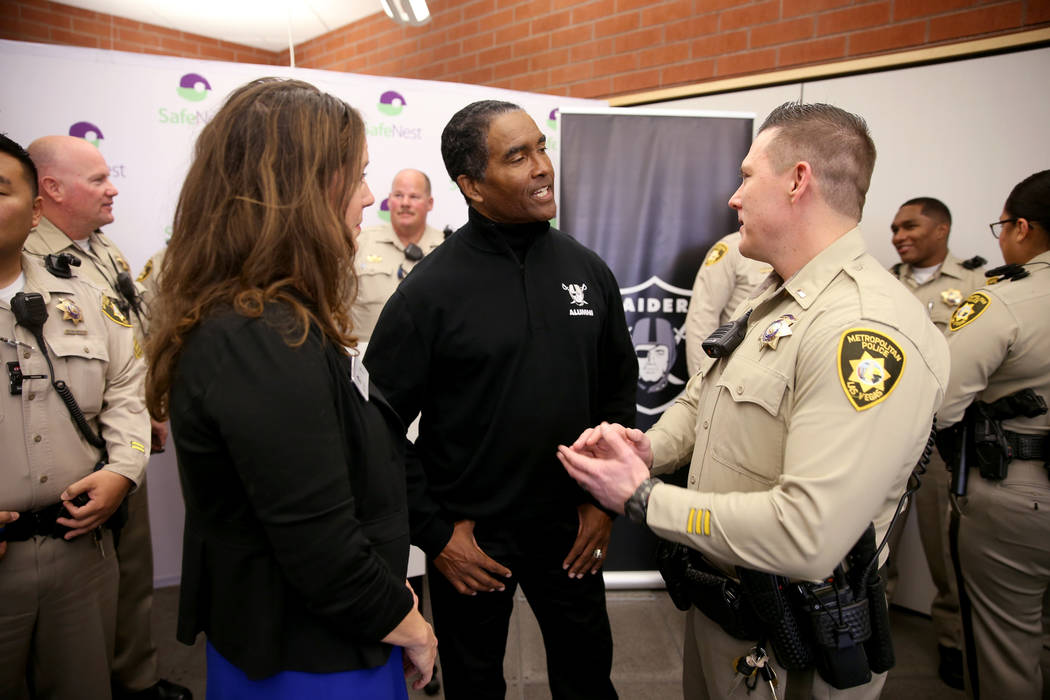 Las Vegas is home to one of the first programs in the nation that pairs police officers with advocates for domestic violence victims at crime scenes, allowing them to counsel victims in the crucial moments after a crisis.
The program, which the Metropolitan Police Department launched in December 2017, is the brainchild of Lt. Timothy Hatchett, assigned to the department's northwest valley patrol area. In the past, responding officers encouraged victims to seek out services on their own.
Police were tight-lipped about the program at first. Supervisors were nervous about whether it would work. But Hatchett said he had no doubt. One year later, the northwest valley patrol area had seen no domestic-related homicides. The year prior, the same patrol area saw six.
"It was automatically just magical," Capt. Sasha Larkin said in a news conference Thursday.
The program is called Project Safe 417, since 417 is the police code for domestic violence. When police officers are assigned to domestic violence calls after 5 p.m., advocates from SafeNest are dispatched, too, allowing volunteers from Nevada's largest domestic violence charity to work directly with victims at the scene.
Mostly, the advocates listen, SafeNest CEO Liz Ortenburger said. They sit on sidewalks with victims and their children, if they have them, and then lay out a list of options that range from seeking shelter to scheduling free counseling — for victims and abusers.
Advocates also can help arrange emergency protective orders.
"The cops even felt more secure, because there was someone to do that part that made them uncomfortable," Larkin said. "And Tim would come back with story after story of victims so grateful that somebody had shown up."
When Hatchett proposed the program to SafeNest with Larkin's blessing, Ortenburger was concerned about the safety of advocates and victims at scenes. Hatchett pushed forward, ensuring their safety and suggesting that the CEO come on a ride-along with an officer to get a firsthand feel for what he was proposing.
She obliged, and at domestic violence scenes that night, Ortenburger took note of what officers could be doing better. While she didn't introduce herself to victims, she quickly realized the amount of advocacy work that could be done at the source.
"It was just so visually clear that we could be a huge part of this," Ortenburger said.
Moving forward, Hatchett and Larkin came up with new officer training for the northwest valley pilot program and outlined new safety protocols that accounted for advocates and victims. Meanwhile, SafeNest trained the first batch of volunteers.
There were some hiccups at first. But the program quickly proved successful. More than 300 victims have been helped, and in the northwest patrol area where it was launched, Las Vegas police have seen no recurring domestic violence calls in 92 percent of cases in which advocates were dispatched.
The same patrol area also saw a 3.5 percent decrease in domestic violence calls and a 20 percent increase in domestic battery arrests.
"We're working together for the same goal, but we have different responsibilities," Hatchett said. "Our goal is to prevent homicides. Law enforcement's responsibility is to do an investigation and potentially make an arrest. Their responsibility is to focus solely on that perceived victim on scene."
A plan is in place to expand the program to the rest of Metro's jurisdiction by 2020, with a goal of becoming a 24/7 program. The Raiders on Thursday donated $20,000 to help SafeNest recruit and train the 250 volunteers needed to make that happen.
"When we started, I truly believed we would get to this point," Hatchett said. "It just took a lot of diligence."
Contact Rachel Crosby at rcrosby@reviewjournal.com or 702-477-3801. Follow @rachelacrosby on Twitter.
Interested in volunteering?
SafeNest volunteers are required to complete more than 26 hours of advocacy training and six hours of separate, specialized trauma training. The Project Safe 417 program requires a commitment of at least two, four-hour shifts a month.
Anyone interested in becoming a SafeNest volunteer can register at www.safenest.org. Two upcoming volunteer orientations are slated for Feb. 9 and Feb. 12.