Metro investigating string of robberies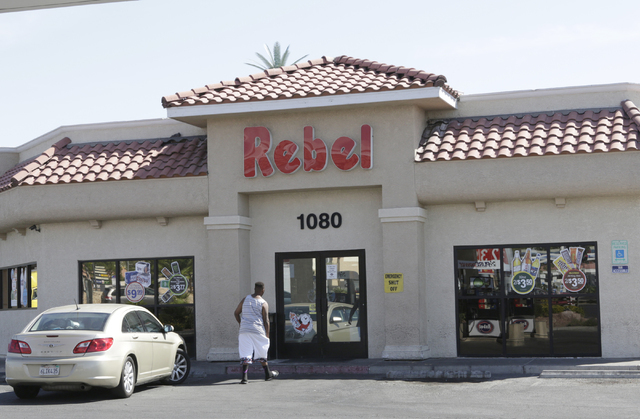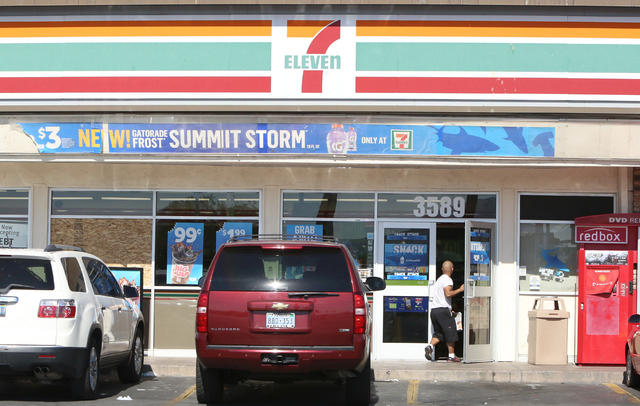 A clerk at an east-valley convenience store was shot in the head early Sunday morning for "$26 and cigarettes," Las Vegas police said at a briefing Monday afternoon.
That robbery was the second of six the Metropolitan Police Department said were committed by the same young men over 48 hours. The department released surveillance video of the robberies and asked for the public's help identifying the criminals.
Lt. Jack Clements said the robbers seem to be "escalating in violence."
At about 2 a.m. Saturday, a robbery was reported at the Speedee Mart convenience store on East Tropicana Avenue at McCleod Drive. Multiple suspects fled the scene before officers' arrival. No one was injured.
With bandannas covering their faces, two men then entered a 7-Eleven convenience store at 4160 E. Sahara Ave. about 2 a.m. Sunday. They took money from the cash register and cigarettes, fired a shot with a large black revolver, and left on foot down Lamb Boulevard.
The clerk, who was shot in the head, was taken to Sunrise Hospital and Medical Center in critical condition. Lt. Dan McGrath, from the homicide unit, said his team also is investigating because of the severity of the injuries.
Police released surveillance images of the bandanna-clad perpetrators that day, and police suspect that is why the criminals switched to wearing full, Halloween-style masks.
Four people participated in subsequent robberies. Surveillance footage shows two men in white masks and one in a red mask, and police said there likely was a getaway driver, as well.
Another robbery happened on Sunday about 1:45 a.m. at a Terrible's convenience store on South Nellis Boulevard at East Twain Avenue.
And by the time the sun rose Monday morning, police suspect the robbers hit three more stores. They stole money from registers about 1:18 a.m. at the Rebel gas station at 1080 S. Rainbow Blvd., near Charleston Boulevard; about 3 a.m. at the Circle K at 2475 S. Nellis Blvd., near Sahara Avenue; and at 4:15 a.m. at a 7-Eleven at 3589 N. Nellis Blvd., near Gowan Road.
A preliminary investigation indicated all of the robberies may be related.
At the robbery on Rainbow, one of the men fired two rounds from a handgun inside the business, but no one was injured. One man was seen on surveillance video brandishing a machete and another a buck knife.
Clements and McGrath said the men appear to be young, with estimated ages between 16 and 20. In the video, a few of them are seen without facial coverings.
Robberies are up 22 percent this year compared with the same period last year, Clements said.
He said the department formed a new robbery squad about a month ago to address the issue.
Anyone with information on the crimes may call Metro's robbery section at 702-828-3855, or they may call Crime Stoppers at 702-385-5555 to remain anonymous.
Contact Wesley Juhl at wjuhl@reviewjournal.com and 702-383-0391. Find @WesJuhl on Twitter.