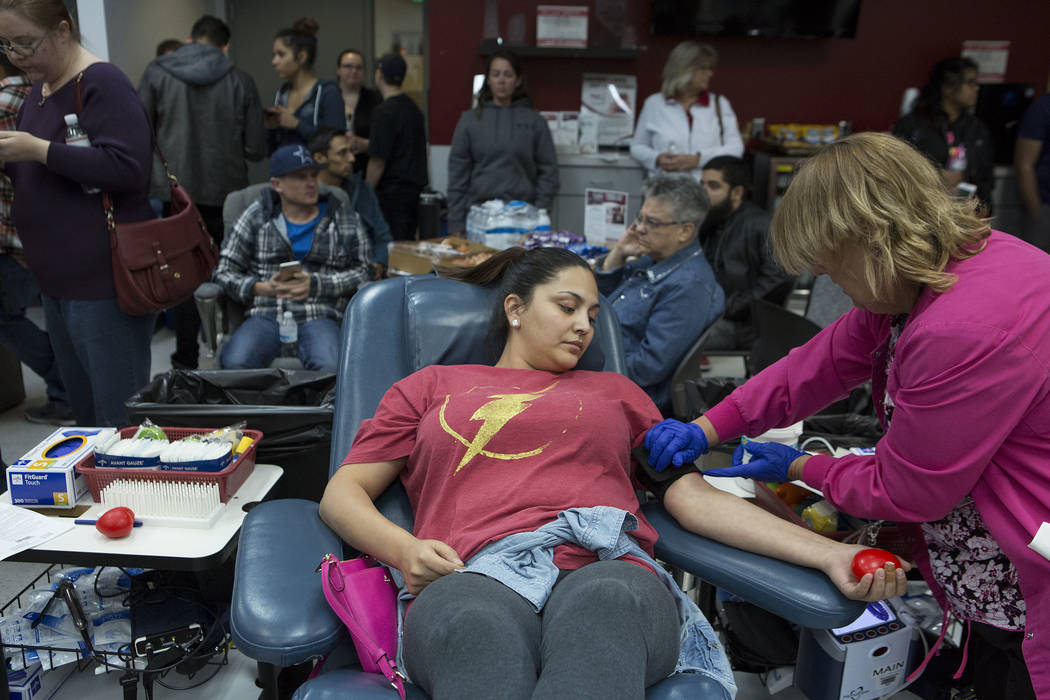 United Blood Services Regional Director Erik Hill rushed into his agency's West Charleston Boulevard blood bank at 2:30 a.m. Oct. 1, ready to help receive donations after the Route 91 Harvest festival shooting.
Before long, the line was out the door and down the street. At least three city blocks nearby were covered in cars.
"This is an unusual group," he said that morning, adding that the blood bank was used to seeing around 50 people a day. "The last time we saw this was 9/11."
The generosity has continued. In the eight days since concertgoers were shot at from Mandalay Bay's 32nd floor, United Blood Services, part of a nationwide network of blood centers in 28 states, received 3,404 local donations. Fifty-one percent were from first-time donors.
"The worst in humanity brings out the best in humanity," University Medical Center lab director Lisa Gorlick said. "There was always a steady stream of individuals all week long."
Testing and processing blood takes 24 to 48 hours, United Blood Services spokeswoman Julie Scott said, and the agency commonly sends donated blood to other locations in its network during the blood's 42-day shelf life. Nevertheless, she said, the recently donated blood is staying local for now.
On Oct. 1, United Blood Services provided nearly 200 already stocked pints of blood to hospitals. Southern Nevada Red Cross volunteers, working alongside government partners at the Emergency Operations Center, provided 450 units of blood to 13 local hospitals.
At UMC on Oct. 1, Gorlick was prepared with about 250 units of blood and more than 100 units of backup. Hospital staff brought the blood to patients as they arrived.
"We always have enough on hand, because we never know when these situations are going to come up," she said.
The flurry of donations continues — appointments are booked through mid-November, United Blood Services said. Nevertheless, the nonprofit is encouraging donors to continue coming through January, as donations tend to drop sharply around the year-end holidays.
"The need for blood is constant," Scott said.
Contact Briana Erickson at berickson@reviewjournal.com or 702-387-5244. Follow @brianarerick on Twitter.