Las Vegas shooting survivor finds courage to race again
December 30, 2017 - 12:00 pm
Updated December 30, 2017 - 5:50 pm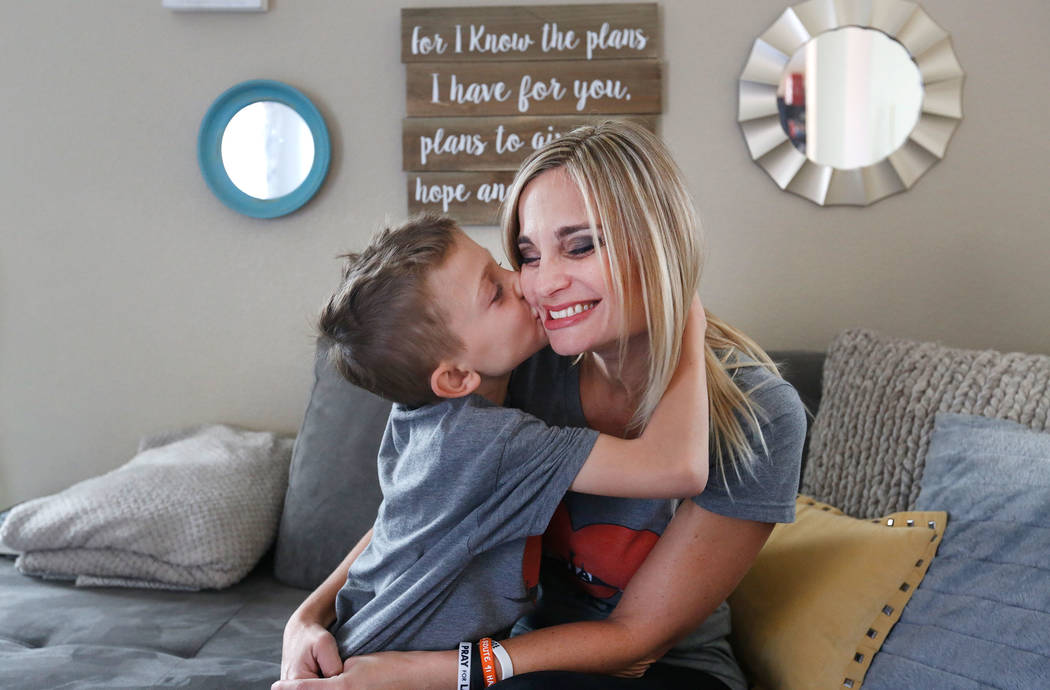 When Christina Gruber learned she would survive her injuries from the Oct. 1 shooting, she had two questions for the doctor.
"Will I be able to run again? Will I lose my leg?"
The 41-year-old mother of two had 10 pieces of shrapnel in her right leg and about eight in her left leg, the result of bullets ricocheting as they rained down on the Route 91 Harvest festival.
Gruber's memories of that night are vague. The Las Vegas woman was with about five of her friends when the shooting started.
She ran to the Roman Catholic Shrine of the Most Holy Redeemer on Reno Avenue, where strangers used a belt as a makeshift tourniquet on her bleeding left leg.
"I kept thinking, 'My kids. My kids. I need to get home to my kids.'"
The weekend after the shooting, Gruber wasn't able to take part in the 100-mile bike ride for which she had been training. Her workouts are stress relievers, and because of her injuries, she couldn't train her usual six days a week.
"Not being able to do that for two months messed with my mind more than anything," said Gruber, who took part in four triathlons in 2017.
Toward the end of November, she rode her bike for the first time since Oct. 1.
On Dec. 2, she ran her first race since the shooting: the Vegas Strong 5K.
There's muscle damage in one leg, so Gruber is slowly getting back to training a few times a week.
"It's a new way of life that we're all adjusting to," she said. She's already planning her next races.
"I'll be racing for the 58 angels that we lost that night and racing for those that can't," she said.
Gruber's kids, Jake and Cierra, are aware of what could have happened to their mom.
When they went camping, Gruber didn't expect fireworks. Gruber jumped when she heard the loud boom. Her 13-year-old daughter held onto her tightly.
When she saw an orthopedic surgeon a few days after the concert, the air vent started to make a sound. Shots being fired? Gruber covered her eyes.
"Is it done yet? Is it done yet?" she asked.
Gruber used to go shooting as a hobby, but she hasn't been to the gun range since Oct. 1. She's nervous about hearing the sounds of an automatic rifle.
After the new year, perhaps she'll go to the range, sit and listen for five minutes, she said. She'll think positive thoughts.
In her job as a CPA controller, Gruber said she sometimes struggles to focus.
"I'll zone out in the middle of conversations," she said. "I forget things."
Gruber has found comfort in friends who were also at the concert. They all got tattoos to commemorate the event. That night, they saw many references to Michael, the archangel. They wondered what Bible verses mentioned the archangel.
Gruber got "Psalm 91" tattooed on her left shoulder with the date Oct. 1 in Roman numerals underneath it.
The psalm reads in part: "Not being afraid of the terrors of the night. A thousand might fall at your side, while ten thousand might die around you."
"It's a reminder of something that I've survived. A reminder of how short life can be," she said. "There was so much angel presence protecting me that weekend."
Contact Briana Erickson at berickson@reviewjournal.com or 702-387-5244. Follow @brianarerick on Twitter.
Related
Las Vegas friends find strength in one another after shooting
Therapy helps Las Vegas shooting survivor with panic attacks
Las Vegas woman survives shooting, struggles with emotional scars
Las Vegas shooting still shaping life for Summerlin couple
Identical twins, hurt in Las Vegas shooting, hope to help others