Las Vegas shooting survivors ask, 'What about us?'
November 28, 2017 - 10:29 am
Updated November 28, 2017 - 11:56 pm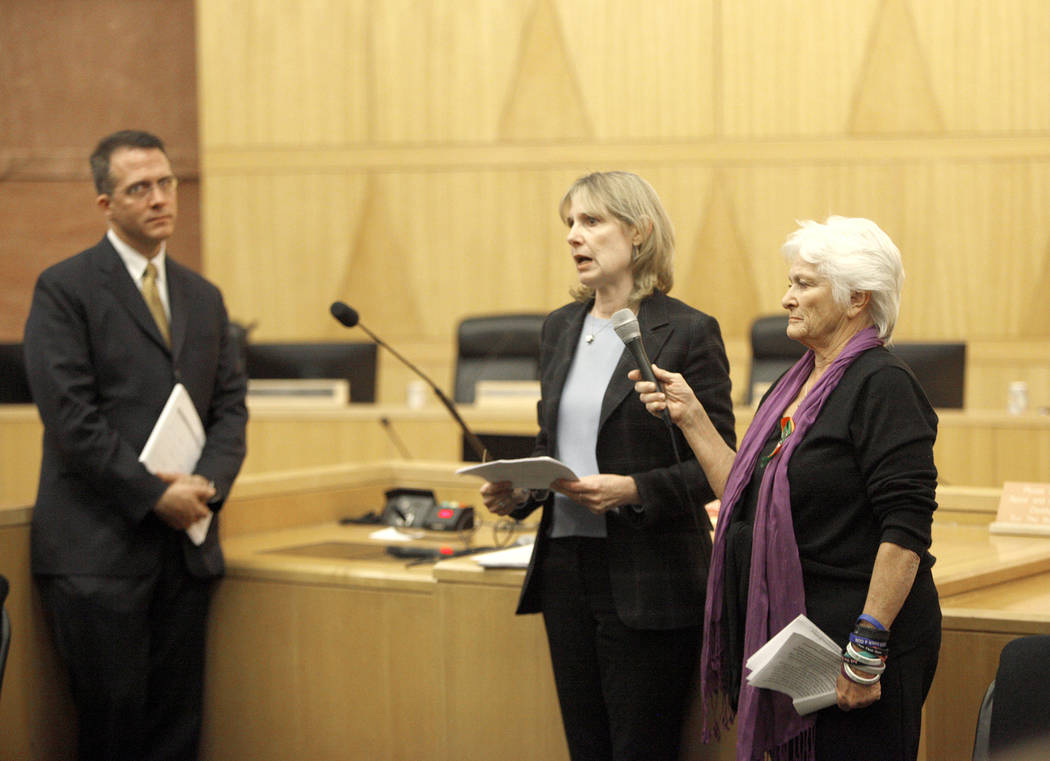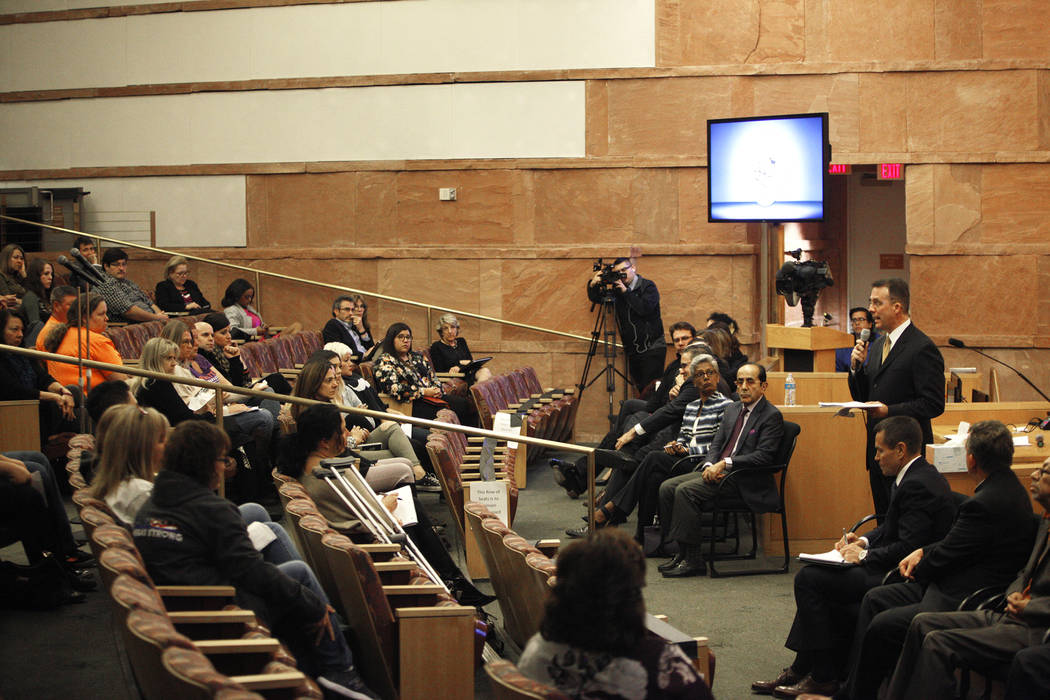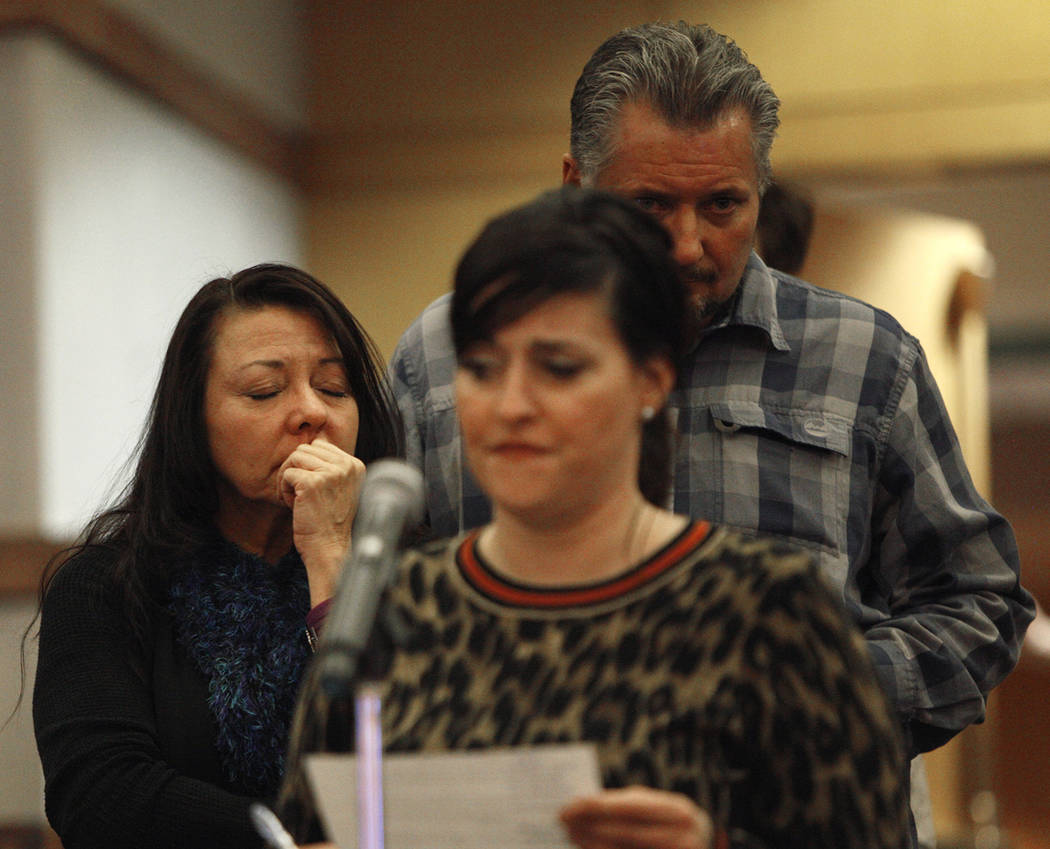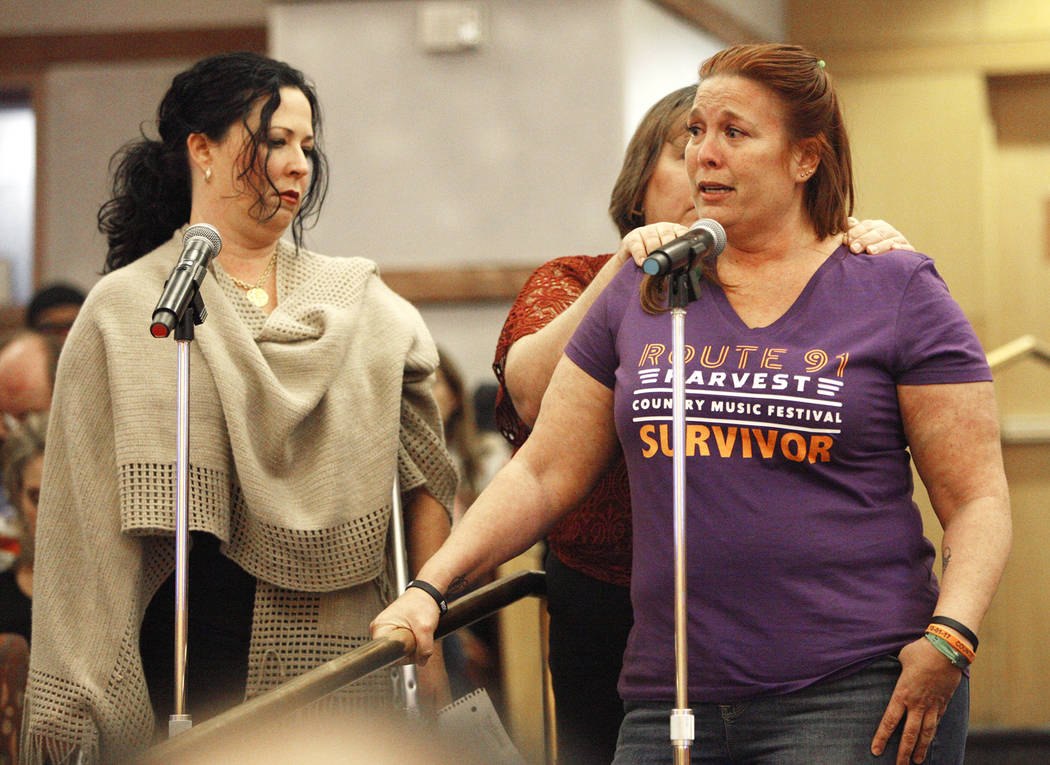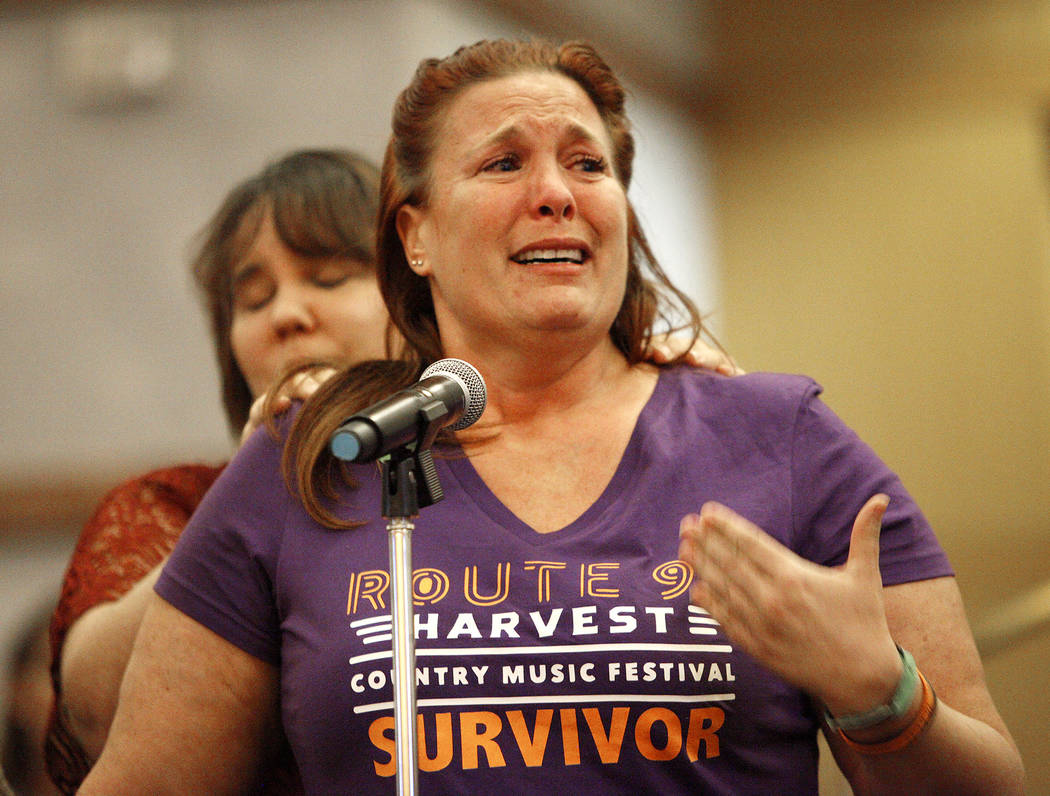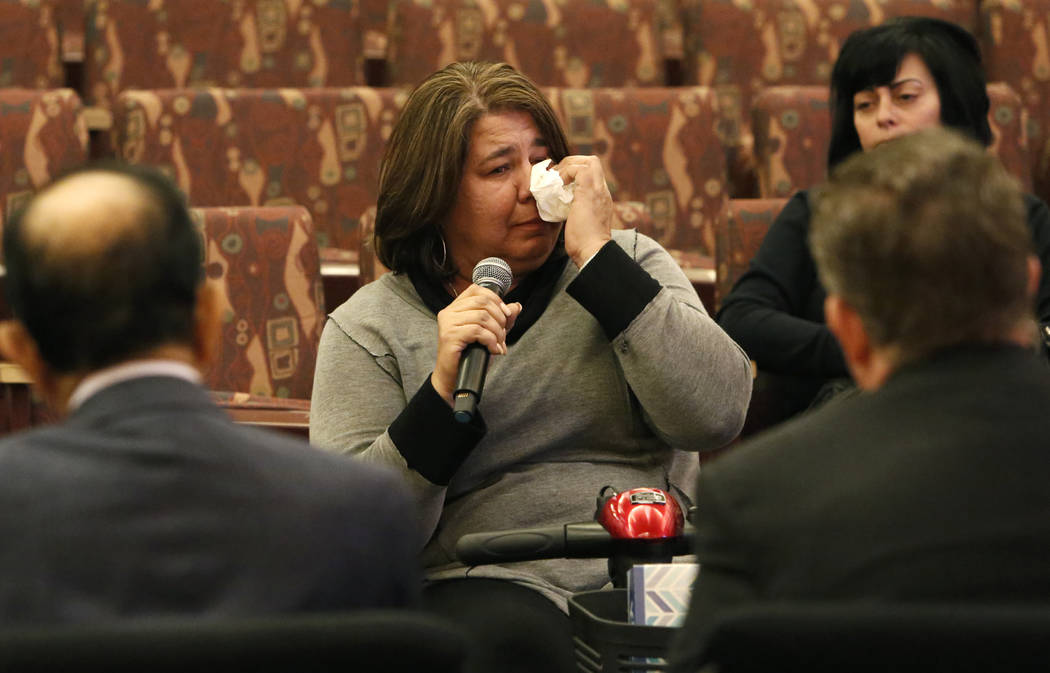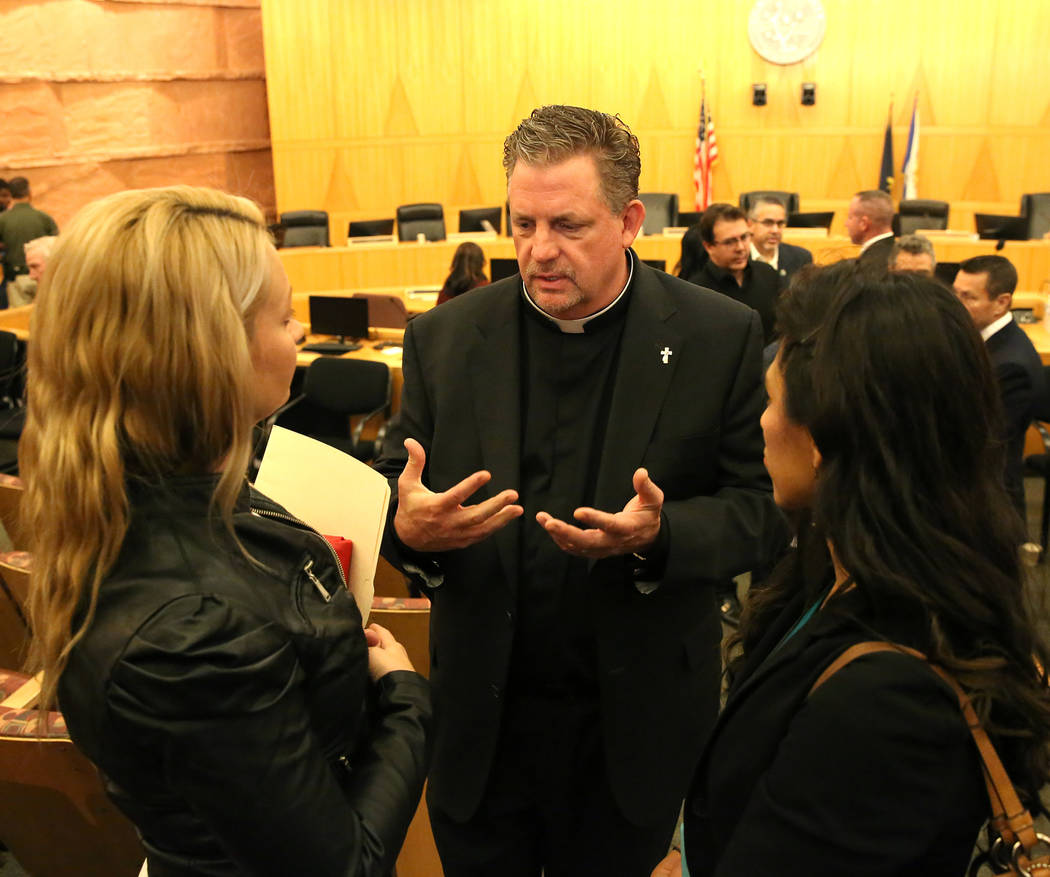 Suzzanne Michaels has felt unable to function since the Oct. 1 Route 91 Harvest festival shooting.
"I've left empty pans and the burners on the stove on, and found the uncooked eggs in the upstairs bathroom sink," Michaels told the Las Vegas Victims Fund committee Tuesday morning.
In a letter to the committee, she said she's "even walked to my car before I realized I forgot to put a shirt on. I haven't been able to concentrate long enough on my own to complete emailed forms that VOCP (victims of crime program) wants me to complete for lost wages."
Michaels said she lost her job because of her mental distress.
"The owner/manager of Five Star Tavern #55 on Rainbow and Smoke Ranch told me — I needed thicker skin!" she wrote.
Michaels was one of about 150 survivors of the Oct. 1 Route 91 Harvest festival mass shooting who delivered a recurring message Tuesday: "What about us?"
The committee held town hall meetings at 10:30 a.m. and 6 p.m. Tuesday to solicit public opinions on draft protocols outlining who should receive donations following the massacre.
The draft protocols, released Nov. 16, propose that families of people killed in the shooting and people who sustained permanent brain damage or paralysis resulting in continuous home medical aid would receive the highest level of payment from the fund.
People who were injured and admitted to a hospital within 48 hours of the shooting for at least one night between Oct. 1 and Jan. 31, 2018, would receive the next level of funding, according to the draft.
Excluded
But those criteria leave out too many people, morning session attendee Karen Iantuono said.
Iantuono's daughter's knee was dislocated amid the shooting's chaos. She had surgery, but she was never hospitalized overnight and therefore would be ineligible for aid.
"You can't tell me that she's less of a person because she didn't spend a night in a hospital," Iantuono said.
Iantuono's friends and family contributed donations to the fund, and now it seems as if her daughter won't get anything from it, she said.
Michelle Leonard said she, too, feels excluded from the proposed protocol.
"I have blood clots in my leg," said Leonard, who is moving around in a wheelchair. "I was not admitted to a hospital because I fell over a concrete barrier and was trampled on."
She said she is waiting to see an orthopedic surgeon to determine whether her leg is permanently damaged.
"I don't want to take away from those that have lost their lives, and those that have permanent damage. I just feel like we need to not be forgotten," she said. "I may not have had a bullet put in my body, but I feel like a bullet has been put in my head, and my soul and my heart — and my life is forever changed."
A group of 44 out-of-town survivors also provided written comments to the committee Tuesday night. Jennifer Holub of Salt Lake City compiled the statements and organized for Las Vegas survivors to deliver them.
"I will not sit back and let my Route 91 family be revictimized," Holub told the Review-Journal.
Yvonne Justice spoke on Anthony Dalrymple's behalf, saying he escaped with his life but was affected emotionally and financially.
"Anthony worked at night to help support his family," Justine said, "but hasn't worked since the event because his wife (who also attended the festival) is terrified of the dark and to be home alone at night with their 12-year-old son."
Next steps
After the morning meeting, Las Vegas Victims Fund Committee Chairman Scott Nielson said he couldn't say what the committee will do. But he added that he would examine how to include injured people who received outpatient care.
The committee will accept feedback on the draft protocol until Dec. 8, and will adopt a final protocol Dec. 11, Nielson said.
When the final protocol is adopted, a "claim form" will become available for applicants to complete.
Jeff Dion, deputy director of the National Center for Victims of Crime, said all claims will need to be submitted electronically.
Each decedent or victim for whom a claim is submitted will be validated by the Federal Bureau of Investigation as a victim of the Oct. 1 attack, he said.
"If the FBI doesn't have you on their victim list, they're going to send an FBI agent to talk to you," he said.
Additionally, no money will be disbursed to anybody listed on the U.S. Department of Treasury, Office of Foreign Assets Control, Specially Designated Nationals and Blocked Persons list.
Dion said the fund is intended for anybody affected by the shooting, including first responders and people working at the event.
Dion said families of the deceased should identify a family representative for their loved one's estate, if they haven't already done so. A family representative must be authorized to apply for compensation.
"If everybody agrees on what the distribution within that family is, then we'll honor that. If people can't agree on how that should be distributed, then we're going to go ahead and send it to the probate court."
Las Vegas-based probate lawyer Jonathan Reed, with the Reed & Mansfield law firm, previously told the Review-Journal that the first step in representing an estate is to ask the probate court to name you as executor or personal representative or administrator — whichever term the decedent's state uses.
You'll likely need to file an application, a death certificate and the original will (if there is one) with the local probate court in the county where the deceased person was living at the time of death.
If the deceased person owned real estate in more than one county in the same state, one probate will suffice.
If the personal representative is not living in the state where the probate is taking place, the out-of-state resident may need to appoint a resident of the probate state to serve with them as a co-administrator.
Legal Aid Center of Southern Nevada and the State Bar of Nevada said they will provide pro bono legal services to victims of the Oct. 1 shooting.
Contact Nicole Raz at nraz@reviewjournal.com or 702-380-4512. Follow @JournalistNikki on Twitter.
A previous version of this story misspelled the name of Yvonne Justice, one of the speakers at the town hall.
Casino industry should 'ante up'
A survivor and a family member of a victim from other shootings also attended the evening meeting: Patricia Maisch and Anita Busch.
The casino and gaming industry should donate more to victims and survivors of the Oct. 1 shooting, they said.
More than $16 million dollars has been raised for Las Vegas shooting victims and families. If the Las Vegas Victims Fund were to match the same proportion of payments paid out to the 299 victims and their families in Orlando, Florida, following the Pulse nightclub shooting in 2016, then the fund would need at least $560 million.
"The gaming industry has seen consistent year-to-year growth. In 2015, it broke the 70 billion dollar barrier and has been climbing," said Busch, whose cousin, Micayla Medek, was killed in the 2012 movie theatre shooting in Aurora, Colorado.
"One casino owner boasts a net worth of $37.5 billion. Another has a net worth of $3.3 billion," she said. "Vegas and Nevada were built on odds and on risks. What are the odds to your industry if you choose not to take care of victims — who were your guests?"
She said the industry and Las Vegas can either "forever be known as compassionate heroes who did the right thing" or as "villains" who chose to abandon the same people who helped to build their fortunes.
"Sin City needs to do the right thing and they need to do it right now," she said, adding that any money that is going toward a possible memorial should instead go to victims' families and survivors.
Maisch helped to stop Tucson, Arizona shooter Jared Loughner in 2011 by wrestling away a fresh magazine of bullets as he tried to reload. Loughner killed six people and injured 13, including Congresswoman Gabrielle Giffords.