Las Vegas shooting survivors get first checks from Route91Strong
Updated February 26, 2018 - 2:42 pm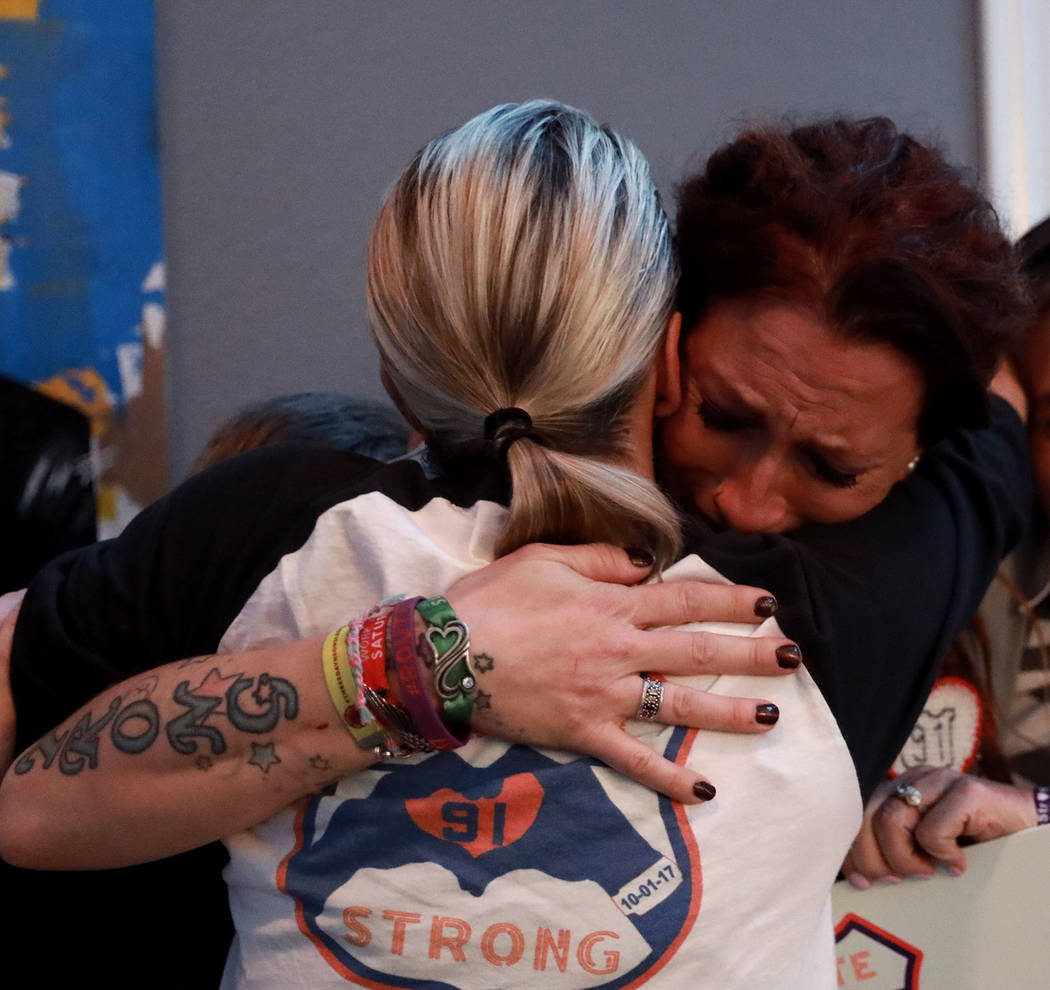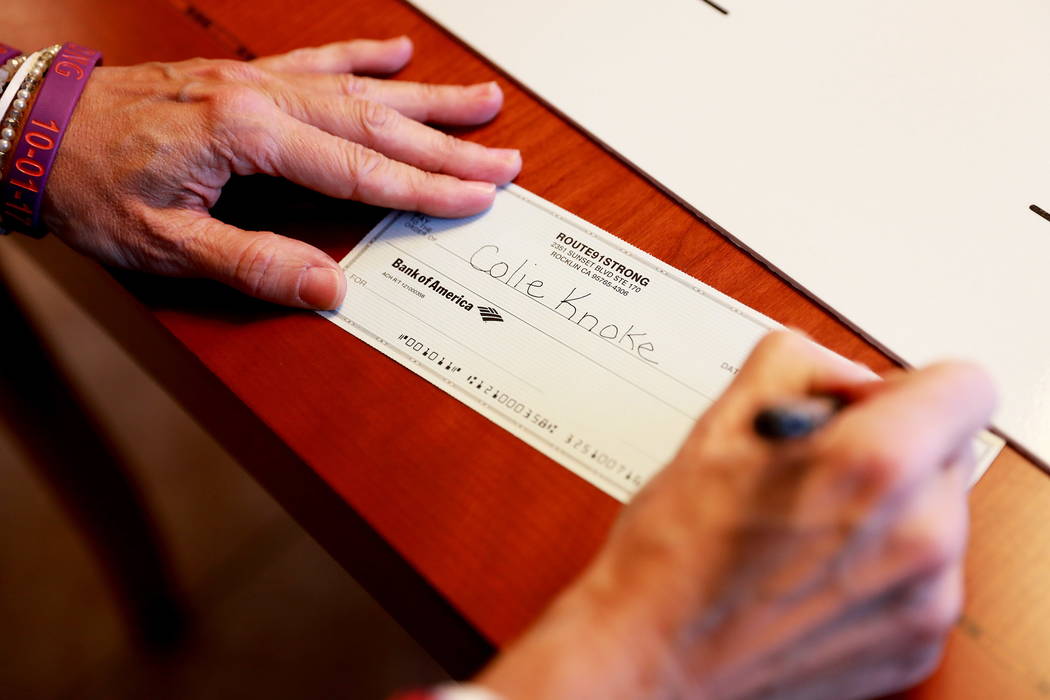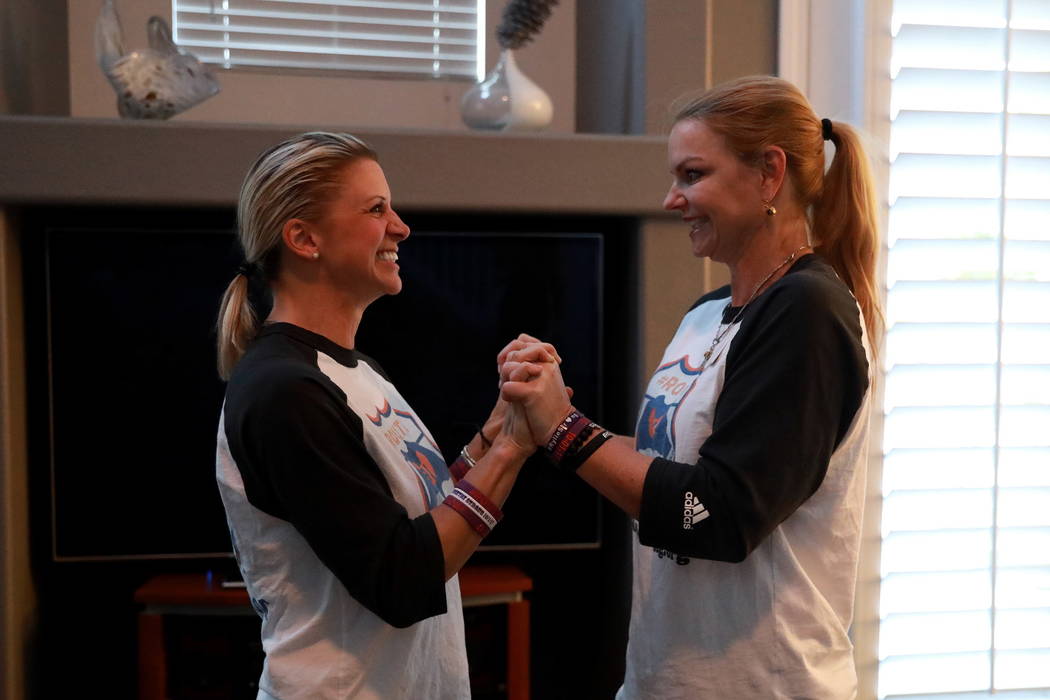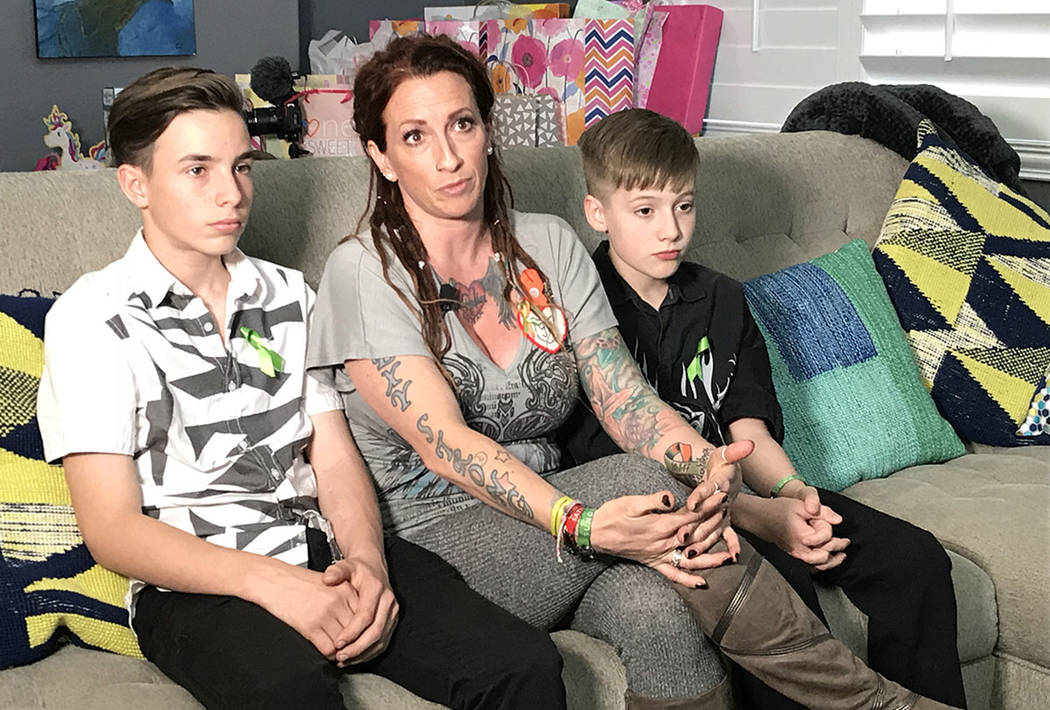 Three Las Vegas shooting survivors on Sunday received the first disbursements from Route91Strong, a nonprofit that helps victims of the Oct. 1 shooting.
Las Vegas resident Colie Knoke was the first to receive a check, for $1,924. Surprised at the amount, Knoke thanked the group as she wiped away tears at an event at a Summerlin home.
She is a single mother of a 2-year-old girl and is eight months pregnant with another daughter.
Knoke was a bartender at the Route 91 Harvest country music festival when Stephen Paddock sprayed bullets on concertgoers from his 32nd-floor suite at nearby Mandalay Bay. He killed 58 people and injured more than 400 others before killing himself.
"My plans to make money all of October went away," Knoke said, "because instead I was trying to put together the pieces and just trying to process things."
Knoke has experienced emotional stress and has been able to work only about once a month since October, she said.
The money will help her pay bills that have mounted since, including $7,000 in credit card debt.
"Right now I have nothing. I've maxed out my bank account and my bank account is at zero," Knoke said. "I'm really glad I saw this support group on Facebook, and that's where I started to just reach out."
Route91Strong, which was founded by shooting survivors Lisa Fine and Brian Claypool, gave out $3,924 at Sunday's event.
More checks coming
Las Vegas resident Mindy Foster received the second check, for $1,000.
"I love you guys. Thank you," she told the group. "You guys are dealing with the same stuff we are; you are amazing."
Foster also was a bartender at the festival. The past few months have been some of the most stressful of her life, she said.
"I didn't work for two months after the shooting due to (post-traumatic stress disorder), and I was injured as well," Foster said. "In January I had to take out two small personal loans just to pay my rent, and paying those back are absolutely killing me."
Foster said she injured her neck in the chaos of the shooting and went to a doctor for her injury on Oct. 24. Foster would have had to visit a doctor by Oct. 10 to be eligible for money from the Las Vegas Victims' Fund, the largest pool of money for shooting victims. That fund is set to start giving out money next month.
Stacie Armentrout of Las Vegas received the third check, for $1,000. Armentrout attended the festival with her husband and two teenage daughters.
Armentrout and her family have struggled financially since Oct. 1. Armentrout said she has not been able to work as frequently because of post-traumatic stress. Her husband has not been able to work because he is recovering from an injury to his ribs he suffered while fleeing.
Route91Strong has collected about $22,000 from two fundraisers, according to Dave Freudenberger, who was not at the festival but is volunteering with the group as chief financial officer.
The nonprofit helps those who may not qualify for other financial help or can't wait for those sources to come through.
Three more survivors are set to receive checks this week, totaling about $4,000, Fine said.
'You have to fight it'
The group has about 20 people waiting for a combined $45,000, Fine said.
"Some people are still being faced with losing their homes or losing their utilities, or don't have any money to buy groceries, or need to pay for child care," she said. "And the beautiful thing is that the survivors who are asking for help from us are also offering to help back. … And that is really touching."
To apply for money, an applicant must submit proof of attendance at the festival and proof of financial struggles. Priority is given to survivors who have not received, or do not expect to receive, money from other sources such as the Las Vegas Victims' Fund or Nevada Victims of Crime Program.
"Part of the vetting involves a detailed discussion with applicants regarding how much they really need, which may be different than what they originally requested," Freudenberger said.
Surviving the shooting, Fine said, has given her life greater purpose.
"We've been working so hard to help these precious people that were there that horrible night and that are struggling," Fine said. "I have these moments of complete devastation, and I don't want another person to feel that dark, that sad or that hopeless. You have to fight it."
Fine and other group members hope the nonprofit ultimately will be able to support victims of future tragedies.
Contact Nicole Raz at nraz@reviewjournal.com or 702-380-4512. Follow @JournalistNikki on Twitter.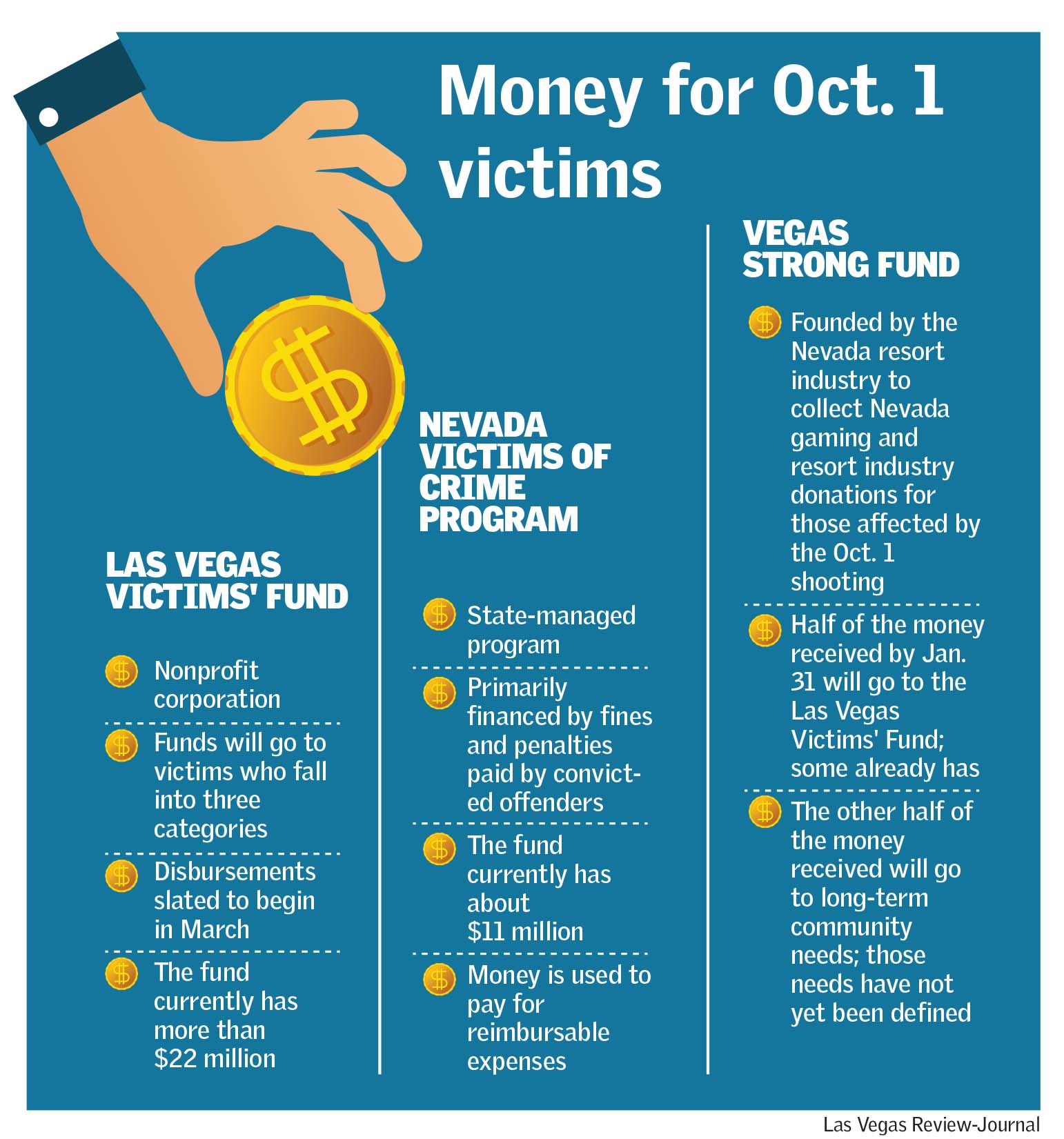 Route91Strong
Visit route91strong.org for more information.