Las Vegas shooting victim moves forward with recovery
December 15, 2017 - 8:59 pm
Updated December 16, 2017 - 12:18 am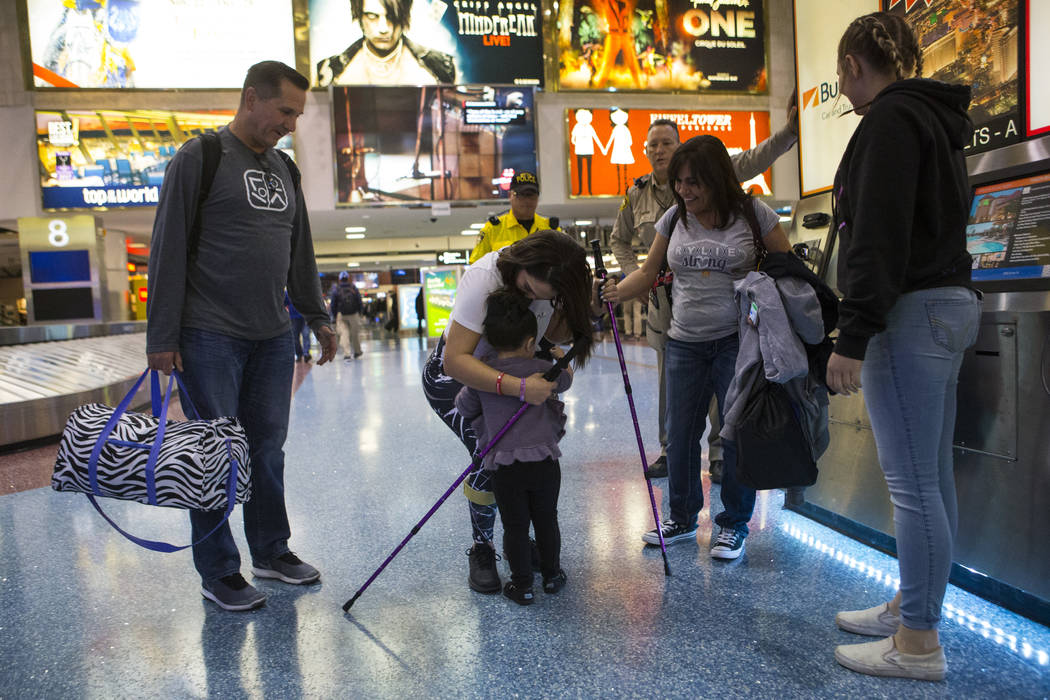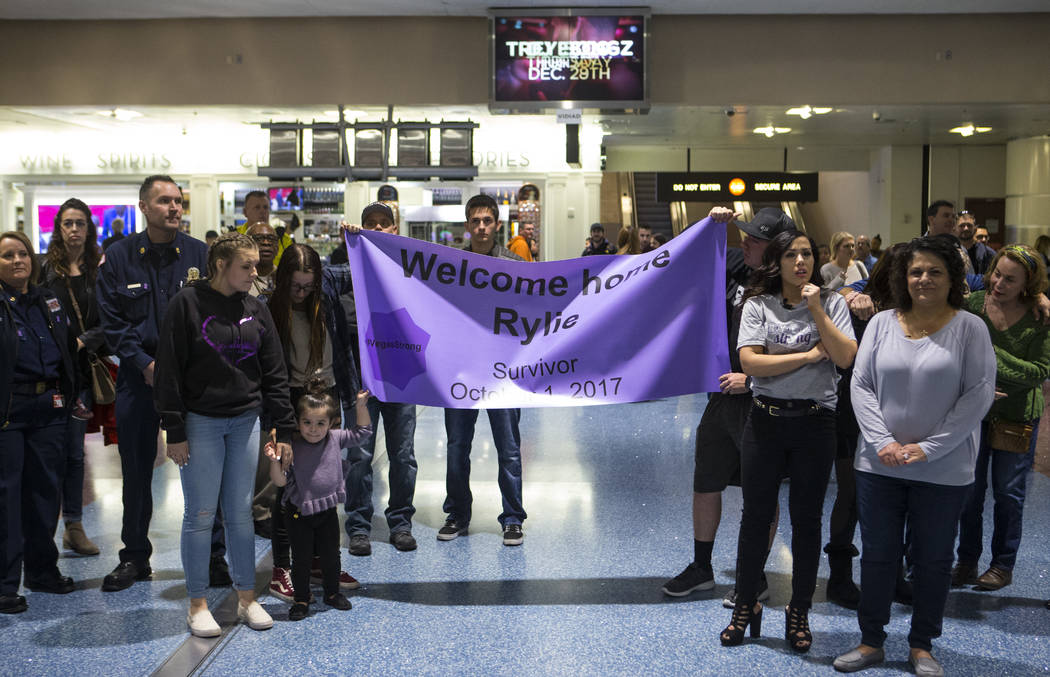 Rylie Golgart stretched her right ankle. This time, instead of managing just a twitch, she fully extended her foot toward the floor.
Sitting in a wheelchair during a Sunday morning church service in late November in Englewood, Colorado, the 19-year-old Las Vegas native reached another milestone in her recovery from the Oct. 1 mass shooting on the Strip.
"She was definitely smiling and excited, mouthing, 'Look at this!' " her mom, Rose Fuscaldo, said, adding that Rylie pulled out her phone and shot a brief video to mark her progress.
At first, Rylie and her family wondered why God would have put the Nevada State College freshman, who was attending the Route 91 Harvest festival concert with her father, in harm's way that night.
Then they questioned why he would spare her from injury during the early barrages of fire only to have a fragment of a .223 Remington bullet lodge itself in her spinal column, causing excruciating pain and temporarily paralyzing her from the waist down. Fortunately, the bullet didn't hit any major arteries, and Rylie was pulled behind a Budweiser trailer and then carried by two men to a nearby medical tent.
"I would, like, bawl my eyes out and just wonder, 'Why me? Why me?' " Rylie said.
Her mom can't answer that big question, but she says she knows why her daughter is making amazing progress back toward a normal life.
"God has some great plan for Rylie," she said.
And so her faith, the love of her friends and family and her stubborn nature — it's the German and Italian heritage, Rose said — motivated Rylie to walk toward about 20 family members, friends and first responders awaiting her safe return from a Denver rehab facility Friday evening.
Warm welcome home
Moments before her arrival at McCarran International Airport's Terminal 1 baggage claim, her grandmothers stood nervously with clutched hands. Two-year-old Valentina chanted "Rylie, Rylie," impatiently twisting her head around for a glimpse of her older cousin. Three friends held up a purple welcome sign, Rylie's favorite color.
Family members pointed and cheered as Rylie, mom on one side and dad on the other, slowly walked with trekking poles toward the throng of loved ones, some with tears in their eyes. It was the first time most of them had seen her walk since the shooting.
Each lined up for a warm embrace, including stepdad Rick Janise. As she leaned in, her white T-shirt lifted, revealing a small scar on her lower back.
Her mom and dad allowed a hand to hover behind her as she leaned in.
"There's definitely a bittersweet moment of coming home," Rylie said by phone a day before she boarded the flight. She has spent 40 hours a week doing therapies such as underwater treadmill exercises and stair training. Going forward, she will have to do the hard work largely by herself.
The results already are impressive. She can walk, using trekking poles to help her balance, swim and ride a bike. She's even found ways to use a wheelchair to play soccer, her passion.
She said she's nervous about navigating the distractions of being around family and friends without physical therapists to guide her. But in a way, it's kind of motivational "living each day worrying about that day, not worrying about the future and not worrying about the past," Rylie said.
When Rylie arrived at Valley Hospital Medical Center on Oct. 1, doctors performed an exploratory surgery on her abdomen to see if she was bleeding internally. She wasn't.
The surgeon advised the family to leave the bullet fragment in her spine untouched, saying removal was too risky.
"My husband and I were like, 'It doesn't seem right to leave the bullet in her body.' " Rose said.
So Rylie's family talked to as many as 10 doctors until one agreed to proceed with the surgery.
"It was definitely the right thing to make sure she got this surgery," Rose said. Almost immediately, Rylie started regaining feeling.
Then the hard work began.
Reaching milestones
Rylie lay strapped to a backboard on a medical flight from Las Vegas to Denver. It was Oct. 17, and she was on her way to Craig Hospital in Denver, a spinal cord injury rehabilitation center.
Her goal: "to run out of Craig," Rylie told her physical therapist at her first appointment.
Rose has documented Rylie's recovery on Facebook.
On Nov. 7, she had a "good day in PT," a Facebook post said. "Got Rylie up in arm crutches to do her six minute timed test and she almost matched what she did two weeks ago with a walker … 400 feet!!! Way to go my Bad Ass Super Star!!"
Every moment was a milestone, Rose said.
"There's been so many milestones, between her standing up to taking her first steps," she said.
Slowly, Rylie switched out the walker for crutches, then the crutches for trekking poles. Now she can walk farther and keep her balance without the use of a brace.
"It's this amazing circle," Rose said of her daughter's recovery. She spoke over the phone while Rylie worked with a physical therapist. "The more she gets, the more she wants, and she just works even harder."
Running out of Craig
"I'm definitely feeling a lot better," Rylie said over the phone during a break between evening therapies Thursday.
Better physically, and mentally.
Rylie, her parents and her stepparents have taken time to process the night's events. How Rylie, who attended the concert with her father, floated closer to the stage to meet a couple of friends before Jason Aldean took the stage. How Rylie called her dad, a Metropolitan Police Department detective, when shots were first fired to tell him she was OK. How he left the venue to transport a truckload of victims to University Medical Center.
"My heart felt broken. It was like somebody had just stabbed me and wiped me out, and I couldn't get back to her fast enough," Richard Golgart said.
Since then, he said, their shared experience has bonded daughter and father. Rylie said the two don't talk about it much, "just because it's a touchy subject."
Rylie answered a barrage of questions from reporters at the airport Friday evening while onlookers gathered to observe the scene. Then, when the interviews switched to mom, Rylie headed straight for her friends. They snapped a couple of photos and leaned in for hugs.
Rylie plans to spend most of her time at the gym now that she's home, working on strengthening her movements with each workout.
She also has another goal in mind. On Friday afternoon, Rylie walked out of Craig Hospital in Denver.
In July, when she returns for a half-year checkup, she promises, "I'll be running into Craig."
Contact Jessie Bekker at jbekker@reviewjournal.com or 702-380-4563. Follow @jessiebekks on Twitter.