Man now honorary uncle after helping mom-to-be at Oct. 1 shooting
Updated March 18, 2018 - 2:20 pm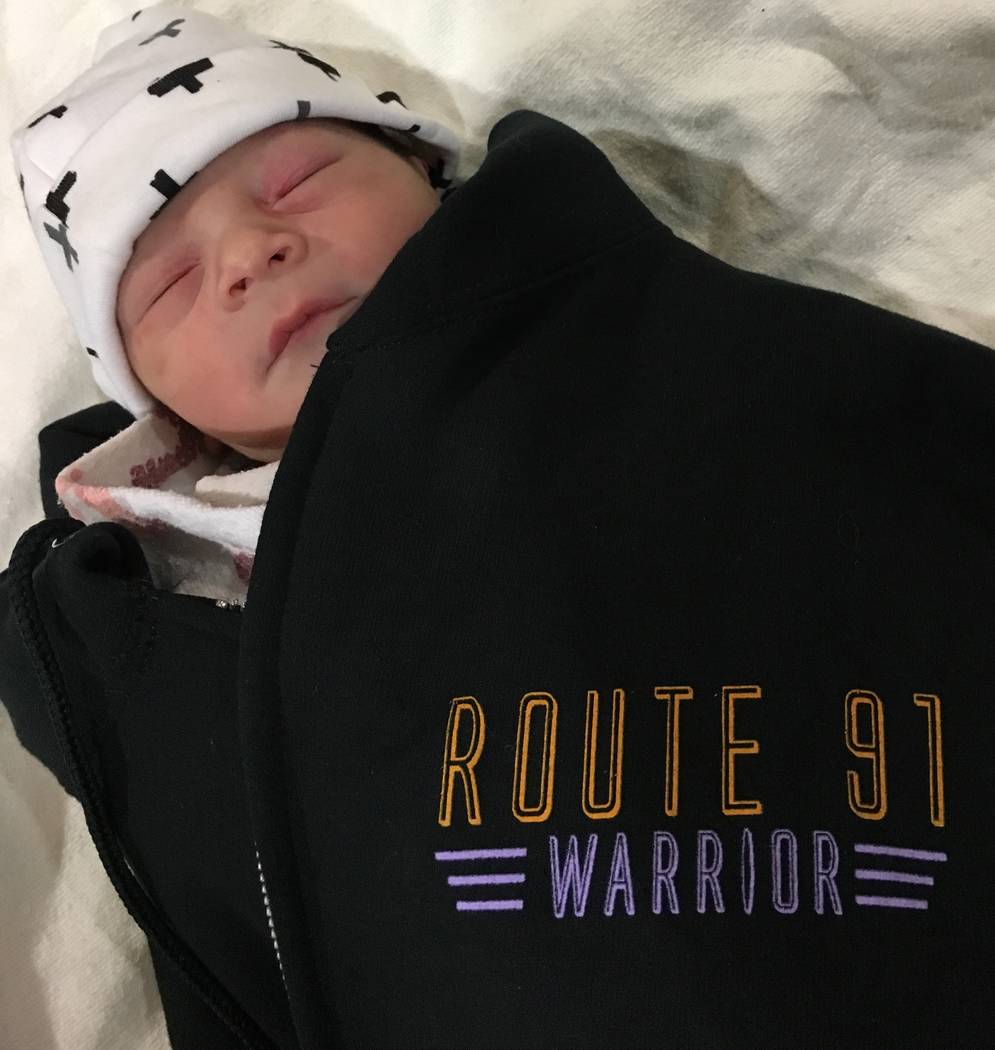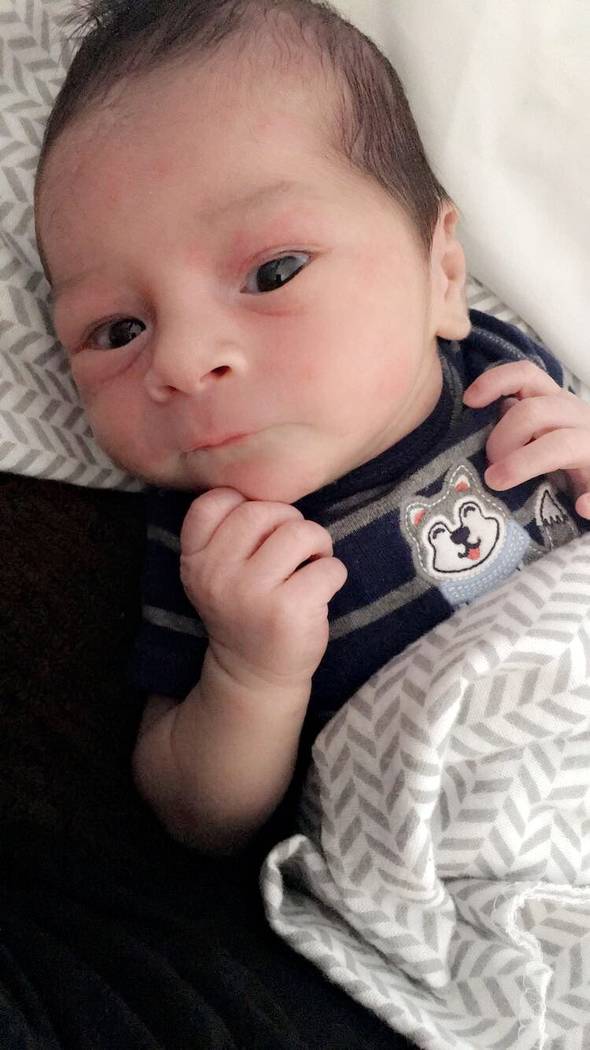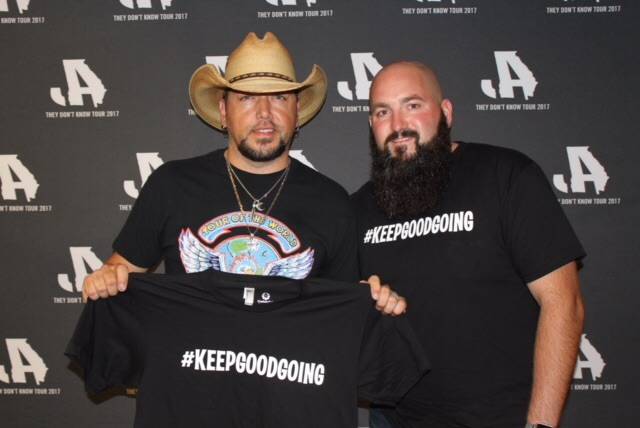 They met for less than a minute amid the chaos of Oct. 1, and neither remembers it very well.
But Vanessa Esquivel said Kody Robertson did more than enough in a few short seconds to earn the rank of honorary uncle to her newborn son.
She just didn't realize right away that he was her savior.
"It was somebody helping, and I just took that help," the 29-year-old San Jacinto, California, woman said.
Esquivel was four months pregnant when she took a girls trip to Las Vegas to attend the Route 91 Harvest festival with her two younger sisters, some cousins and friends.
She said she bought the tickets last March and found out she was pregnant with her first child in July. She and her husband, Mikey, learned they were having a boy the Wednesday before the festival.
When the shooting started, Esquivel and younger sisters Yvonne and Miranda Vasquez dropped to the ground to the right side of the main stage.
"I'm sure you saw the report of where all the bodies were. We were right in the middle of that," she said. "We were sitting ducks."
Esquivel said she could feel bullets whizzing past her and hear people screaming and getting hit.
She called Mikey to tell him she loved him. She was still on the line with him when she and her sisters got up to run.
Something in the way
Almost immediately, the three women found their path blocked by a chest-high barrier that extended through the crowd between the stage and the sound engineer's booth.
Esquivel is 5-foot-1, so the fence came up higher on her than it did for others. Her husband told her to hang up so she could use both her hands to climb.
"If I wasn't pregnant, I would have just flopped on over on my stomach," Esquivel said. "My main priority was my pregnancy."
So she stood there frozen, wondering how she would get to the other side, as Yvonne and Miranda yelled for someone to help their pregnant sister.
"I'll help you," said a voice from the other side.
Then there were hands, pulling her up and over.
Once safely on the other side, she and her sisters hunkered down in the engineer's booth and called their parents before making their way out of the festival grounds in frantic fits and starts.
For days afterward, Esquivel's mind kept returning to the same place and time. "What was weird was I couldn't stop thinking about how I got over that barrier," she said.
All she could remember about the man who saved her was his red shirt and beard, so she went online and tried to find him.
Good from the bad
Kody Robertson said he joined the online support groups that sprang up after Oct. 1 because he wanted to connect with fellow survivors and find out what happened to some of the people he encountered that night.
The concertgoer from Ohio said he was also hoping to find something good to counter all the bad he was feeling. "I was trying to look for something positive. I was looking for people I could have helped," he said.
On the final day of the Route 91 festival, Robertson met a woman from California named Michelle Vo. The two 32-year-old country music fans immediately hit it off, laughing, dancing and hanging out together for about three hours before she was fatally wounded.
In a tragic story that would make headlines across the country, Robertson tended to Vo and helped carry her out of the festival and into the back of a truck that rushed her to the hospital. Then he collected her belongings and comforted her family as they learned about her fate.
He later flew to California for Vo's memorial service, and he's still doing what he can to honor her memory. He recently raised more than $3,000 by selling T-shirts for a scholarship program one of her friends established in her name.
Robertson and Esquivel connected online after she posted a picture of herself and a description of where she was and what she recalled about the man who helped her. He said the two of them started exchanging messages right around the time of Vo's funeral.
He distinctly remembers carrying Vo, lifting her across the barrier and climbing over after her. He also remembers all the people struggling behind him and calling out for help.
Robertson said he thinks he might have pushed or pulled between 10 and 20 panicked concertgoers over that central barrier, but he just isn't sure.
"To be completely honest, I don't remember how many people I helped," he said. "I don't specifically remember helping Vanessa."
A 'warrior' is born
But Esquivel is certain she found the right person.
Since the two of them connected on social media, she said Robertson has become a long-distance friend.
"He just has a huge heart," she said. "I'm sure we will meet (again) one day. I'm sure we will."
In the months after Oct. 1, Esquivel said she experienced bouts of anxiety that went well beyond what is normal for even a nervous first-time mother-to-be. She would relive the attack in nightmares, sometimes with her child suddenly there with her. When her husband was out of town on business, she would hear noises outside their house and nervously plot out places to hide if a gunman broke in.
Things seem a little better now. She has a new baby to keep her busy and keep her mind off what happened.
Rowley Nathan Esquivel was born at 12:26 a.m. March 2 at Loma Linda University Medical Group hospital in Murrieta, California — 7 pounds, 8 ounces and 20¾ inches long, with a full head of dark hair.
The next day, Esquivel tagged Robertson in an Instagram post showing a sleeping baby Rowley wrapped in a "Route 91 Warrior" sweatshirt.
"Thanks for helping save me," her post read. "You will forever be my hero Uncle Kody."
Robertson said that when he saw the message, he burst into tears.
Contact Henry Brean at hbrean @reviewjournal.com or 702-383-0350. Follow @RefriedBrean on Twitter.
READ MORE:
• Births provide happy news for Las Vegas shooting survivors
• Las Vegas shooting survivor who shielded mother-to-be meets baby