Man shoots self on Strip casino floor; faces charges while in critical condition
Updated February 23, 2023 - 4:05 pm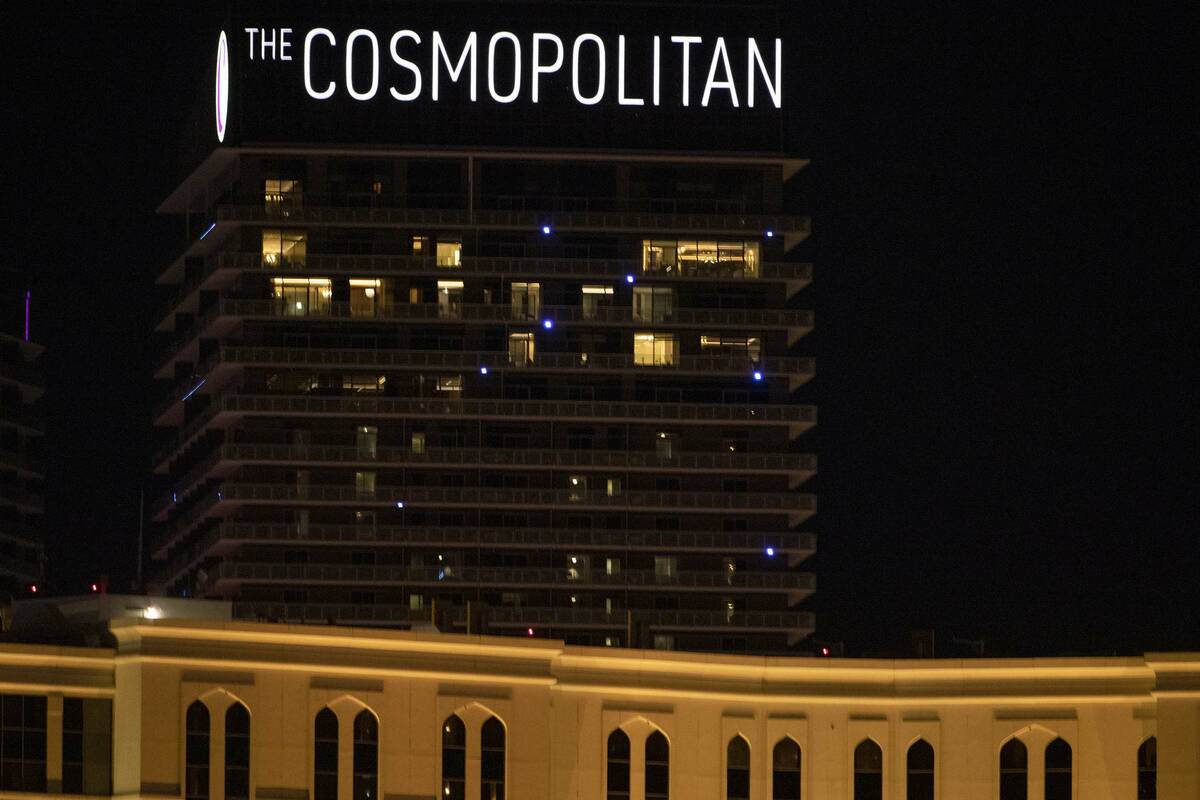 A 30-year-old man was in critical condition but also facing charges after he shot himself in the thigh on a Strip hotel's casino floor, Las Vegas police said.
Ronnie Delouth shot himself in the left thigh, apparently unintentionally, at about 5:40 a.m. on Tuesday at The Cosmopolitan of Las Vegas, according to a Metropolitan Police Department arrest report.
It's the second-known incident of self-inflicted gun violence in a public area of a major Las Vegas hotel in the span of a month. One Jan. 21, a 40-year-old man fatally shot himself in a restroom on the Rio's casino floor. In that incident, police found an AR-15 near his body.
In the Cosmopolitan incident, the report doesn't state explicitly that Delouth shot himself accidentally, but the circumstances described in the report make it seem as though the gun went off unexpectedly.
Surveillance video from the hotel showed Delouth, who the report says lives in Henderson,walking by himself near the hotel's slot machines and then jerking suddenly. He then fell to the ground, rolled around, reached into his waistband, pulled out a handgun and threw it under a slot machine, the arrest report stated. He then crawled away, the report said.
"There is no one else around at the time and it's clear Delouth shoots himself," a detective wrote in the report.
Delouth was rushed from the hotel, at 3708 Las Vegas Blvd., South, just north of Harmon Avenue, to University Medical Center.
"At the time of this report, Delouth is still in surgery and in critical condition," said the report.
Man was using 'ghost gun'
Delouth's current condition on Thursday was not yet known. A statement from Metro's public information office on Thursday said police do not provide updates on medical conditions.
Brian Ahern, MGM Resorts International's executive director of communications, said in an email that firearms are prohibited at all MGM Resorts properties, including The Cosmopolitan.
Ahern also said MGM doesn't "publicly discuss specifics related to security policies and procedures to maintain their effectiveness."
MGM Resorts operates more than a dozen Strip properties.
"Nothing is more important than the safety of guests and employees, and our security teams work closely with law enforcement in a variety of capacities to keep our properties safe," Ahern said. "We continually refine and evolve security processes and procedures to ensure they remain as effective as possible."
A police investigator found the gun, which was a black P80 handgun. It was described in the arrest report as a "ghost gun," or a gun without a serial number, which would render it untraceable.
"Ghost guns are unregulated firearms that anyone — including minors and prohibited purchases — can build and buy without a background check," according to the Brady: United Against Gun Violence website.
According to Las Vegas police, Delouth is prohibited from owning or possessing guns.
Delouth is a "3-time convicted person out of Nevada," according to the arrest report.
The report states Delouth was convicted of burglary and attempted robbery in 2013 and illegal possession of a weapon in 2017, all felony counts.
Because police alleged he was carrying the handgun in his waistband on Tuesday, he was arrested and booked in absentia, or booked without being jailed — Delouth was still hospitalized — on counts of carrying a concealed firearm and owning or possessing a firearm by a prohibited person.
Inside the gun, the spent .40-caliber casing was still in the chamber. Police said that because the weapon fired when it was still in Delouth's pants, it couldn't properly cycle, or eject the casing. Investigators also found 11 rounds in the magazine as well as a tactical light nearby.
Delouth also faces a misdemeanor petit larceny charge in connection with a bench warrant, the report states. Court records show the bench warrant was issued earlier this month.
Earlier shooting
According to information from both Metro police and the Clark County coroner's office, Michael James Robinson, 40, shot and killed himself in a restroom stall on the Rio's casino floor after "displaying odd behavior" at the hotel before the shooting.
The strange behavior, which involved Robinson walking around in circles in the hotel's parking lot and trying car doors, then spending an hour in a bathroom — a different bathroom from the one where he died by suicide in — was seen after the fact on hotel surveillance footage, a police report said.
In addition to the AR-15 found near Robinson's body, police also found a suicide note addressed to Metro police, according to a police report. The contents of that note were blacked out from a police report released to the Review-Journal.
Both shootings underscore the debate around hotel security, particularly around firearms being brought into Las Vegas hotels, an issue that came under major scrutiny after the Route 91 Harvest festival shooting in Las Vegas on Oct. 1, 2017.
In that case, the gunman brought more than a dozen assault rifles into his Mandalay Bay hotel room and later killed 60 people and injured hundreds.
If you're thinking about suicide, or are worried about a friend or loved one, help is available 24/7 by calling or texting the Lifeline network at 988. Live chat is available at 988lifeline.org.
Contact Brett Clarkson at bclarkson@reviewjournal.com. Follow @BrettClarkson_ on Twitter.