17 places to explore casual American cuisine
February 22, 2014 - 1:57 pm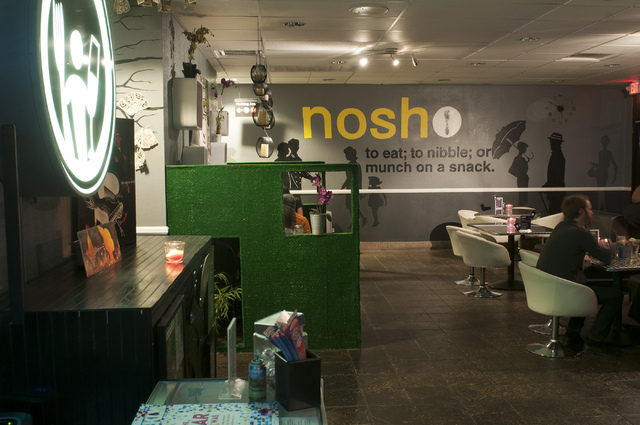 Each week Neon spotlights a different cuisine in the Dining Guide, with casual American restaurants this week. Restaurants are rated on a letter-grade scale, from A to F. Opinions by R-J critic Heidi Knapp Rinella (H.K.R.) are indicated by initials. Price symbols are based on the cost of an average entree: $ = entrees less than $10; $$ = entrees $10 to $20; $$$ = entrees $20 to $30; and $$$$ = entrees more than $30.
BORN AND RAISED
7260 S. Cimarron Road; 702-685-0258
Sliders are the way to go at Born and Raised; they have a lucky 13 of them, many of them quite creative — and delicious, in the case of the Cubano trio we tasted. We thought the barbecue sauce on Bucky B's Jack Daniel's Ribs was on the too-sweet side, but a grilled artichoke was right on the money. (9/16/13 H.K.R.)
Overall: B+
$$
BRONZE CAFE
The Center, 401 S. Maryland Parkway; 702-202-3100
A friend's attempt to tempt us into a vegan offering — the Tree of Life sandwich — failed but we ended up tasting it anyway, and seldom has vegan tasted so good. The Vegan Specialty Cake wasn't as successful, but we thoroughly enjoyed the LGBTQ with its bacon and bacon jam, and the baba ghanoush with warm pita triangles. (8/23/13 H.K.R.)
Overall: B+
$
BULDOGIS
2291 S. Fort Apache Road; 702-570-7560
Buldogis specializes in fusion food — that would be Korean flavor added to the classic American hot dog — and it works pretty well, as in the Banh Mi Dog, which comes with Vietnamese-inspired slaw and a slice of pork belly. Buldogis is breaking out into burgers, too, and the Bulgogi Burger successfully melded the two cuisines with bulgogi (Korean grilled beef), slaw and mayo. Fried pickle spears were pretty good, but we thought the Classic Buldogis fries needed a bit more seasoning. (11/16/12 H.K.R.)
Overall: B+
$
CARNEGIE DELI
The Mirage, 3400 Las Vegas Blvd. South; 702-791-7310
The Carnegie Deli's prices are up there — no doubt about that — but so are its portions and the quality of its food. It's been eons since we tasted sauerkraut as wonderfully pungent as that which topped our open-face Reuben with its tender pastrami and blanket of Swiss, or corned beef with as many layers of flavor as that which formed the foundation of our huge platter of hash. And borscht was a bracing, refreshing feast of textures and flavors. (5/11/12 H.K.R.)
Overall: A
$$$
CHOCOLATE &SPICE BAKERY
7293 W. Sahara Ave.; 702-527-7772
Except for a slightly disappointing cannoli, everything we had at Chocolate &Spice reflected the meticulous attention to detail that owner Megan Romano has always brought to her pastries — and everything else. We loved the wedding soup, a grilled Brie sandwich, grilled Kalbi beef ribs and two choco-centric pastries, one with clouds of chocolate mousse, the other infused with coffee. (1/25/12 H.K.R.)
Overall: A-
$
CREPE EXPECTATIONS
9500 S. Eastern Ave.; 702-583-4939
If you thought for a minute that crepes aren't sufficient to sustain an entire restaurant you'd be sadly mistaken because at Crepe Expectations it's all crepes all the time. The menu of this tiny place is well varied, and we loved our sweet and savory choices, the Avalon with buttered pears, candied walnuts and goat cheese, and the Greek, with grilled chicken fresh spinach, feta and tzatziki. (2/15/13 H.K.R.)
Overall: A
$
THE EGG &I
4533 W. Sahara Ave.; 702-364-9686
A car-restaurant wreck last spring certainly hasn't kept people away from The Egg &I, which was positively packed when we went late on a weekday morning. The draw, no doubt, is the simple American fare, kicked up a notch in dishes such as housemade shredded corned beef hash and eggs, a Sicilian Skillet with Italian sausage, marinara, peppers and onions and warm banana muffins rich enough to qualify as an indulgence. (6/21/13 H.K.R.)
Overall: A-
$
ELIXIR
2920 N. Green Valley Parkway, Henderson; 702-272-0000
Elixir bills itself as "a local lounge" but, following the recent practice among poker bars, its menu lists far more than bar food. Stuffed mushrooms were a good way to start, but we thought the flavors in the French onion soup, beef stroganoff and chicken roulade were a little too generic. (12/16/13 H.K.R.)
Overall: B
$$
GRILL 55
Renaissance Las Vegas, 3400 Paradise Road; 702-784-5700
Grill 55 is first and foremost a bar — the laid-back counterpart of the hotel's Envy Steakhouse — so the atmosphere can get a little crazy during busy times at the adjacent Las Vegas Convention Center, but it serves nothing in the way of old-school bar food. We loved the Truffle Reggiano Fries, the Devil's Eyes fried deviled eggs, the Signature 55 Burger and the barbecued chicken flatbread pizza. (11/9/12 H.K.R.)
Overall: A-
$$
THE GRIDDLE
9480 S. Eastern Ave. (and three other locations, one of which is called Mollie's Kountry Kafe); 702-360-3636
Plate-sized pancakes that are light and fluffy but still substantial enough to hold together, porous enough to absorb the butter and syrup, can be somewhat of a challenge. But not at The Griddle, where they come off the griddle perfectly. We had them as part of a Lumberjack platter that also included a couple of eggs and bacon or link sausage. Also worthy of note: the crab cake Benedict, one of a long list of The Griddle's Benedicts and one with a crab-centric base and a well-executed Hollandaise. (6/29/12 H.K.R.)
Overall: A-
$
LA CAVE
Wynn Las Vegas, 3131 Las Vegas Blvd. South; 702-248-3463
La Cave's name is reflected in the wine-themed interior in which it serves its small plates, but the airy open-to-the-outdoors patio is quite pleasant on a balmy evening as well. We sipped and shared in the small-plates style and were impressed by the bacon-wrapped dates (despite that fact that one was sort of charred), sliced sirloin steak with mushroom fondue and cipollini onions and diver sea scallops with polenta cake and shrimp sauce, although we thought the raclette a little tame, especially for lovers of this characteristically pungent cheese. (4/13/12 H.K.R.)
Overall: A-
$$$
NOSH &SWIG SMALL PLATES AND DRINKERY
3620 E. Flamingo Road; 702-456-6674
Nosh &Swig has all the makings of a hipster hangout, which translates to young, fresh ideas about food and decor. We were quite taken with the Fromage Fondue with a "hodgepodge of rustic breads," the pretzel brats, Sticky Bun Tacos, Chinese Churro and the Cock-a-Waffle-Doo, a riff on chicken and waffles. (1/10/14 H.K.R.)
Overall: B
$$
RISE &SHINE
10690 Southern Highlands Parkway; 702-202-4646
Rise &Shine is adorable, with big flower-shaped umbrellas suspended from the ceiling and servers in pajamas, but whimsy wouldn't be enough if the food didn't measure up. It does, in fact, in entrees such as The Ultimate Steak &Egg Breakfast and corned-beef hash and eggs, as well as the restaurant's pot of bread and French-press coffee, which comes with a timer. (10/4/13 H.K.R.)
Overall: A
$$
SAMMY'S WOODFIRED PIZZA
Five locations in the valley
Signature dishes: designer pizzas, tapas.
SMASHBURGER
Multiple locations in the valley
Smashburger is the new burger chain in town, and while its name may seem a little off — who wants smashed food, aside from, maybe, potatoes? — the burgers, which are smashed onto a flat-topped grill as they're cooked, are juicy and addictive. We loved the Sin City Smashburger, with its fried egg, bacon, cheese, grilled onions, haystack onions and signature smash sauce, a create-your-own option with everything but the kitchen sink, the fried pickles and the Smashfries. (8/11/12 H.K.R.)
Overall: A-
$
SOUL FOOD CAFE
7320 S. Rainbow Blvd.; 702-998-9780
Perfectly fried chicken is more of an art than a science and the artists at Soul Food Cafe have perfected it, with juicy meat that fairly spurts when the golden-brown crust is breached by knife and fork. We also loved the hot-water cornbread that was served as a starter, the fried okra, black-eyed peas, hush puppies, grilled pork chops and yams and hated the fact that we were too full to even consider dessert. (2/22/13 H.K.R.)
Overall: A-
$$
SPICY PICKLE SANDWICH COMPANY
7271 Amigo St. (also at 9985 S. Eastern Ave.); 702-263-4350
We weren't enamored of the soups at the Spicy Pickle but the sandwiches were just fine — the Yard Bird, with its strips of chicken with fresh spinach, apple, blue cheese and bacon, smeared with honey mustard and served on honey multigrain, and the Three-Cheesini, with Swiss, cheddar, provolone, tomato and red onion on grilled marble rye. We also liked the pasta salad served as a side and the fact that the sleek counter-service spot is a great place to grab a quick lunch. (3/16/12 H.K.R.)
Overall: B+
$