Art galleries in Las Vegas
September 12, 2017 - 11:36 am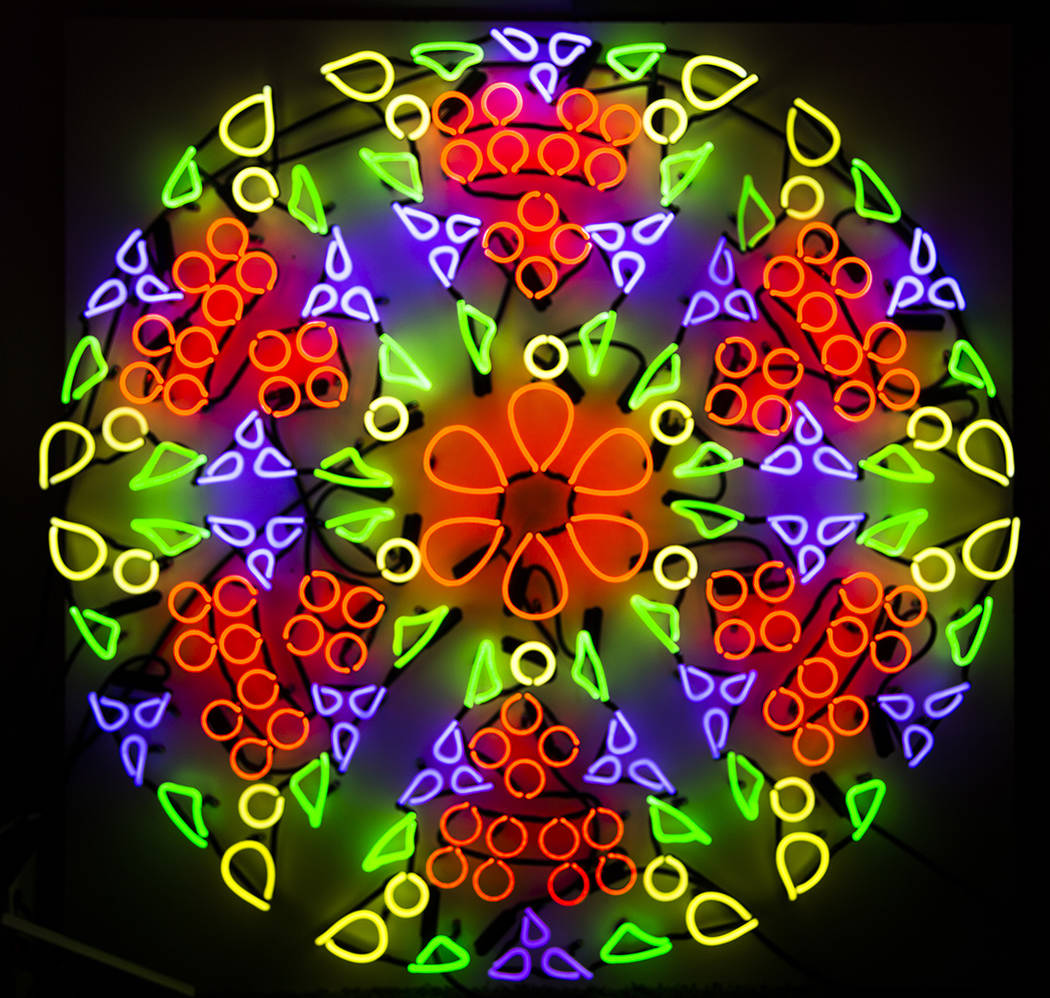 Windows on First
Camilla Quinn's exhibit "Appropriation" explores the history and evolution of the mandala, a Buddhist and Hindu geometric figure representing the universe. Windows on First at Las Vegas City Hall, 495 S. Main St., along the First Street side of the building. camillaquinn.com
Antonio Gomez exhibit
The photography exhibition "Charro: Portrait of a Way of Life," is by Las Vegas artist and College of Southern Nevada faculty member Antonio Gomez. The exhibit is a celebration of the equestrian competition in Mexico. A gallery talk will be at 5 p.m. Thursday, followed by an artist reception at 6 p.m. Fine Arts Gallery at CSN's Cheyenne campus, 3200 E. Cheyenne Ave., North Las Vegas. csn.edu/artgallery
Nevada Clay Guild Exhibition
Functional and nonfunctional sculpture selected by Nevada Clay Guild artists. A meet-the-artist and opening reception will be from 5-7 p.m. Thursday. Grand Gallery at Las Vegas City Hall, 495 S. Main St. 7 a.m.-5:30 p.m. Mon.-Thu.; lasvegasnevada.gov
'People, Places and Projects'
Erik John Ricardo's exhibit of editorial portraits and concepts. A reception will be from 6-10 p.m. Friday. Primavera Studios, 2700 E. Patrick Lane, Ste. 4; erikjohnricardo.com
'Hello from Japan!'
Opening Saturday, this touring exhibit celebrates modern and traditional life in Japan. Visitors will experience a kawaii (translates to cute or adorable) streetscape, inspired by Tokyo's Harajuku district, and enjoy the serenity of a natural Shinto shrine park. Discovery Children's Museum, 360 Promenade Place. discoverykidslv.org
Raymond Pettibon exhibit
Drawings and prints from Raymond Pettibon. Opening reception will be from 6-8 p.m. Thursday. MCQ Fine Art, 620 S. Seventh St. mcqfineart.com
To submit gallery listings, email mrhynes @reviewjournal.com.
Clay creations
Exhibit of pottery work by Lauren Smith and ceramic sculpture by Magda Gluszek. Keen Gallery at Clay Arts Vegas, 1511 S. Main St. clayartsvegas.com
To submit gallery listings, email mrhynes @reviewjournal.com.
Wonderland's Rabbit Hole
Collection of small art pieces and handmade fine crafts, paintings and sculptures by Mary Jane Chadbourne, David Fay, Niki J. Sands, Lynne Adamson Adrian, Kat Tatz, Lisa Herr and Mel Johnson. Wonderland's Rabbit Hole in the Arts Factory, 107 E. Charleston Blvd., Suite 160. Noon-4 p.m. Tue.-Sun. 4-10 p.m. First Friday or by appointment. wonderlandgallery.com
Jackson Rose photography
"Coast to Coast," a new exhibit by photographer Jackson Rose. City Lights Gallery, 3 E. Army St., Henderson. 10 a.m-4 p.m. Tue.-Sat. and noon-4 p.m. Sun. citylightsartgallery.com
Art exhibit by Brian Martinez
"20," exhibit of paintings representing the experience of being 20, by Brian Martinez. Joseph Watson Collection at the Arts Factory, 107 E. Charleston Blvd., Suite 115. facebook.com/josephwatsoncollection
The Black and White Show
Exhibition of drawings, prints and photographs by Donald Corpier Starr, Hayden Senter, Alexander Lui, Clarice Tara and Terrien Hale. Priscilla Fowler Fine Art, Art Square, 1025 S. First St. priscillafowler.com
'Third World America II'
Daniel Miller's exhibition of paintings to call attention to the homeless population in America. A percentage of all proceeds from sales will go to Three Square food bank. Left of Center Art Gallery, 2207 W. Gowan Road, North Las Vegas. facebook.com/leftofcentergallery
BC Art Guild exhibit
"Whatever Your Heart Desires," a fine art exhibit by Boulder City Art Guild artists. Main lobby and front hallway at Boulder City Hospital, 901 Adams Blvd. bouldercityartguild.com
Photographs by Barry Sweet
"The Creative Vision of Photojournalist Barry Sweet" exhibition showcases photographs spanning his 50-year career. The Corner Gallery at Arts Factory, 107 E. Charleston Blvd., Suite 220. lasvegascornergallery.com
'Tested Ground'
The exhibition includes photography, drawings and mixed media by Andreana Donahue, Alexa Hoyer, Joan Linder, Jenny Odell and Nicolas Shake. East Gallery at UNLV's Marjorie Barrick Museum of Art, 4505 S. Maryland Parkway. unlv.edu/barrickmuseum
Photography exhibition
Curated by Brian "Paco" Alvarez, "A Photographic Retrospective" features selections from the UNLV Special Collections Library. Viewings are available by appointment only. Historic Fifth Street School, 401 S. Fourth St. 702-229-1012
Mike Smith exhibition
"Cartooning the Presidency: A Cartoon Retrospective" exhibition features sketches focused on the presidency, over several recent presidential administrations, by award-winning editorial cartoonist Mike Smith. Nevada Humanities Program Gallery, 1017 S. First St., No. 190. 1-5 p.m. Mon.-Fri. (to 9 p.m. First Friday). nevadahumanities.org
'Soul Warriors'
Teresa Maharaj's Soul Warrior Collection paintings were inspired by the Samurai warriors of the noble class in feudal Japan. Wonderland Gallery in the Arts Factory, 107 E. Charleston Blvd., Suite 110. wonderlandgallery.com; beautyinthedarkness.com
Drummers' photography
"Summer of Drumming," an exhibition of photography by musicians Steve Smith, Bill Ward, Chad Smith, Steven Adler, Carl Palmer, Dave Lombardo and Chad Sexton. Gallery of Music &Art in the Forum Shops at Caesars, 3500 Las Vegas Blvd. South. gma-lv.com
Vinyl banner exhibit
"Red" is the color theme for the vinyl banners on display as part of the city of Las Vegas Aerial Gallery. The exhibit features artwork by eight artists on light poles spanning eight blocks in downtown Las Vegas. First Street Art Trail, from Boulder Avenue to Bridger Avenue.
Winners Circle 2017
The 29 award-winning pieces from the annual "Celebrating Life!" juried art exhibit, for artists 50 and older. The artwork was judged in seven categories: watercolor and gouache; drawing and pastel; painting; mixed media; photography; sculpture; and ceramic sculpture. Chamber Gallery at Las Vegas City Hall, 495 S. Main St. lasvegasnevada.gov
'World Heritage Collection'
Mario Basner's photographic art collection, celebrating culture, diversity and humanity. Next to Cafe Leone at Tivoli Village, 400 S.Rampart Blvd. mariobasner.com
'Harbinger of Time'
Exhibition of paintings and prints by John Moffitt. Bash Fine Art &Custom Framing, 750 S. Rampart Blvd., Suite 14. bashfineart.com
Photographs by Ken Howard
"American Road Trip," featuring postcard snapshots by Ken Howard. Art House LV Gallery, 1229 S. Casino Center Blvd. facebook.com/arthouselasvegas
'Play On Gary, Play On'
Curated by D.K. Sole, the exhibit includes a wooden wall sculpture by New York artist Richard Francisco, an assembly of traditional Mexican masks, and rarely-seen historical objects from the Barrick Collection. West Gallery at UNLV's Marjorie Barrick Museum of Art, 4505 S. Maryland Parkway. unlv.edu/barrickmuseum
Fabric art exhibit
Boulder City Art Guild member Drina Fried's exhibit of embellished fabric collage productions. Boulder City Art Guild Gallery at Boulder Dam Hotel, 1305 Arizona St., Boulder City. bouldercityartguild.com
Paintings at Obsidian Fine Art
Exhibits of oil figure paintings by Steve Anthony and paintings of fall landscapes by Mandy Joy. Obsidian Fine Art at the Arts Factory, 107 E. Charleston Blvd., Suite 240. facebook.com/obsididanfineart
Modernist Cuisine photography
Chef, photographer, scientist and author Nathan Myhrvold's collection of food photography. Modernist Cuisine Gallery in the Forum Shops at Caesars, 3500 Las Vegas Blvd. South. modernistcuisine.com
'I Am the Greatest'
Exhibition showcasing the life and legacy of boxer and activist Muhammad Ali. Bellagio Gallery of Fine Art, 3600 Las Vegas Blvd. South. bellagio.com
Clinton Wright exhibit
Images of everyday life of African-Americans in Las Vegas' historic Westside neighborhood from the Clinton Wright Photograph Collection. Florence "Flo" Mlynarczyk Gallery at UNLV's Lied Library, 4505 S. Maryland Parkway. library.unlv.edu
Pete Menefee exhibition
"The Artistry of Pete Menefee: Costume Design for the Nevada Stage," featuring photographs, stage costumes and original costume renderings for "Jubilee!" and "Splash." Nevada State Museum, 309 S. Valley View Blvd., next to the Springs Preserve. nvdtca.org/nevadastatemuseumlasvegas
'California Expressions'
Bobby Wheat's large-format film photography exhibition features photos taken throughout California. Bobby Wheat Gallery at Downtown Summerlin, 1825 Festival Plaza Drive. bobbywheat.com
To submit gallery listings, email mrhynes@reviewjournal.com.